Meet Kovu: 2 year old Sphynx cat – Energetic – Mischievous. And purring loudly about his Woods for Cats clean, sturdy and sustainable cat furniture.
"Woods for Cats are unmatched in the quality and aesthetic of their cat furniture. We wish every business was like them – they walk the walk meaning you can be confident your cat's products come from a business who love their animals and the planet as much as you do."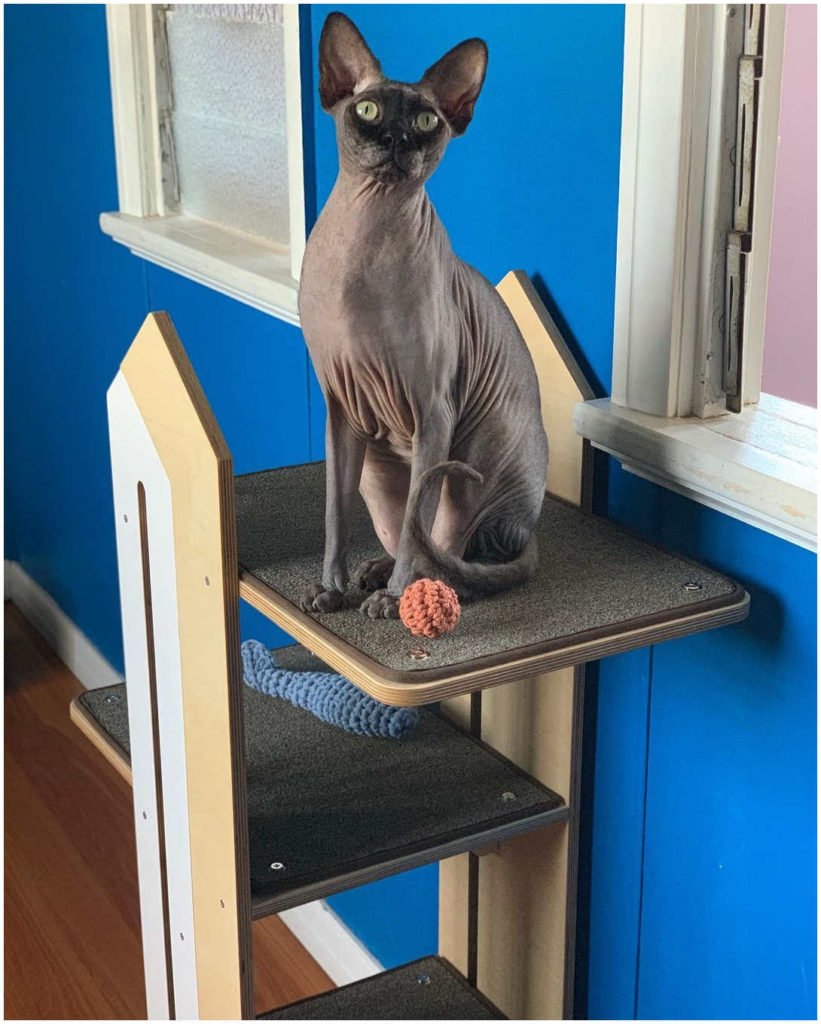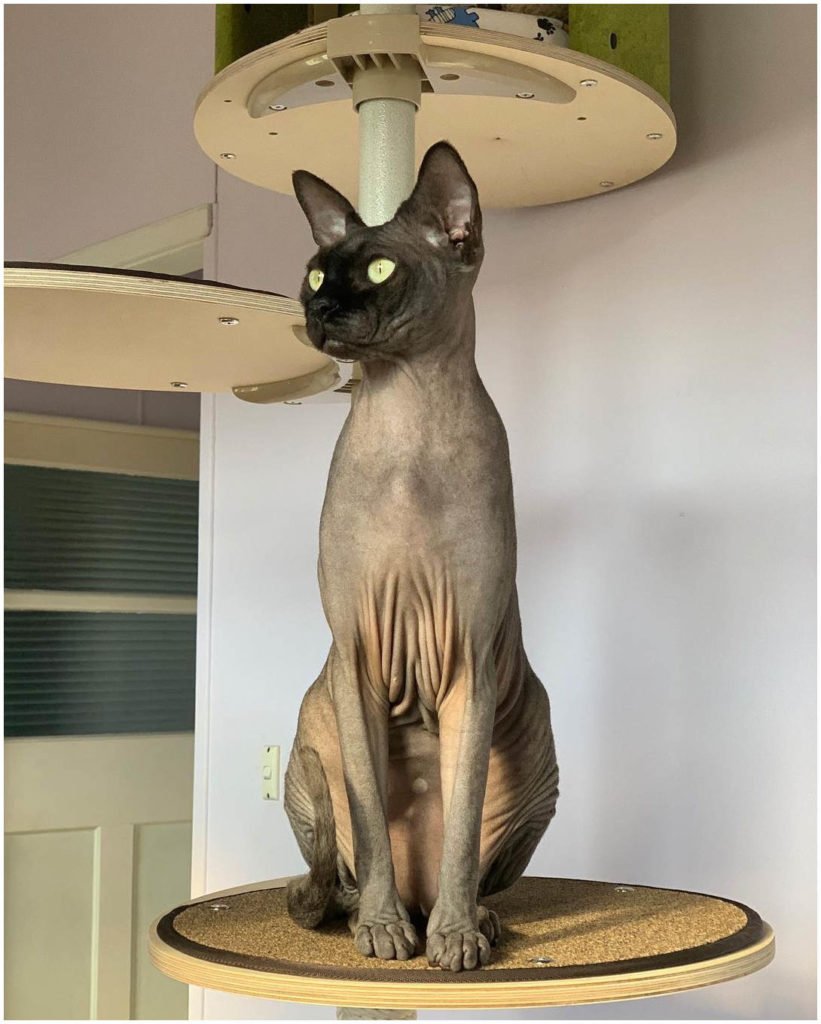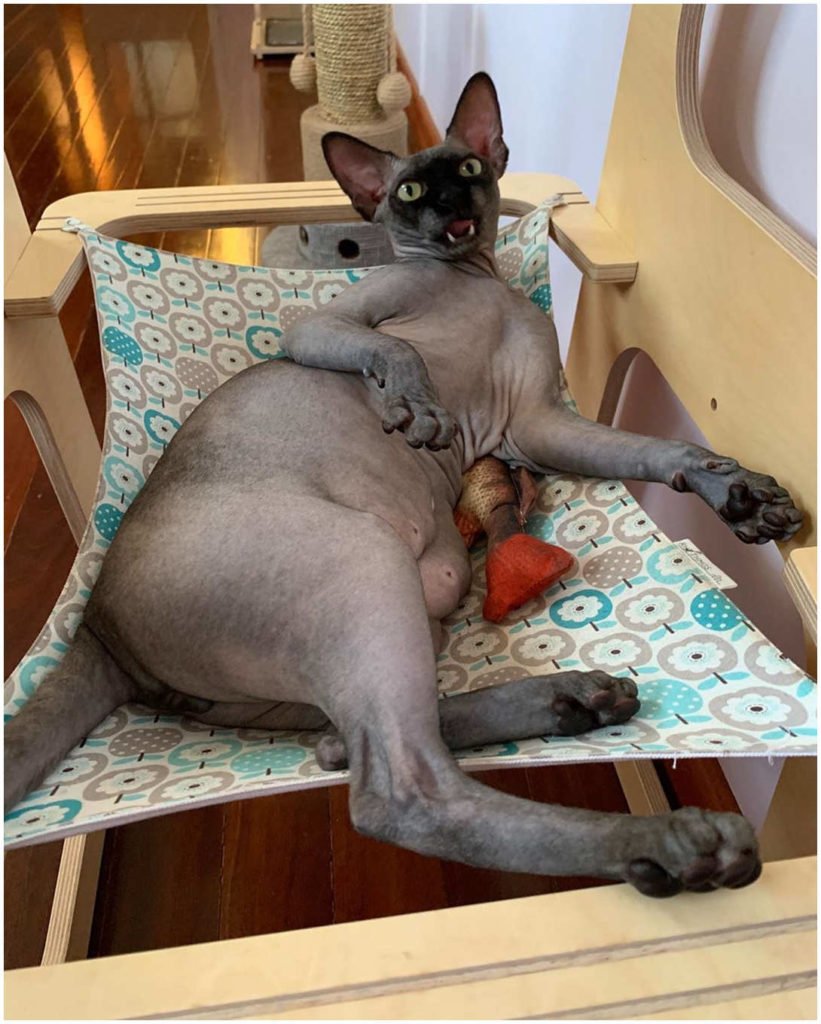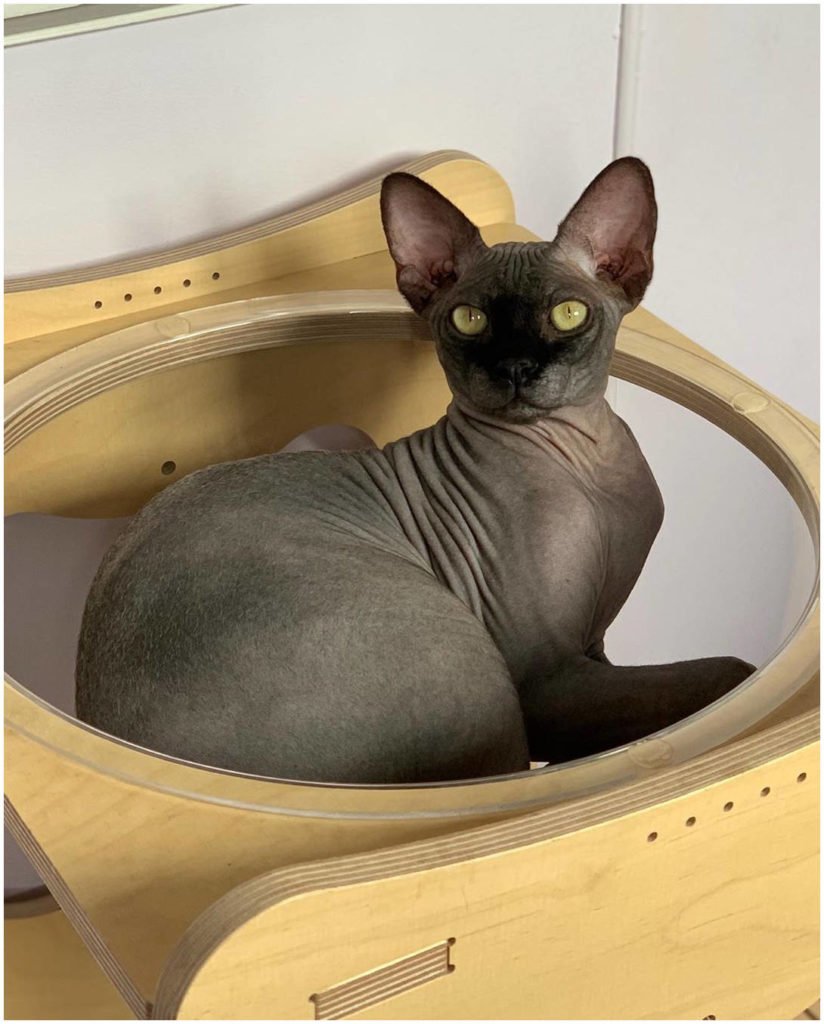 Kovu's family wanted to make sure he had a lot of toys and furniture to keep him happy when they were at work. However, they struggled to find products that lasted, that were easy to clean, and available across Australia.
As a kitten, Kovu tried out many cat products to keep him happy and occupied while his people were at work.
He tried toys and scratchers. They were budget-friendly, but they just didn't last. Not to mention trying to clean them – well that was a whole other challenge.
Kovu used his cardboard scratchers with great enthusiasm, only to have them collapse underneath him, sending his human family back to the shop.
More time. More money. More waste to landfill.
The whole family wanted a better option for Kovu, their bank balance, and the planet.
Then, when Kovu was 6 months old, his human family came across an eco pet furniture company called Woods For Cats.
Since finding Woods For Cats, Kovu and his family haven't looked back. 90% of Kovu's cat furniture and toys are now from Woods For Cats
Their interest was piqued by this local Australian business offering beautiful cat furniture and toys, shipped even to their remote address and promising long-lasting and sustainably made items.
Since getting his first product from Woods for Cats at 6 months of age, Kovu (now 2 years old) has continued to go back for more, choosing them over any other brand.
"They have lasted really well and he loves everything from there. He loved them straight away so it was very easy to keep going back for more."
Before coming across Woods for Cats, Kovu's family had searched widely across the internet, including sites such as Etsy.
"But we couldn't find anything that even came close to what Woods for Cats were offering, especially within the same price range. A lot of the choices out there were very expensive and often overseas so it was hard to even get them delivered to where we live. We weren't loving the design or look of many, and when we did order a few cheaper items they were hard to clean and never lasted long."
"The whole process with Woods for Cats has been so easy. Their customer service has been consistently friendly and supportive. The instructions are super easy to read and follow, and they have always followed up to make sure everything has been to our satisfaction."
"The cost side of things often stops people, but when you weigh up buying a cheaper option every 6-12 months or having the same item of years – the cost starts to add up."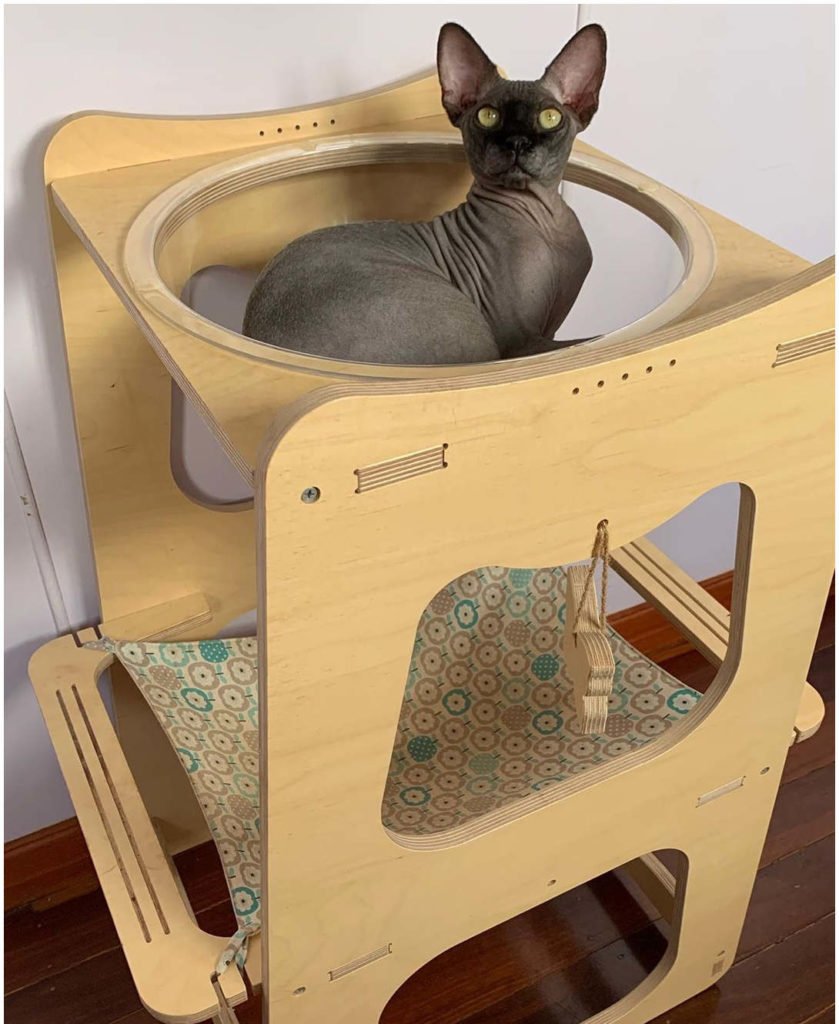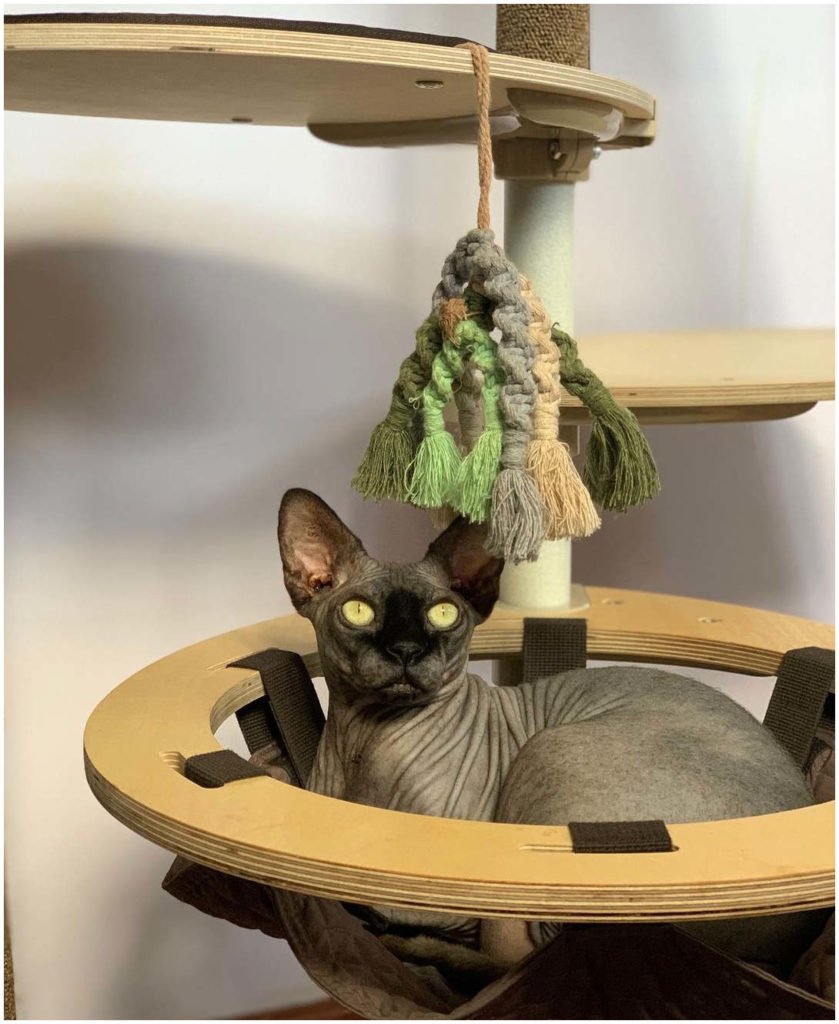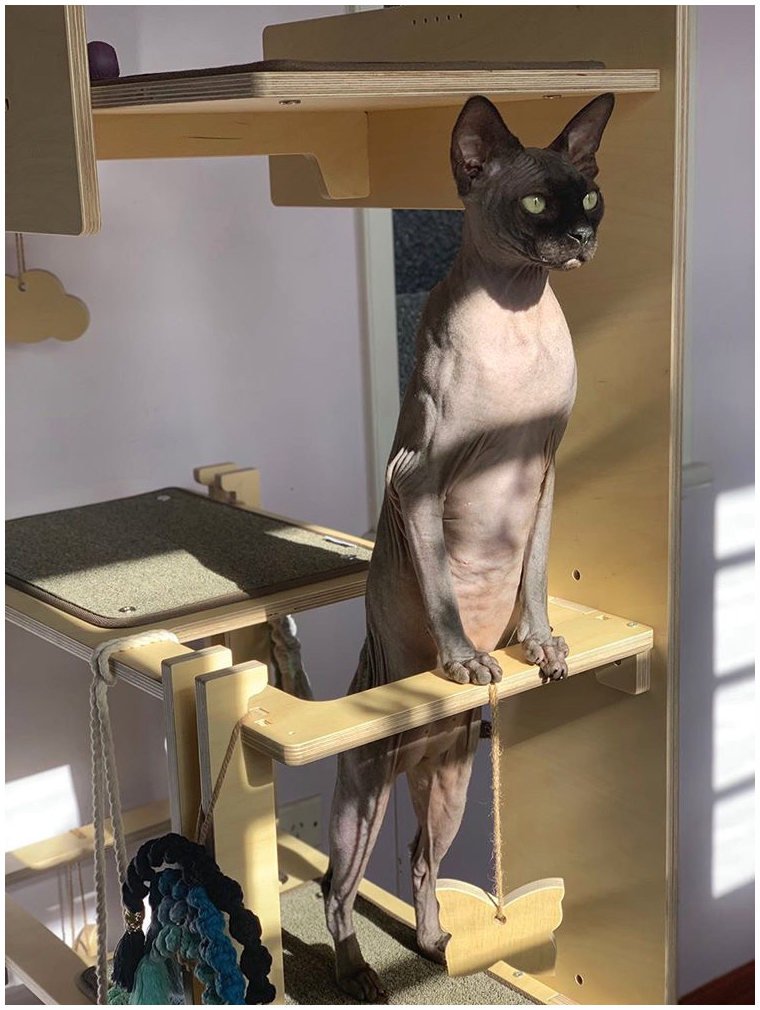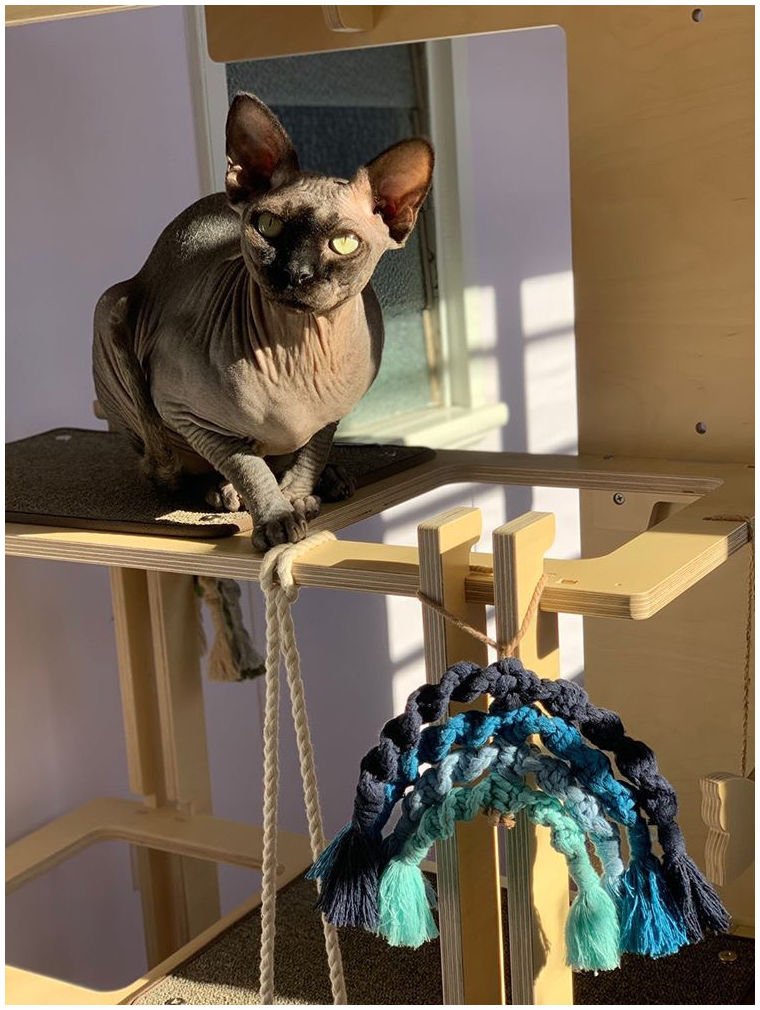 A happy Kovu. A beautiful space the whole family loves. And less waste into landfill. "We have not had to replace one Woods for Cats product over the 2 years we have been buying from them. They're still as good as new."
Kovu's people have some furniture envy. "Sometimes we're jealous of his side of the house – it looks so nice and if I was a cat, that's where I would want to be"
Kovu loves:
"His particular favourite has been the Tok Tok because he can get up higher than us to look out over the room and out the windows. There is a hammock which attaches to it and this is his year-round favourite sleeping spot."
"We just recently added a scratching pole to the Tok Tok and Kovu uses it every morning when he wakes up. He enjoys zooming around and jumping off his Z Cat Scratching Post, then laying in wait on his Scratcher Couch to pounce on us as we walk by."
For anyone considering whether to make a Woods for Cats purchase, Kovu's family say: "We recommend Woods for Cats to anyone looking for long-lasting, sustainable and cat-loved items that are easy to clean and affordable."
"In the world we live in today, we're trying to reduce the amount of waste we contribute. Kovu's Woods For Cats products are sustainably made and will last a lifetime, reducing our impact on the planet."