WOODS FOR CATS is an online store specialising in high quality, ethically and sustainably made innovative cat products and accessories.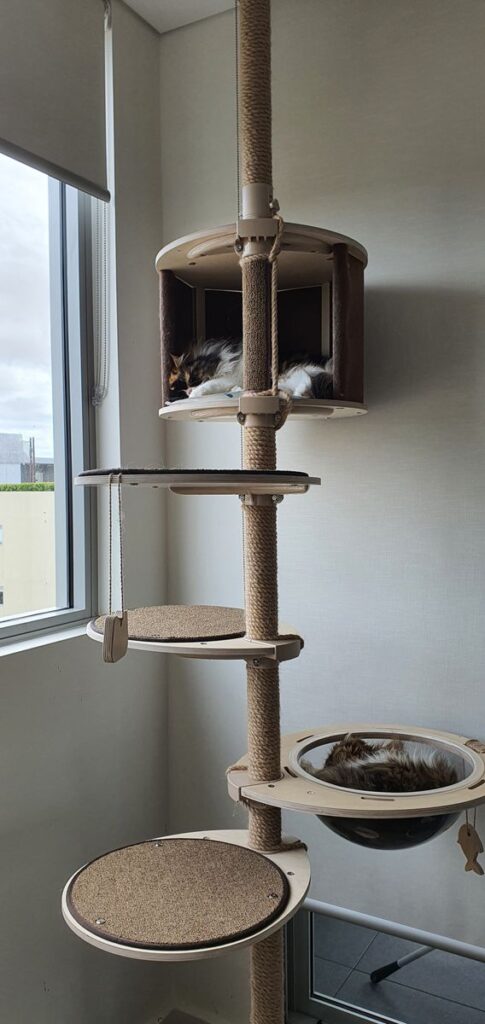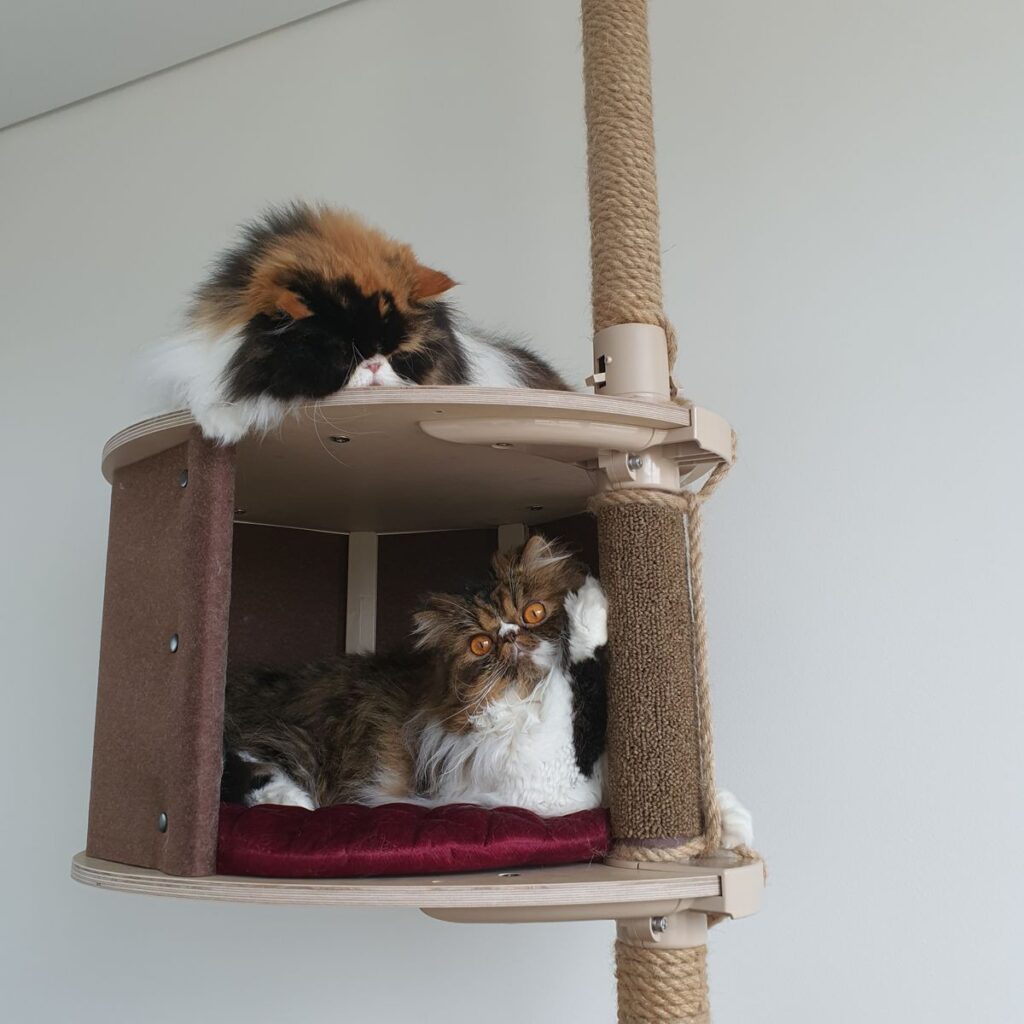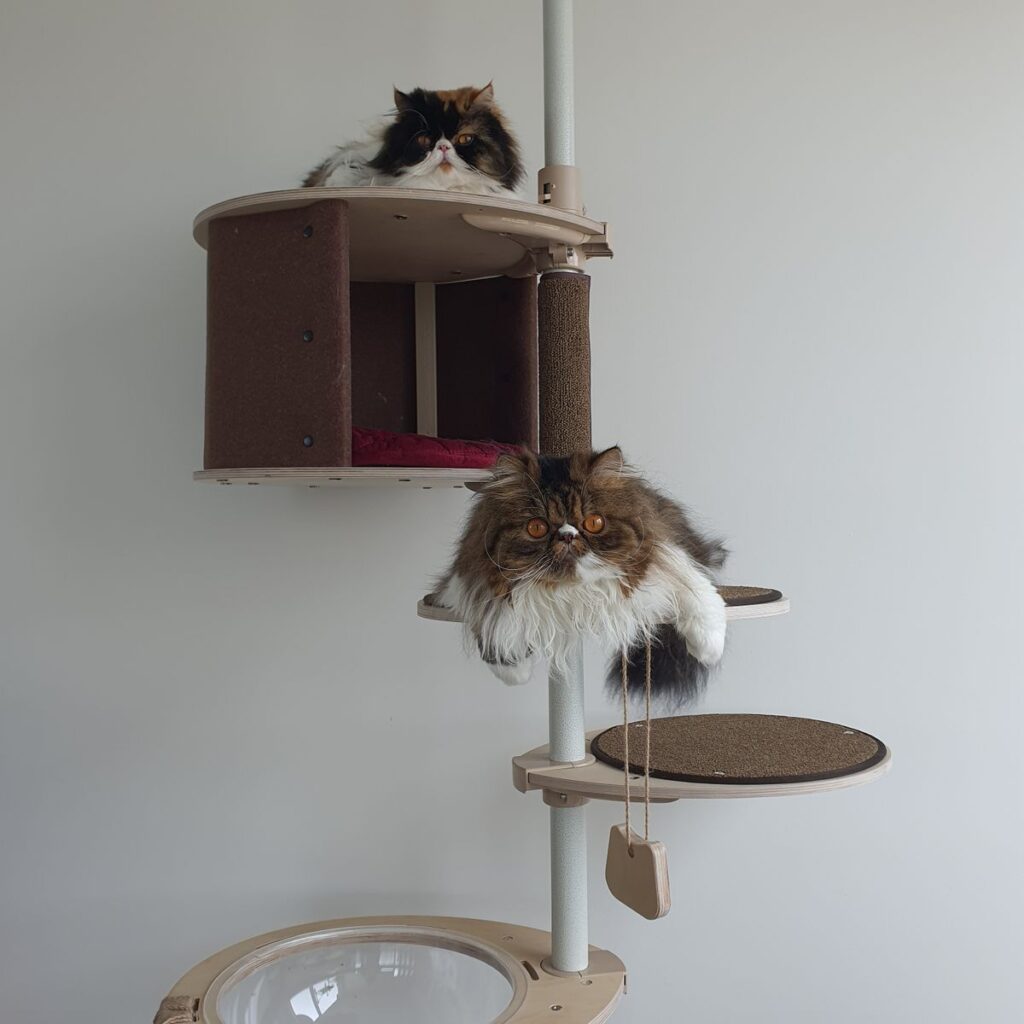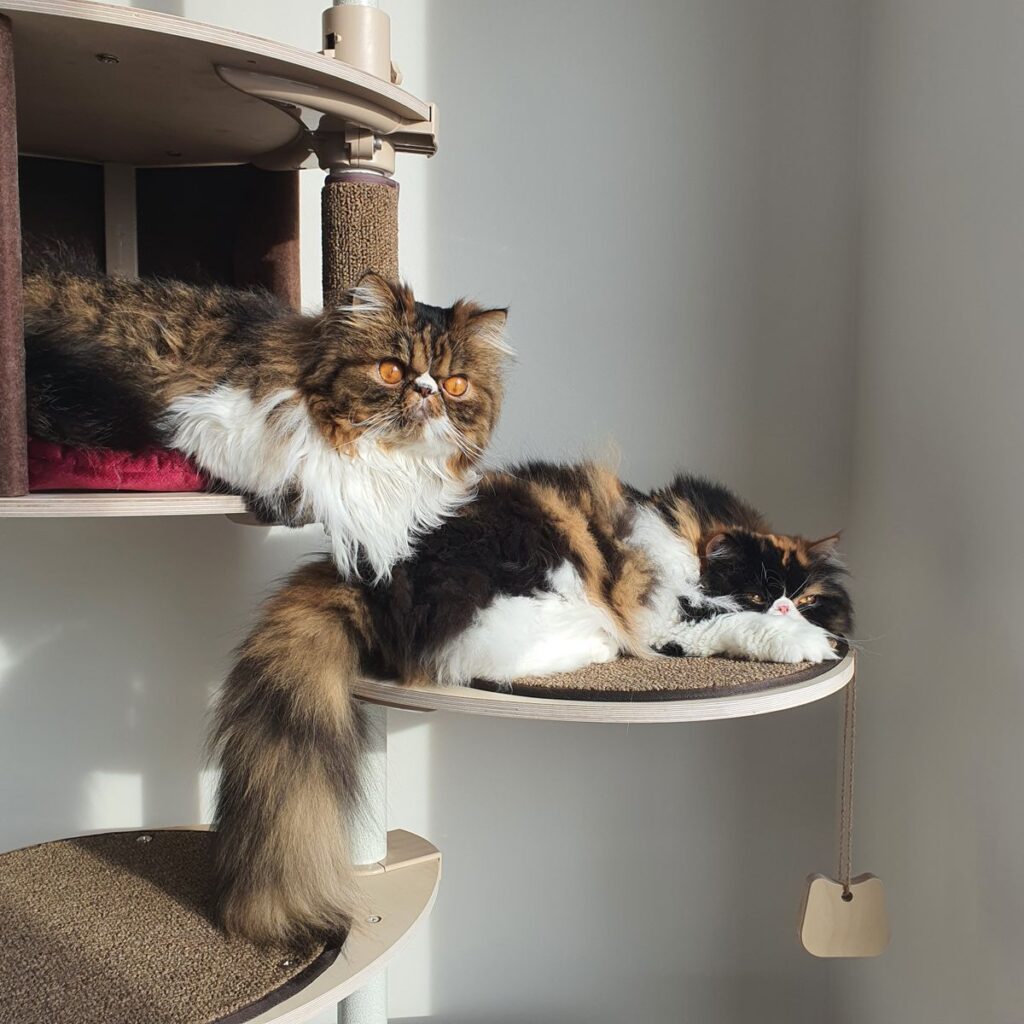 5
Anonymous
Verified owner
We've had our tok tok for a few months now and have loved seeing the cats lounging on it!
Possibly our favourite feature is how customisable it is - we've been able to adjust the step height and angles so that it's a smooth jump up and down the tree (our cats are not very agile 🤭) and it's allowed us to provide more horizontal space nearer to the ceiling! We found it easy to move it around to see how the furbabies interact with it at different locations and found a lovely spot near two windows for them to bird watch 😁
It's a very sturdy tree and even when both our cats decide to settle on one step, there's no worries on our part! We love the aesthetic a lot also.
Livia is super helpful and lovely to chat with and has great insights into cat behaviour and enrichment 🤗
8 hours ago
2
Anonymous
Verified owner
We got an extra carpet so we could have one inside and on top of the house, totally worth it!
8 hours ago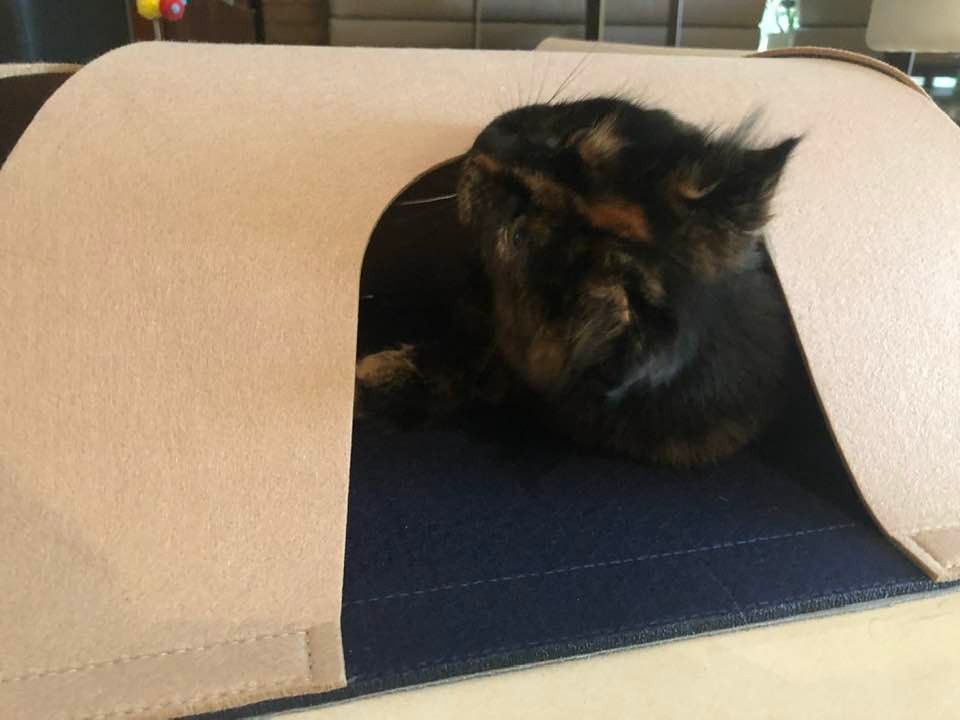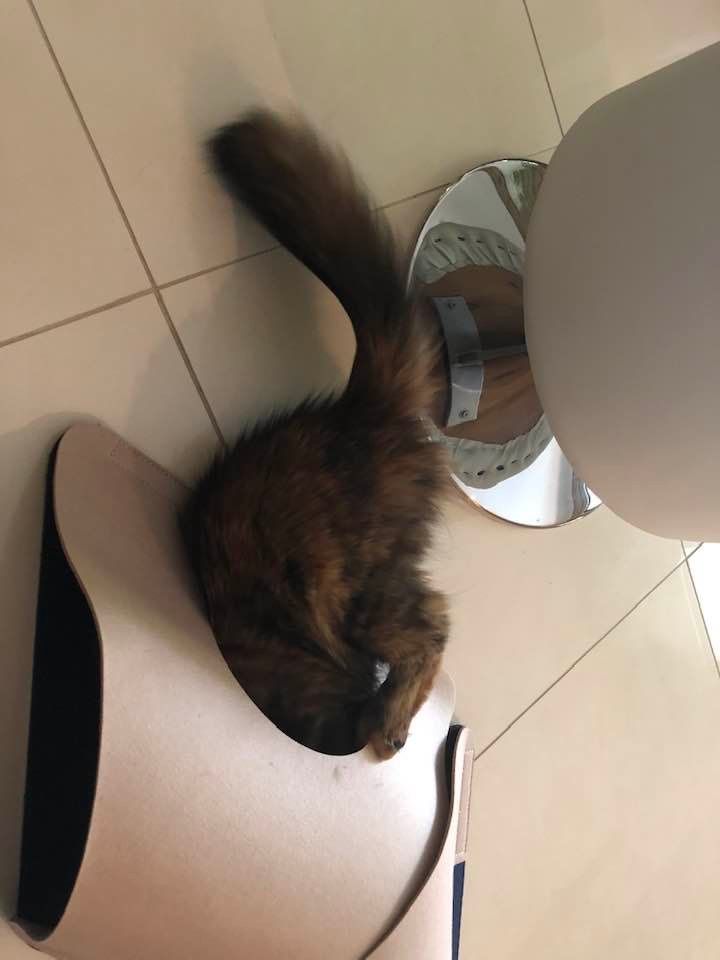 3
Dale
Verified owner
Bug definitely gave a five star rating to the zigzag tunnel. She loved it right from the start, playing in and on it with her hooman or on her own. She loves to kick and pummel it and when she has had too much of that, she likes to sleep on it. It is certainly taking a thrashing from her and needs fluff removed and putting back into shape daily to keep it looking as new. But that is only an issue for the hooman not little Bug. This is Bug's third piece from Woods for Cats: she is a very spoiled kitty with a Namoo pole and cat bed as well. She loves them all, and we all love having such well designed and made pieces around the home.
1 week ago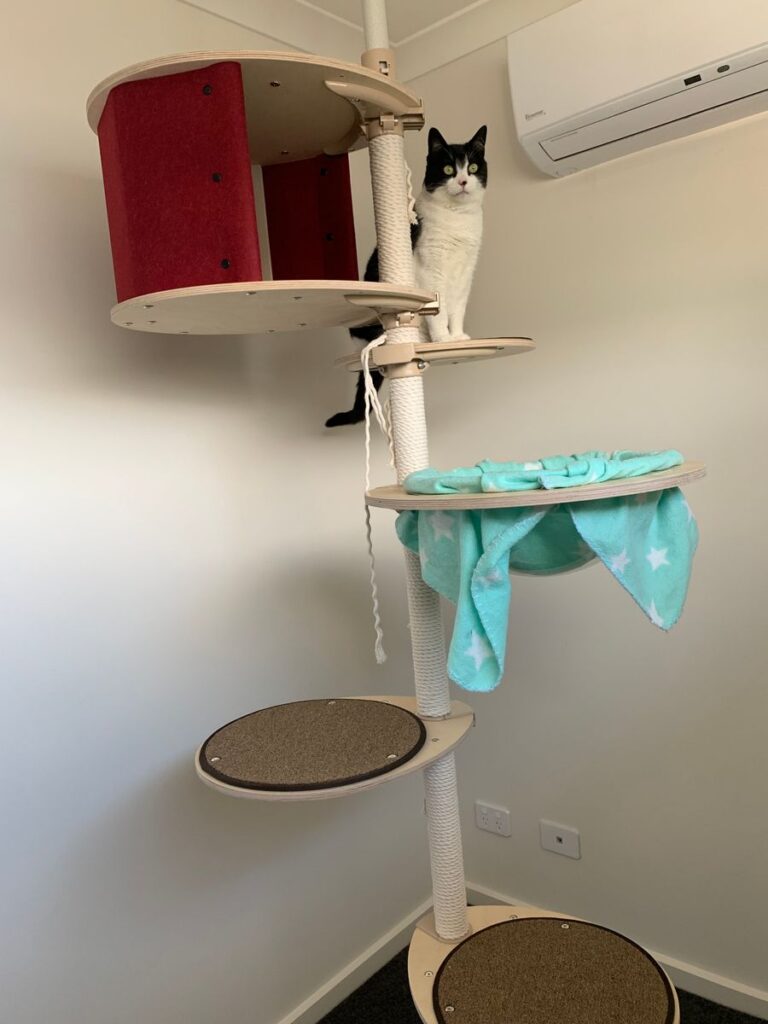 1
Kelly
Verified owner
The TokTok is absolutely wonderful, a very good quality item with no regrets on the purchase. My cat hasn't fully explored it yet but I know she will love it once she does!
1 week ago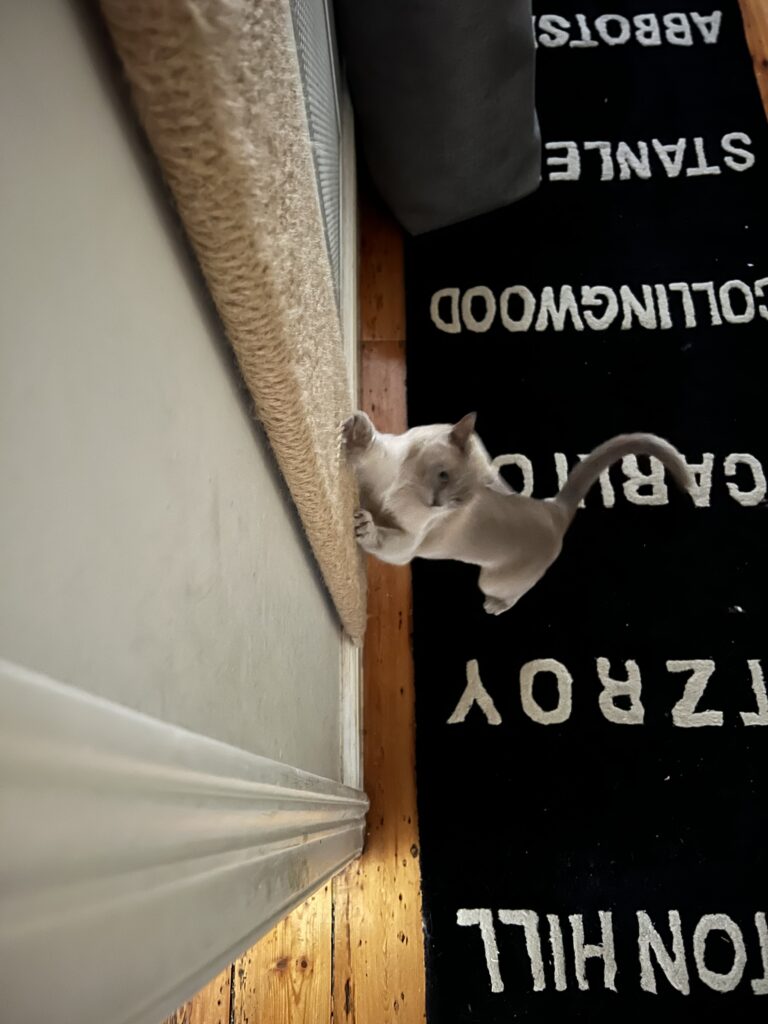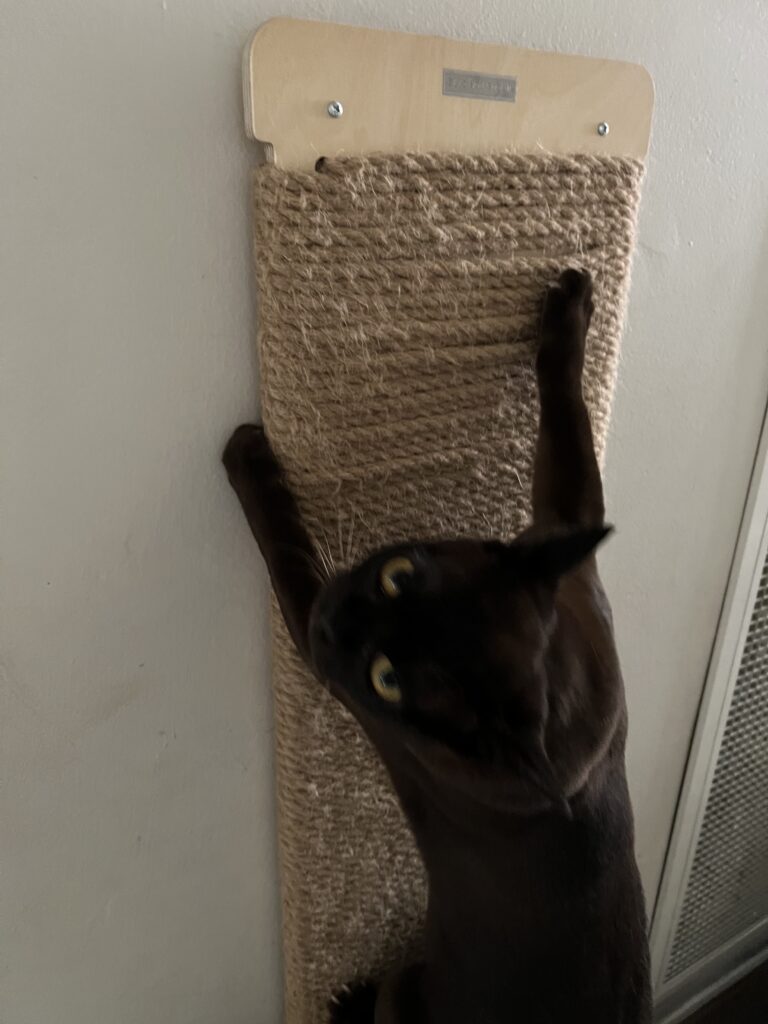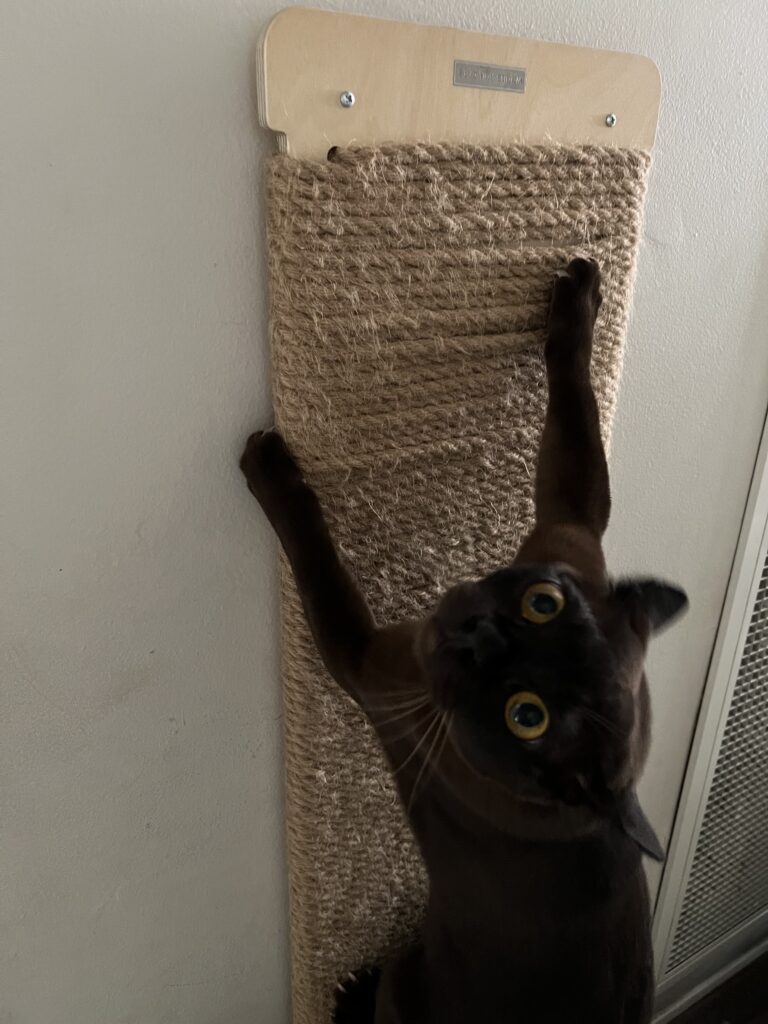 3
These are the best! So good that I bought a second one and I might even get a third!
I bought one with white cotton rope first and then one with jute rope. With four cats I was worried the rope may get grubby but it still looks gorgeous after nearly 2 years. Also super quick and easy to instal (a few screws and you're done!) and it is super strong once on the wall. My cats were instantly on it scratching, they love it. I never have a cat scratch my furniture now and I no longer have to trip over ugly cat scratches. I even put one in my hallway as they take up no room at all! Brilliant product and very high quality. Highly recommend.
2 weeks ago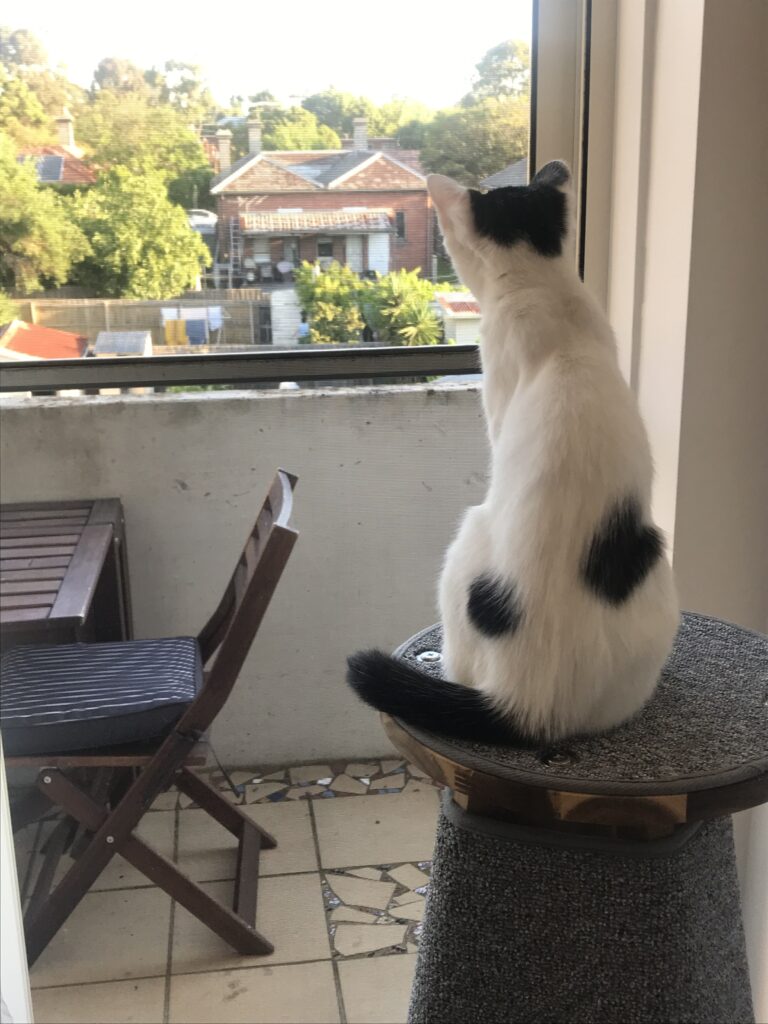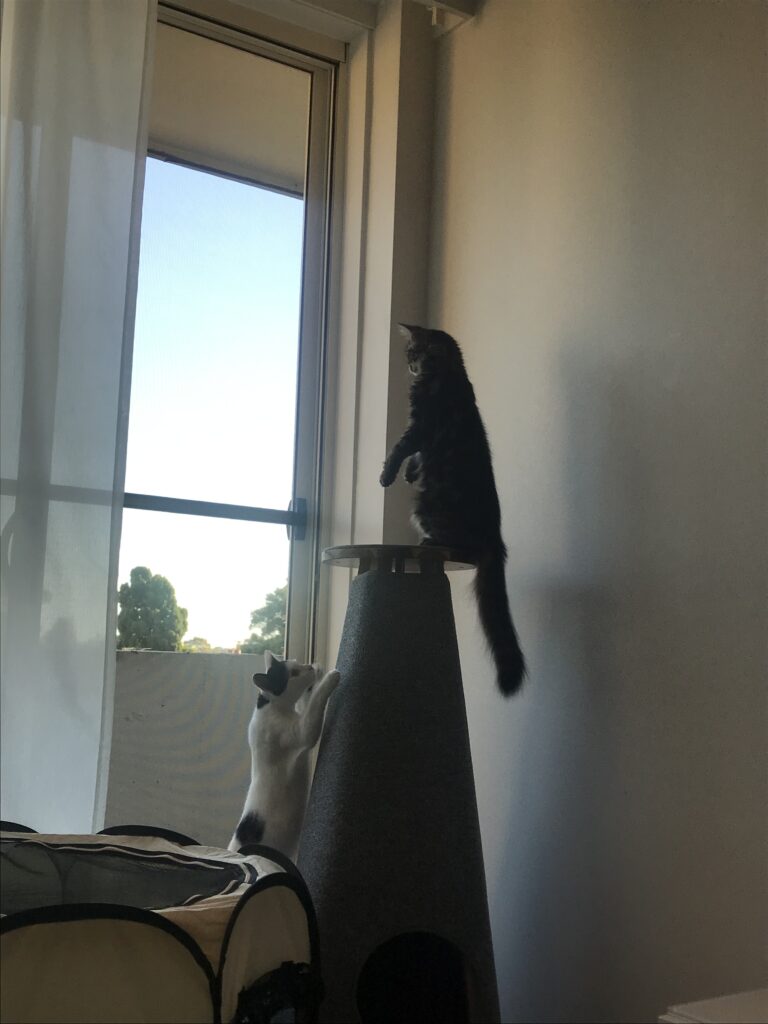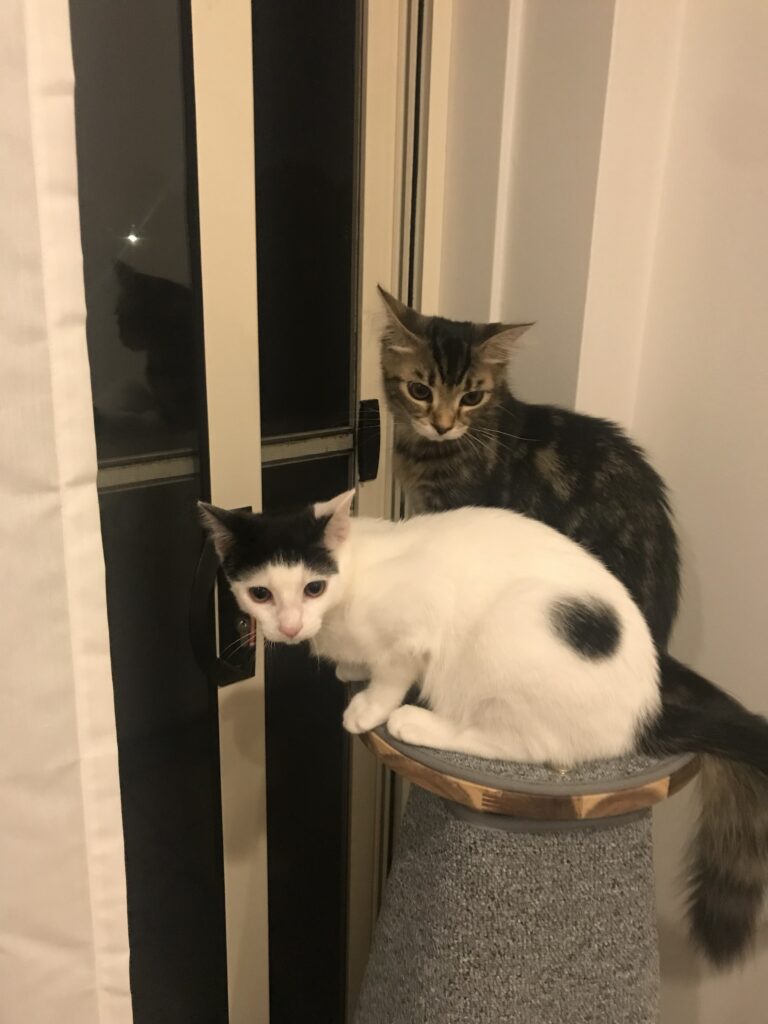 3
Shelley
Verified owner
My cats Scarlett & Melanie loved their Cone Scratcher straight away. It even revealed that Scarlett is apparently part meerkat 😺
2 weeks ago
Anh Huynh
Verified owner
Easy to add to any Toktok tree.
2 weeks ago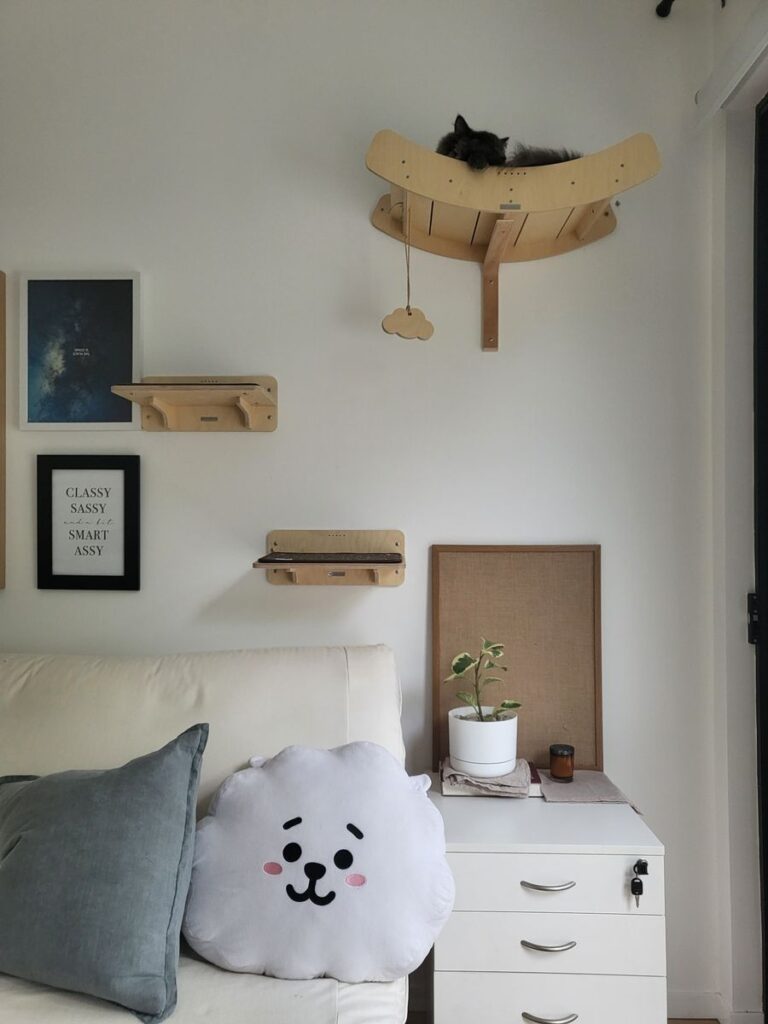 1
Anh Huynh
Verified owner
Needs a bracket and 2 more drill holes for larger breeds, especially with plaster walls. Relatively easy to put together. Cosmos loves this spot!
2 weeks ago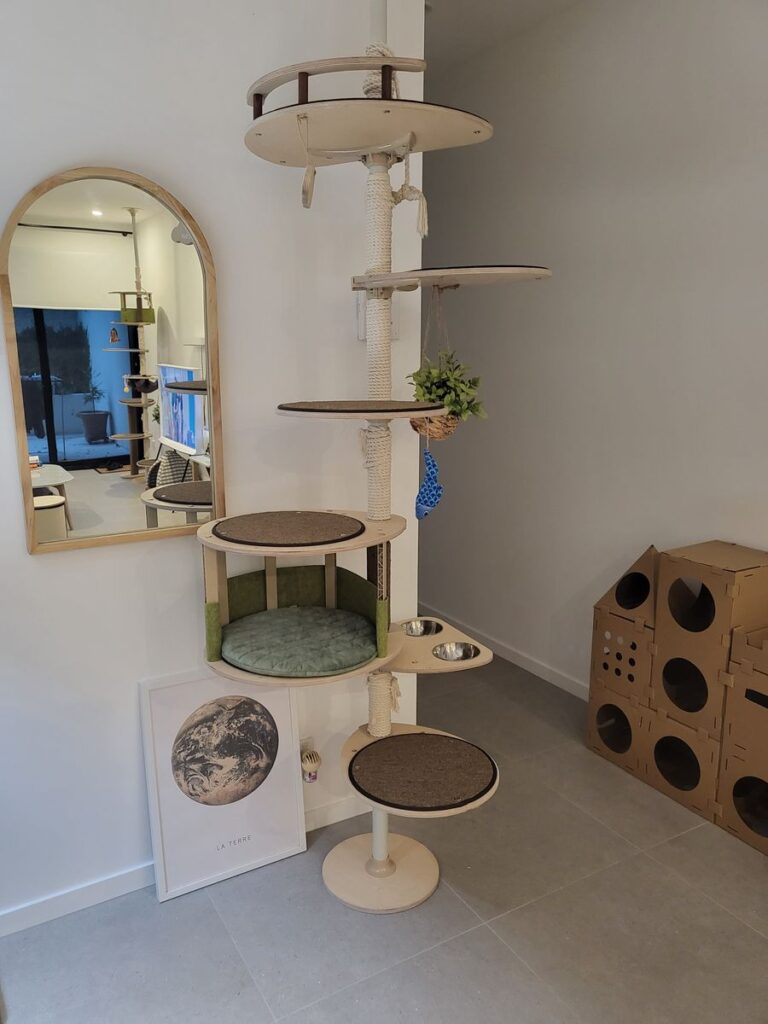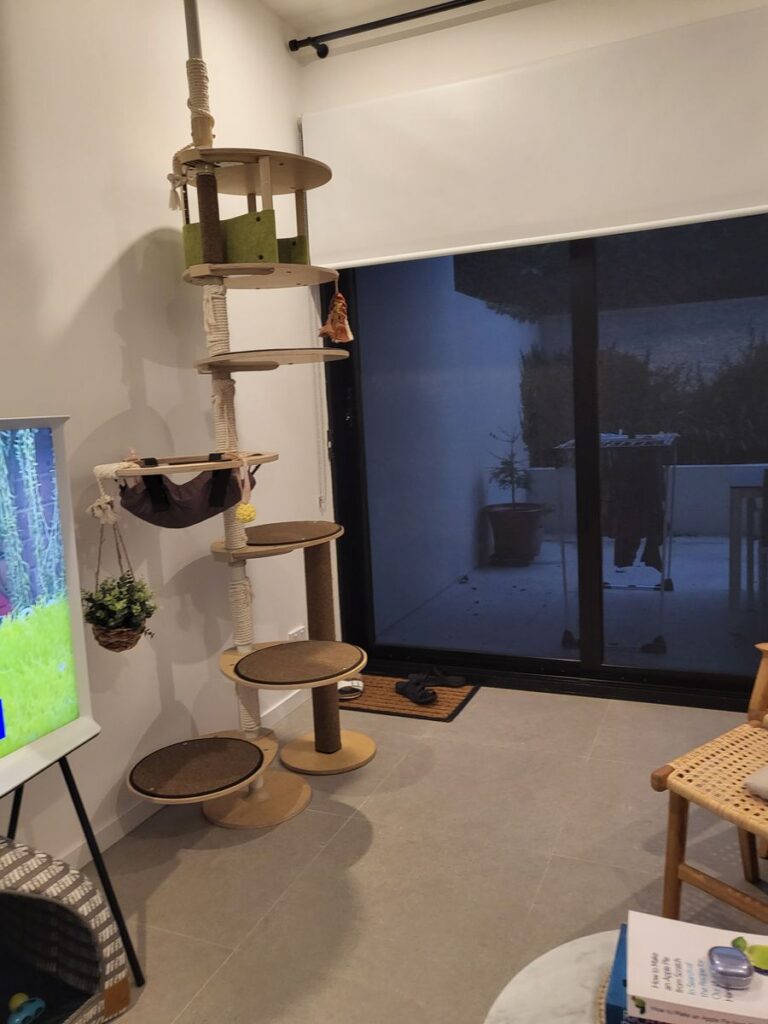 2
Anh Huynh
Verified owner
Looks great! Cosmos loves this so he can still peak down.
2 weeks ago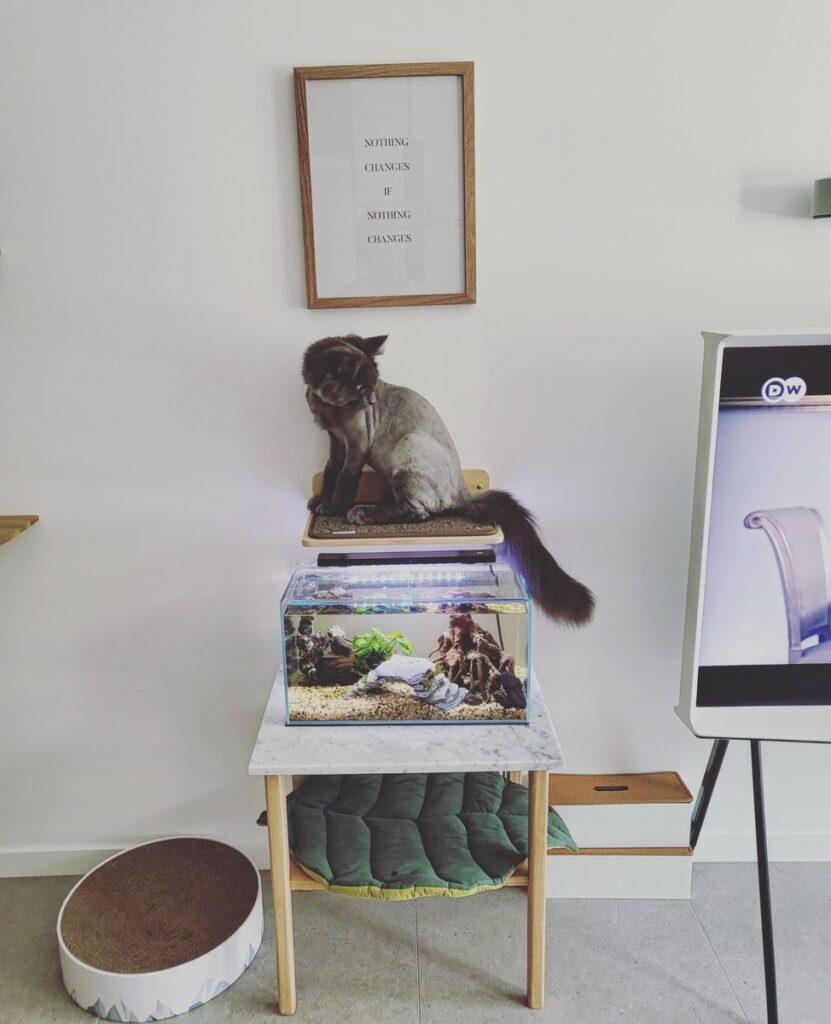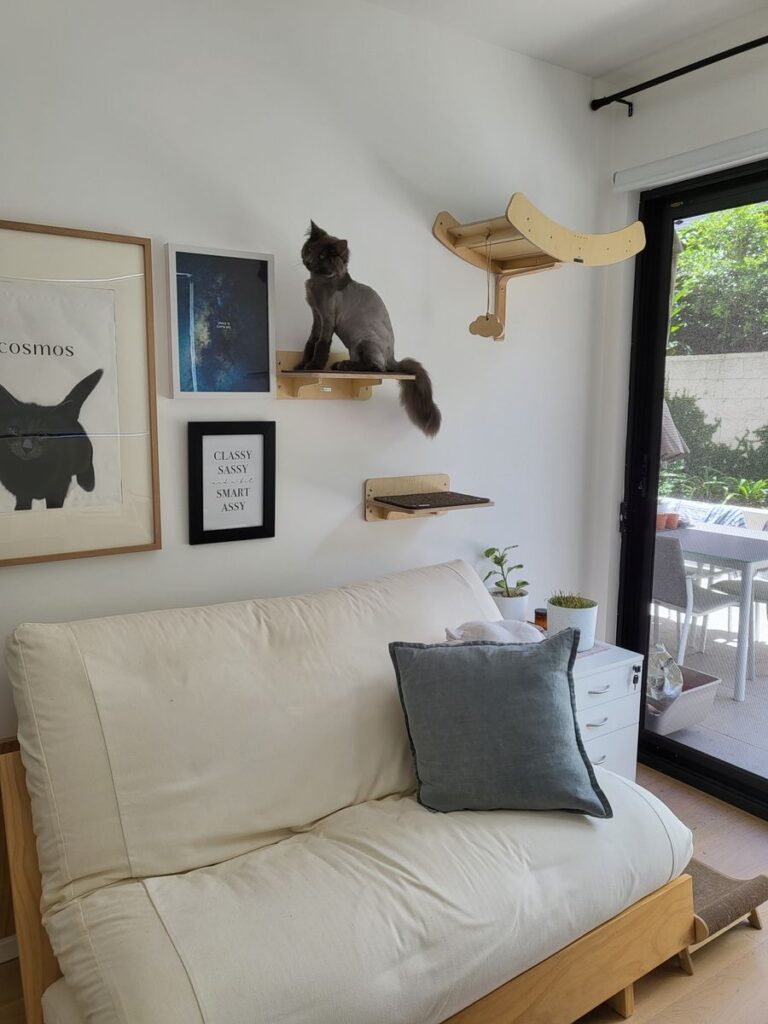 2
Anh Huynh
Verified owner
Needs a bit more drill holes for plaster wall if your cat is of larger breeds. Looks great and stable for jumps once you secure it properly though.
2 weeks ago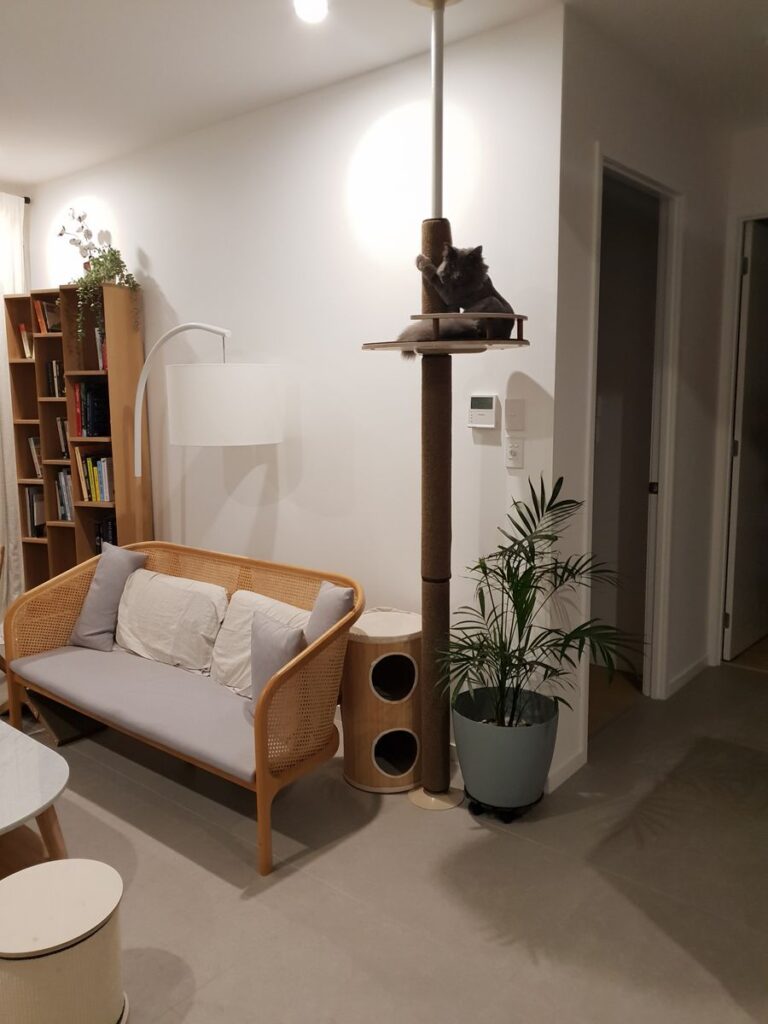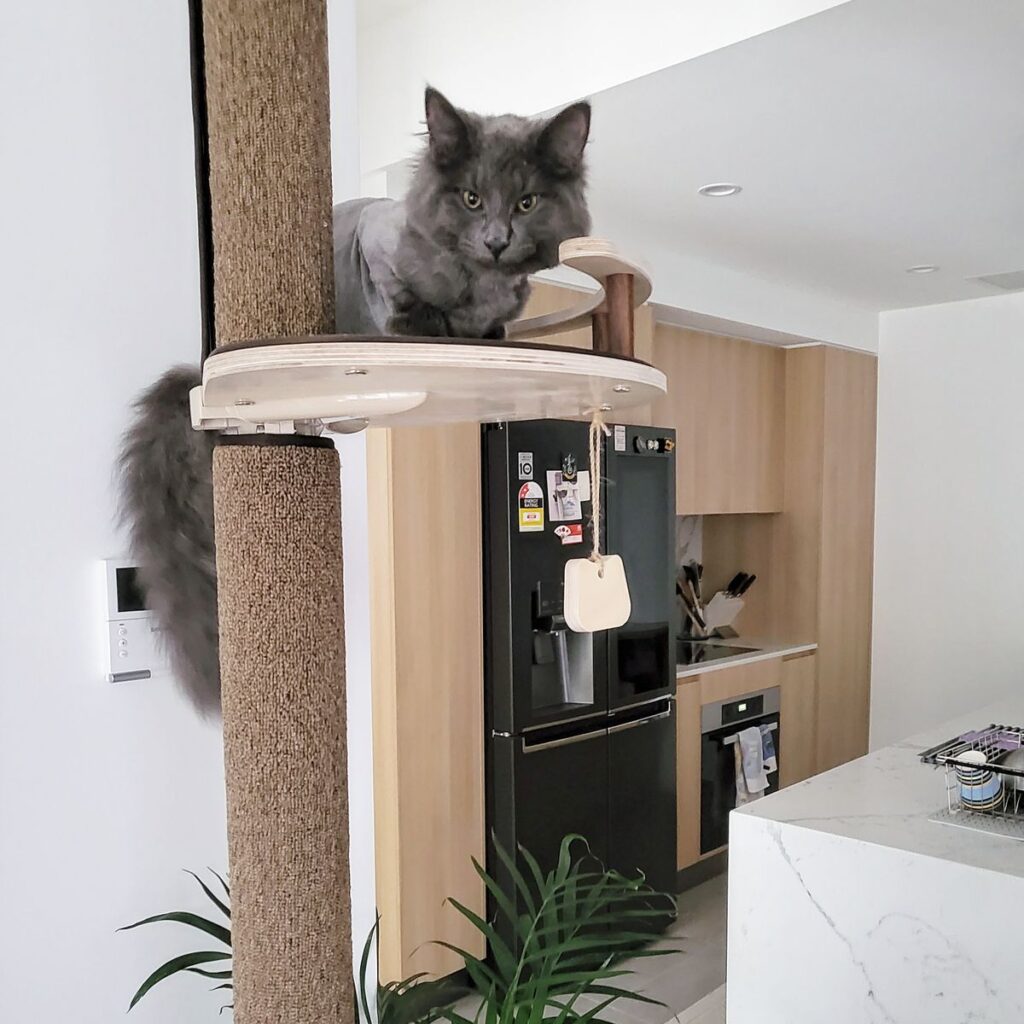 2
Anh Huynh
Verified owner
My baby Cosmos loves his trees and finds the Pole Dancer a fun addition to his obstacle course. Easy to put together and blends well with my furnitures.
2 weeks ago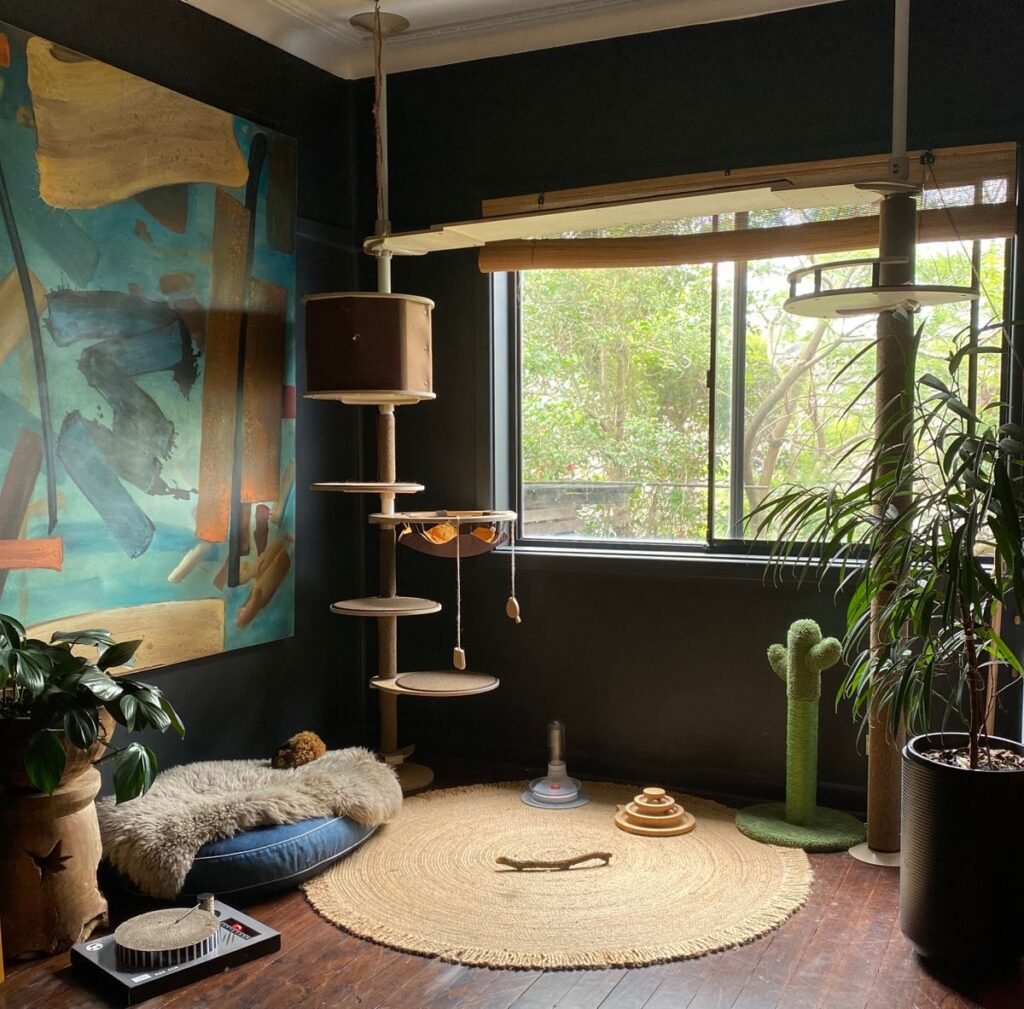 1
Peta
Verified owner
Our cats love the pole makes indoor play a lot more fun!
2 weeks ago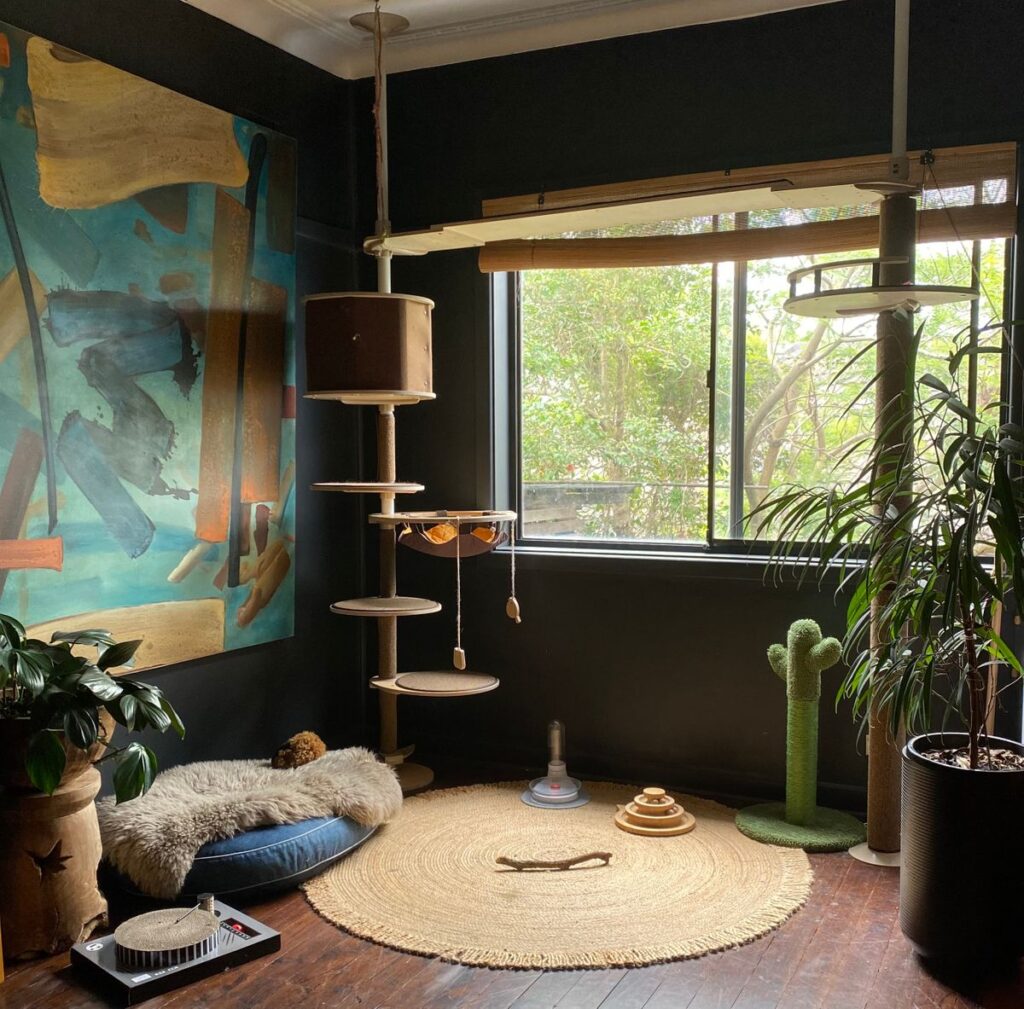 1
Peta
Verified owner
Our indoor cats love the tok tok bridge. It gives them hours of play and a place to relax and watch the world outside.
2 weeks ago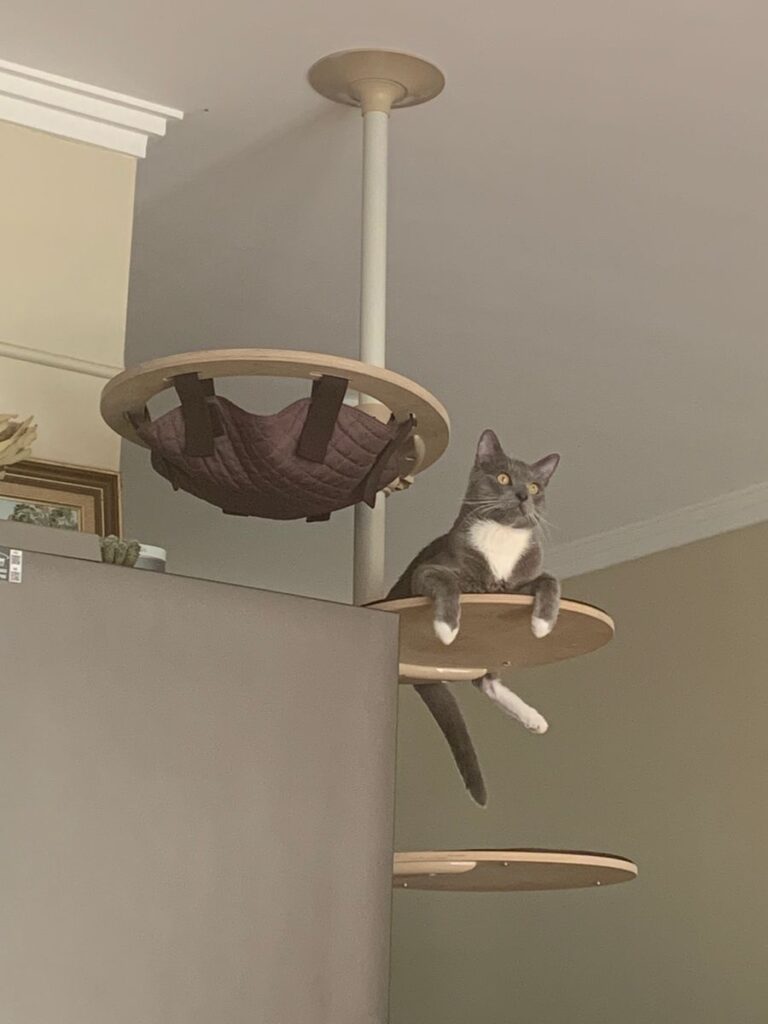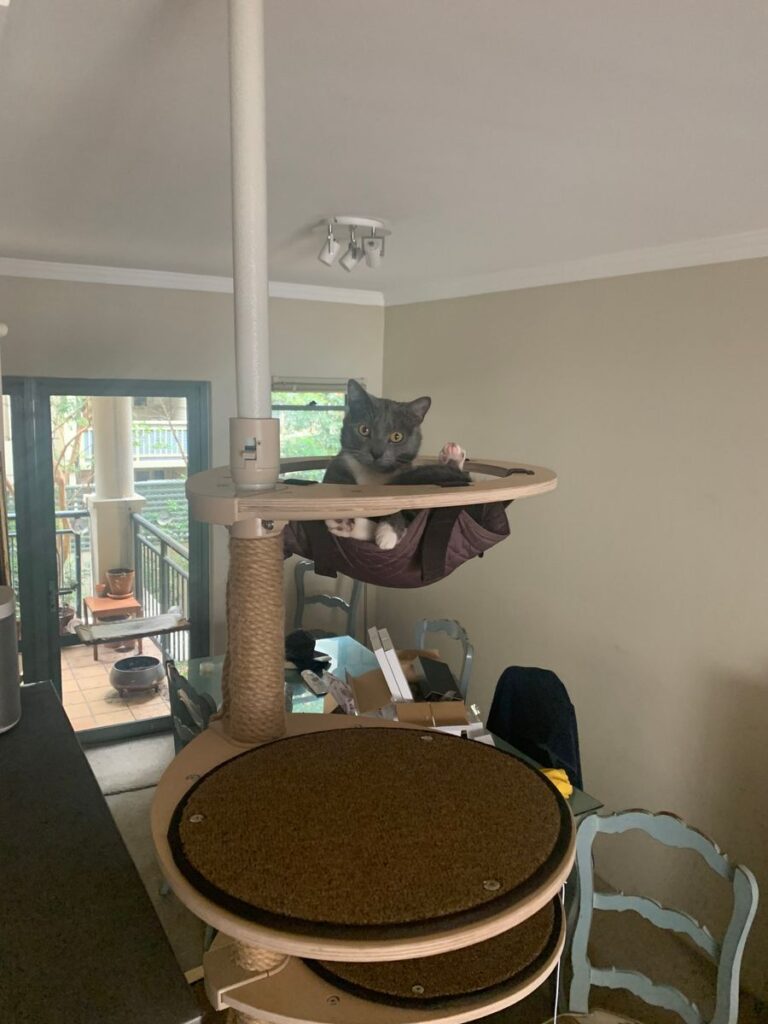 2
Hannah G.
Verified owner
Our cat loves his new tree! As soon as it arrived he started climbing all over it and he naps in the hammock all the time. We bought it (and spent the extra $$) to find something that would significantly improve our indoor cats life and also fit aesthetically in our home. It does both. Our cat is noticeably happier and healthier. We found it quite easy to assemble with the instructions, but it does take some time. Our cat is not yet using it as a scratching post but I think that's because we might have the lowest shelf too low - we hope he will figure it out once we make an adjustment! Delivery was very quick and the customer service was fantastic. It was a big purchase for us but we haven't regretted it once. I highly recommend it for indoor cats like our guy.
2 weeks ago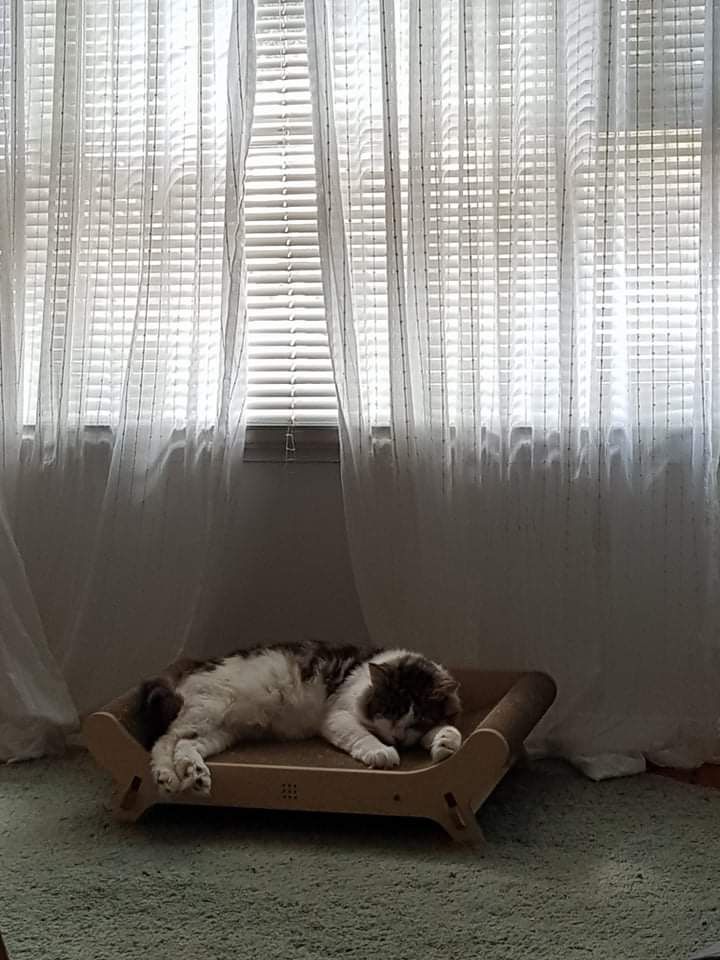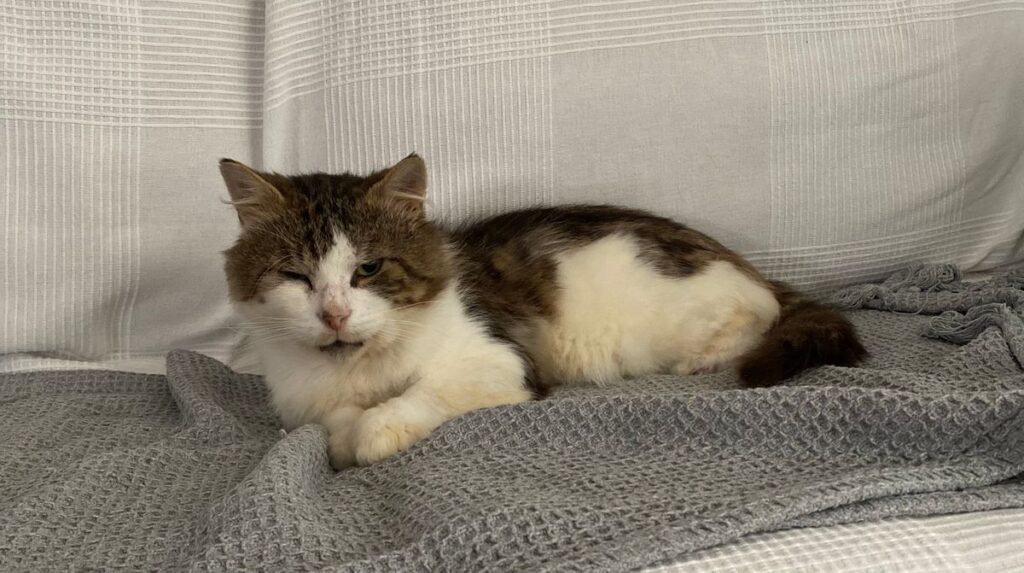 2
Heidi T.
Verified owner
Cliffy was rescued from a life of pain and suffering on the streets through Heart and Soul Rescue. His finder/foster carer loved him so much that she adopted him. Now he is living his 'bestest' life with only the best … here he is lounging the day away on his Woods for Cats couch ❤️
3 weeks ago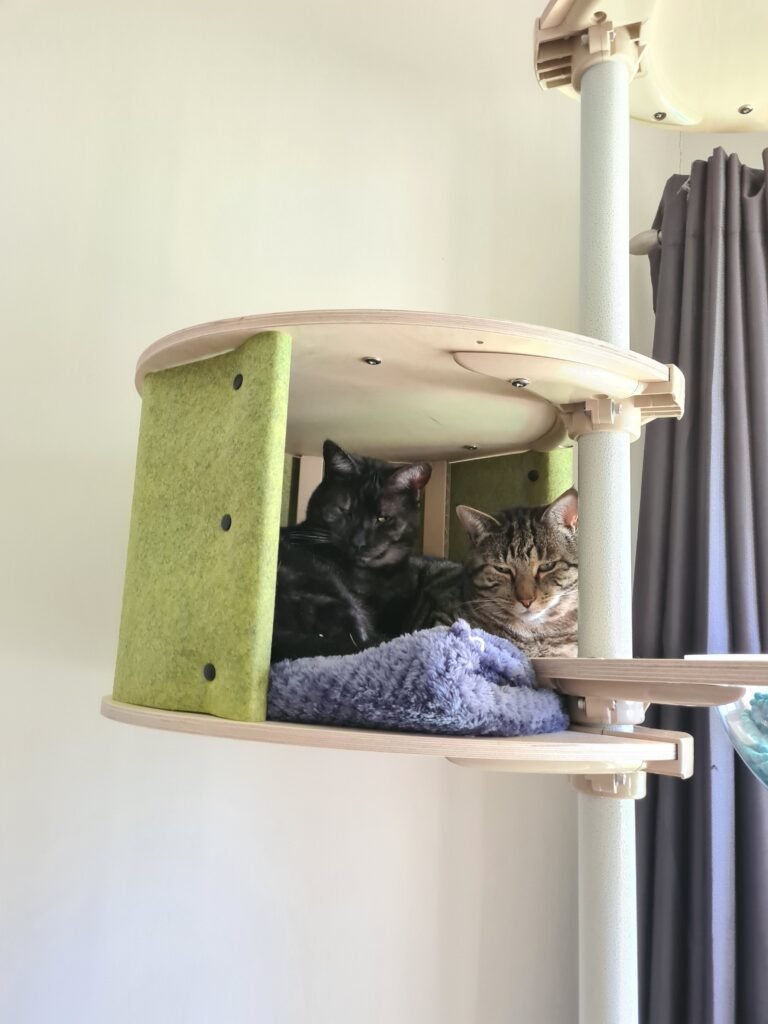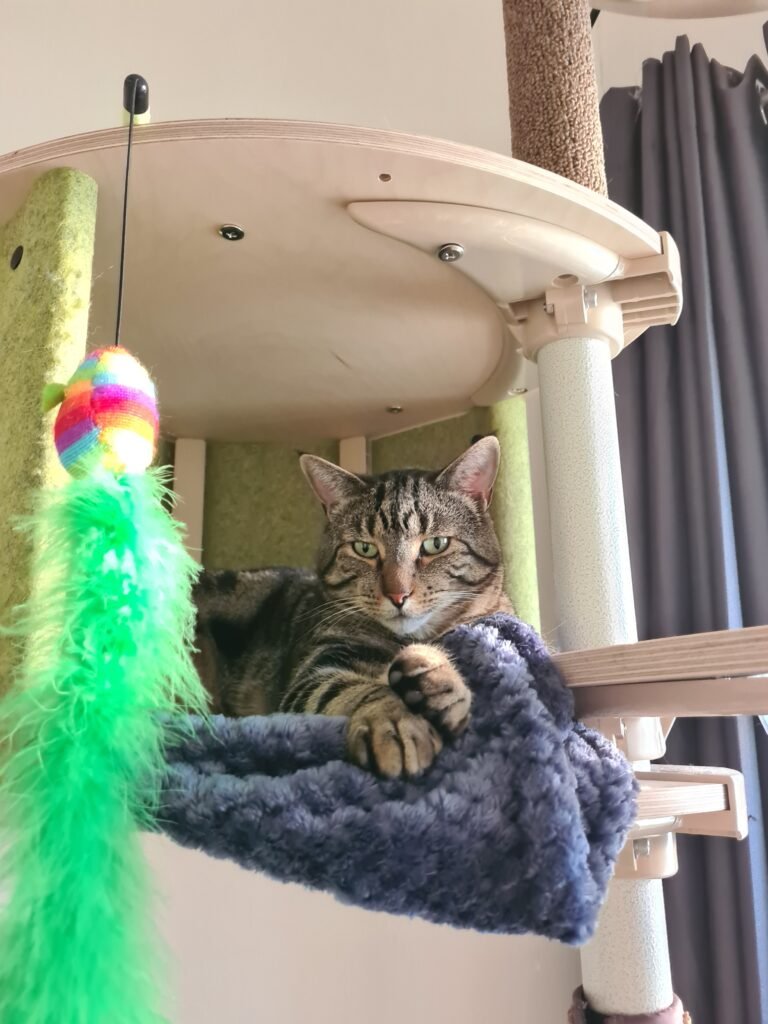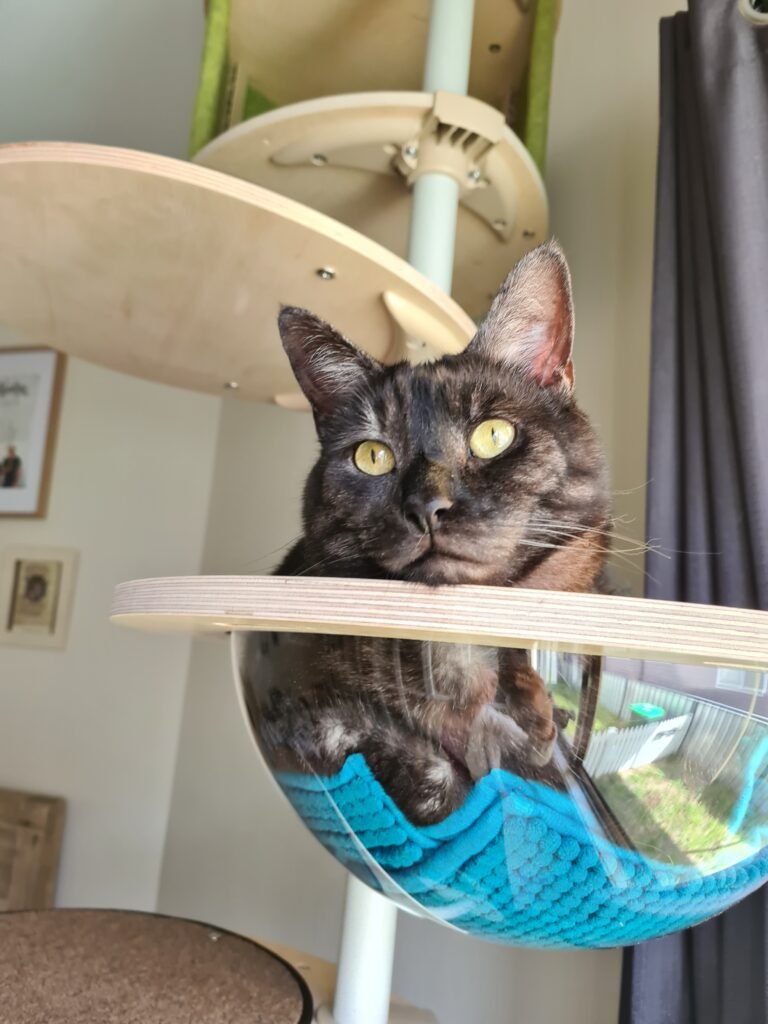 3
My boys love climbing and being tall so this was perfect. So easy to assemble and so sturdy! so worth being on the wait list to see when these come back in stock!
3 weeks ago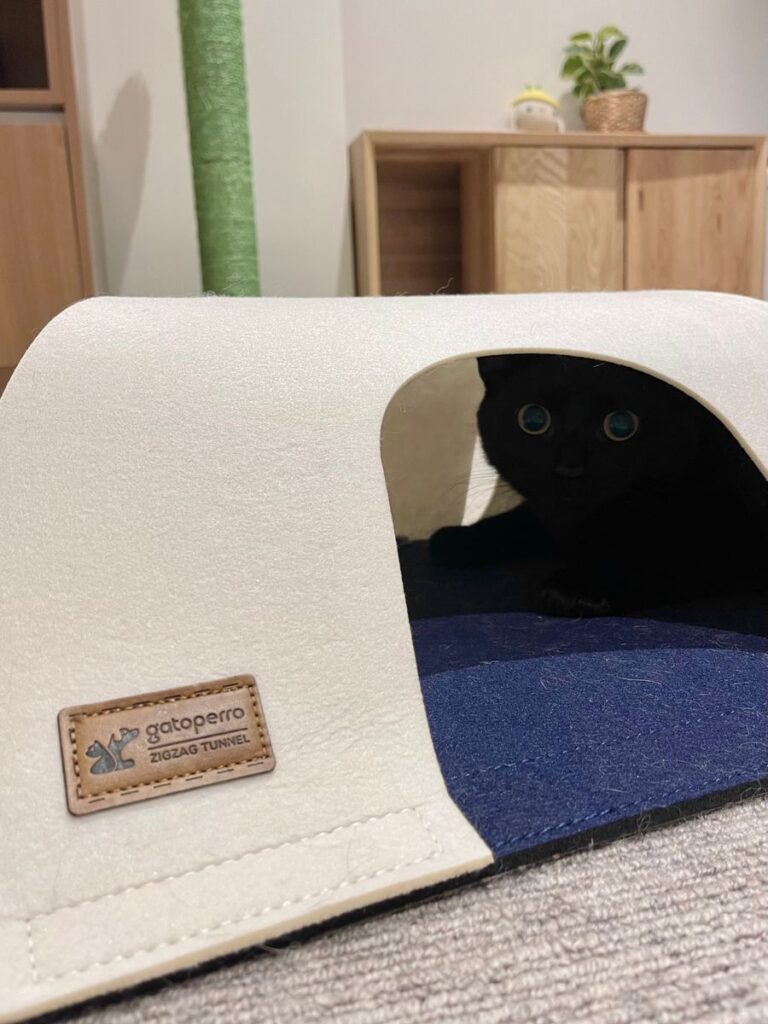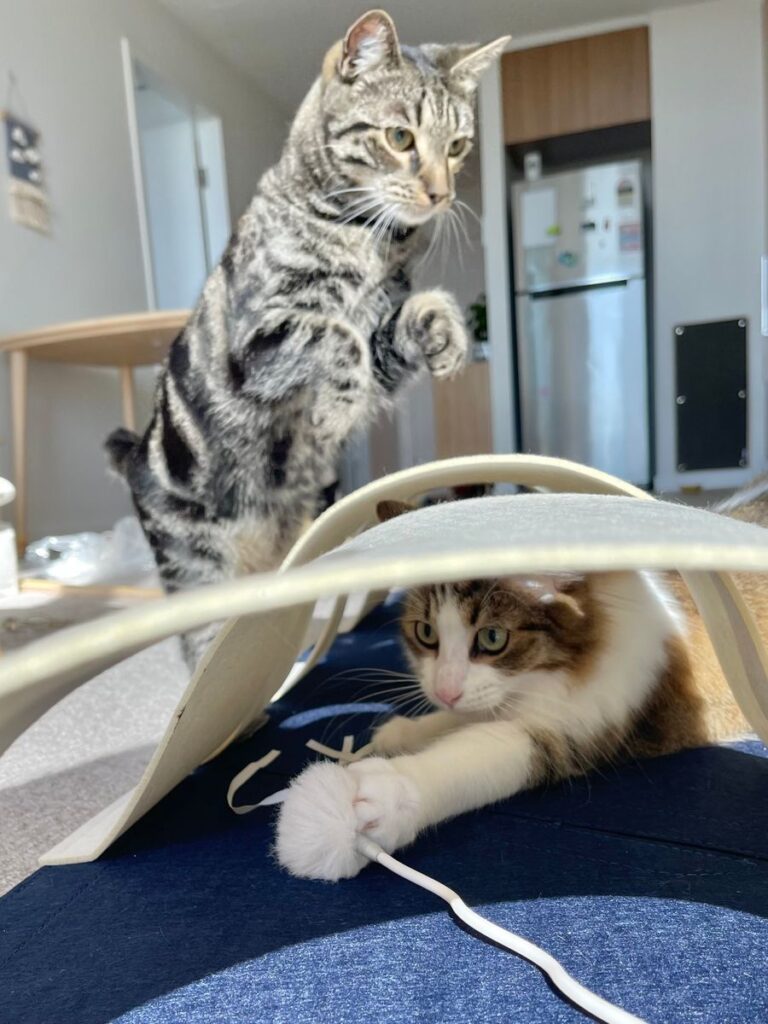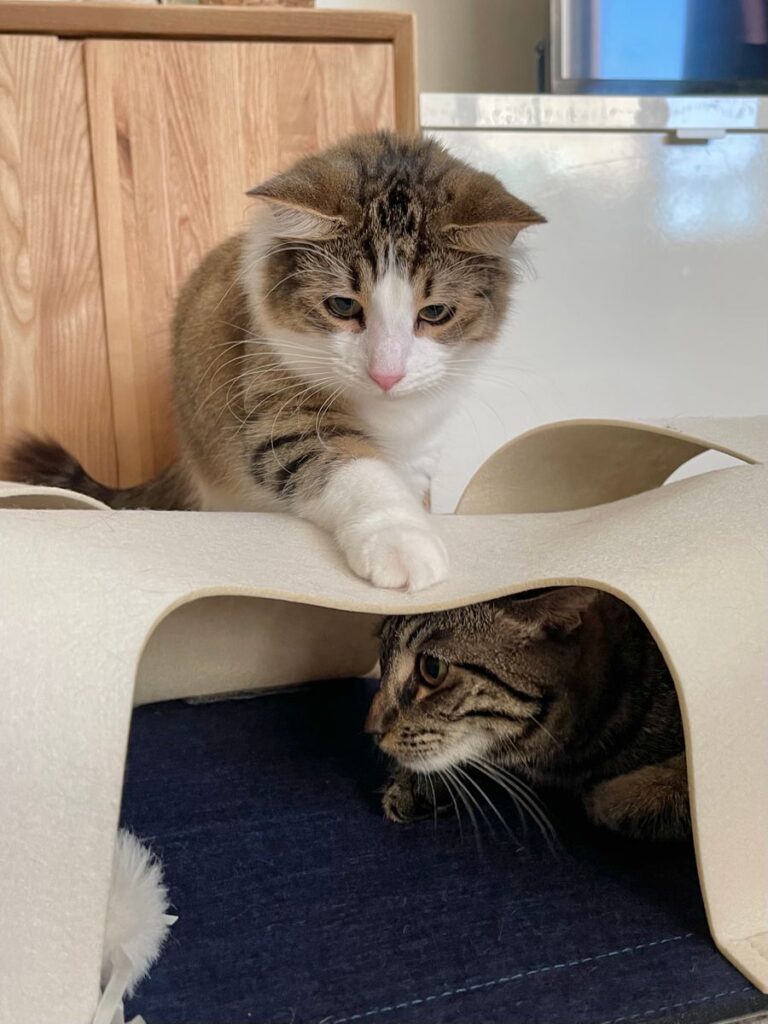 3
Amy
Verified owner
Our three cats are obsessed with this tunnel!
Such a great way to incorporate interactive play - they go crazy when we use a wand toy and throw balls through it. To our surprise they will often use it for self-play too by chasing each other through the tunnel, and also love lounging under/on the tunnel. The quality of the felt feels really great - the shape holds well despite three hefty loafs sitting and stepping on it all the time. The design makes it really easy to switch up the shape and is also super easy to clean. We just run our vacuum over it and it looks brand new again.
Highly recommend - such a versatile and fun product. Thanks for keeping our babies happy and entertained Livia!
4 weeks ago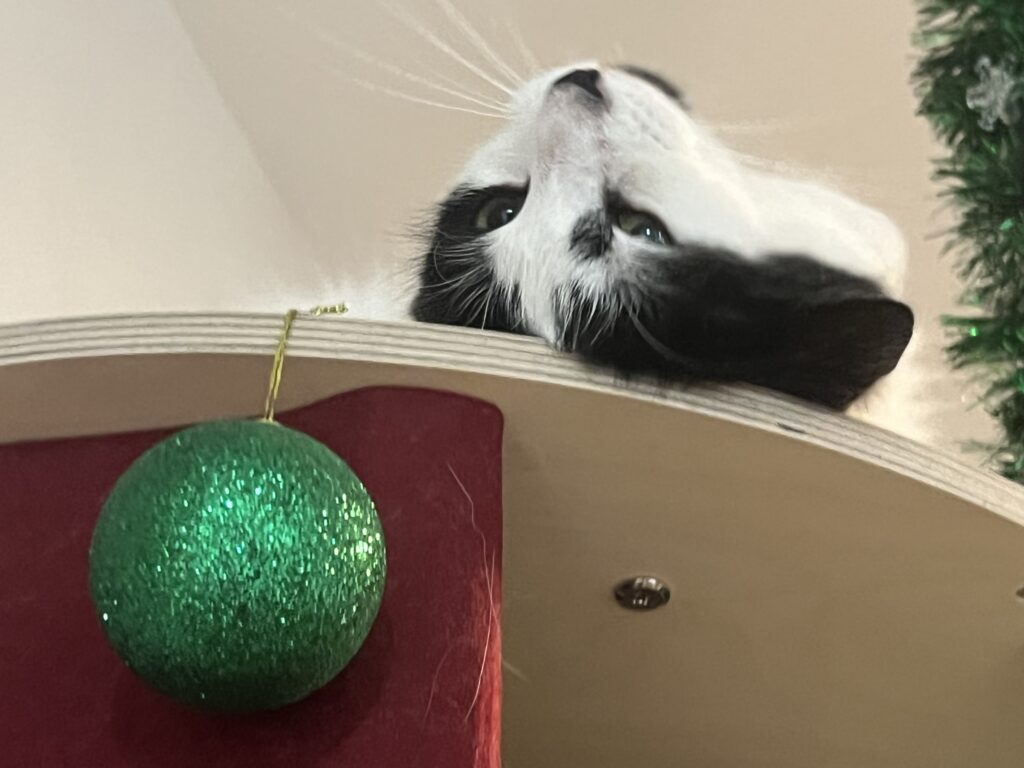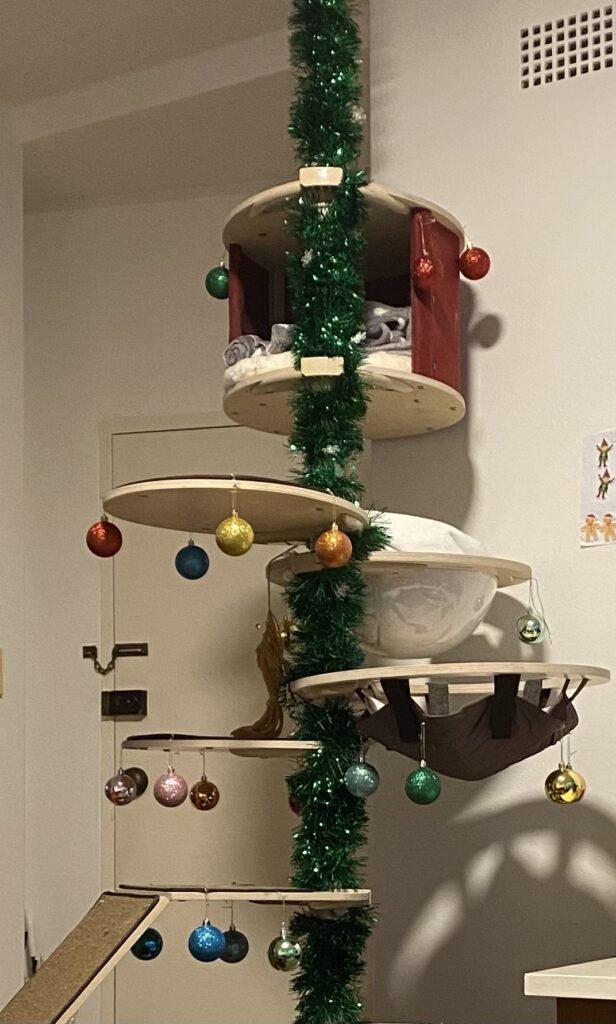 3
Xmas Cat Tree. Not sure we'll be able to undecorate it now.
1 month ago
The best cat tree there is - Wally loves it (especially his fabric hammock) and we do too. It's expensive but absolutely worth the price.
1 month ago
Jacinta
Verified owner
Wallace & humans love the cat pole! He races up it like a maniac, gets into a boisterous and murderous mood on the half moon platform, and stretches and keeps his danger mittens nice and sharp at the bottom of the pole. It's stylish and fits easily in our small apartment 😀
1 month ago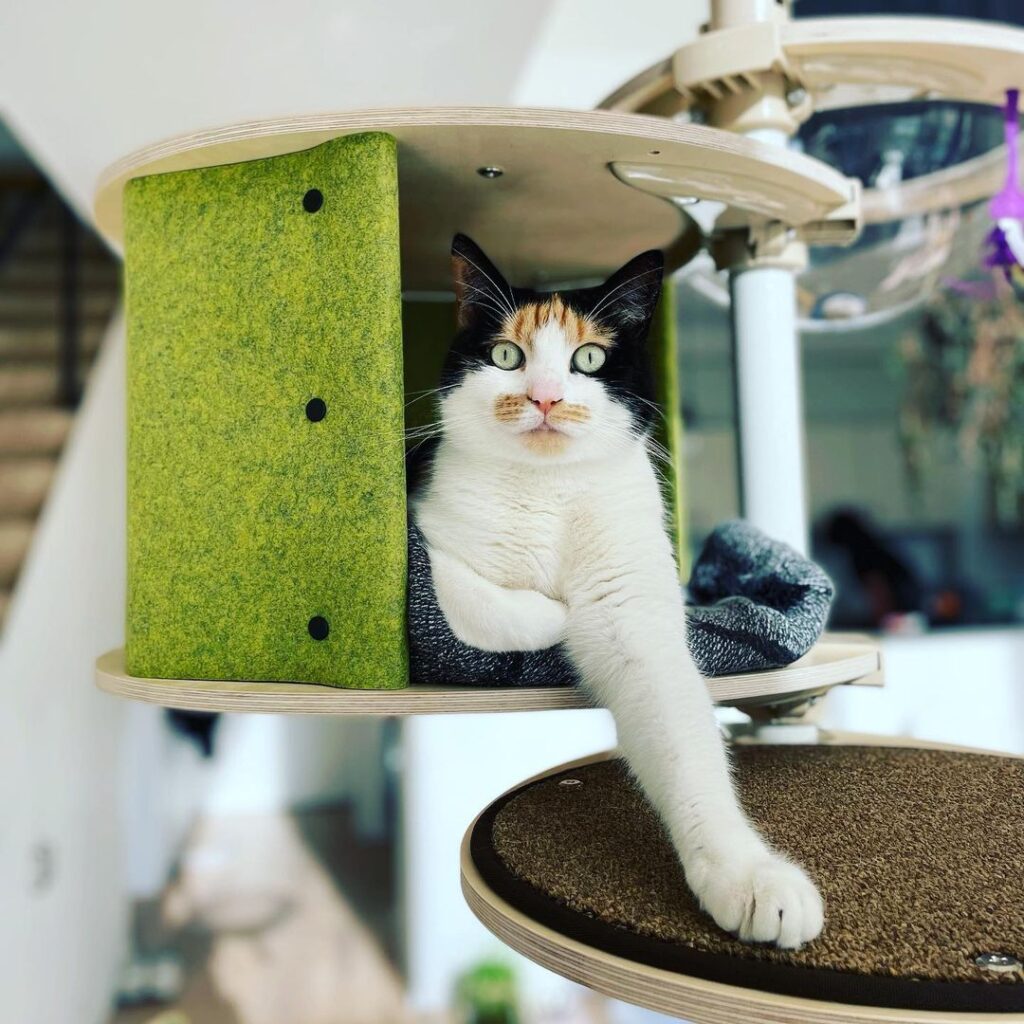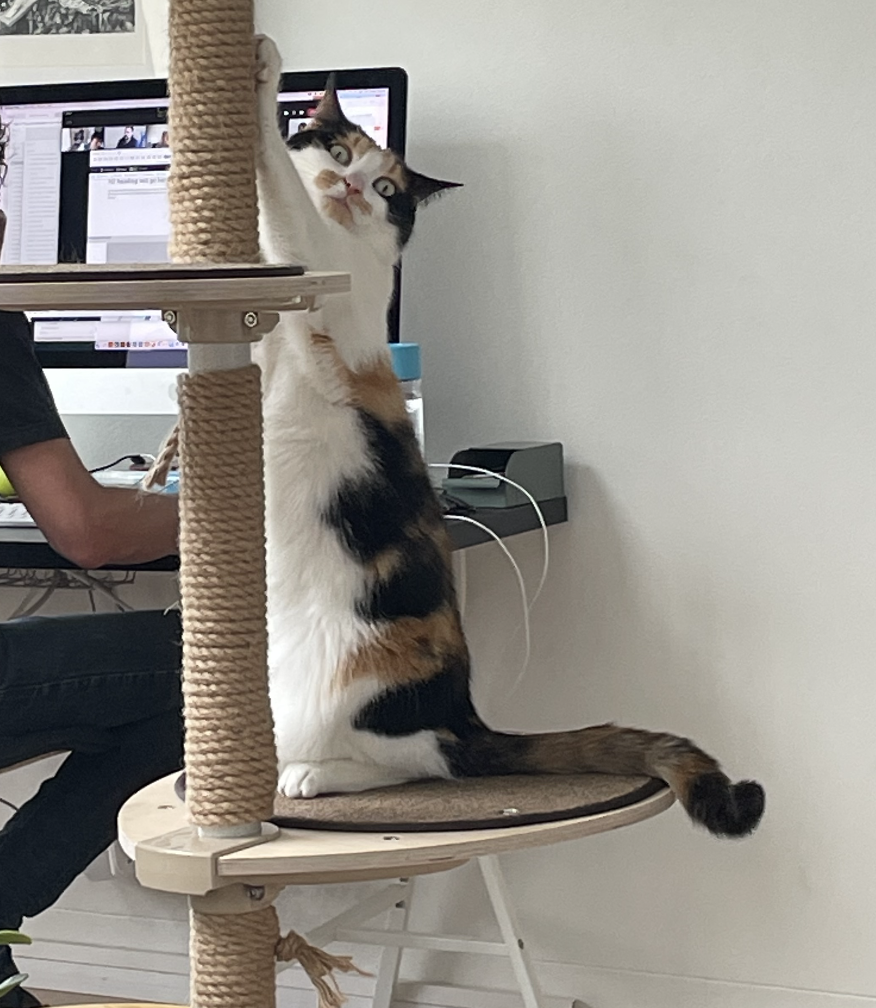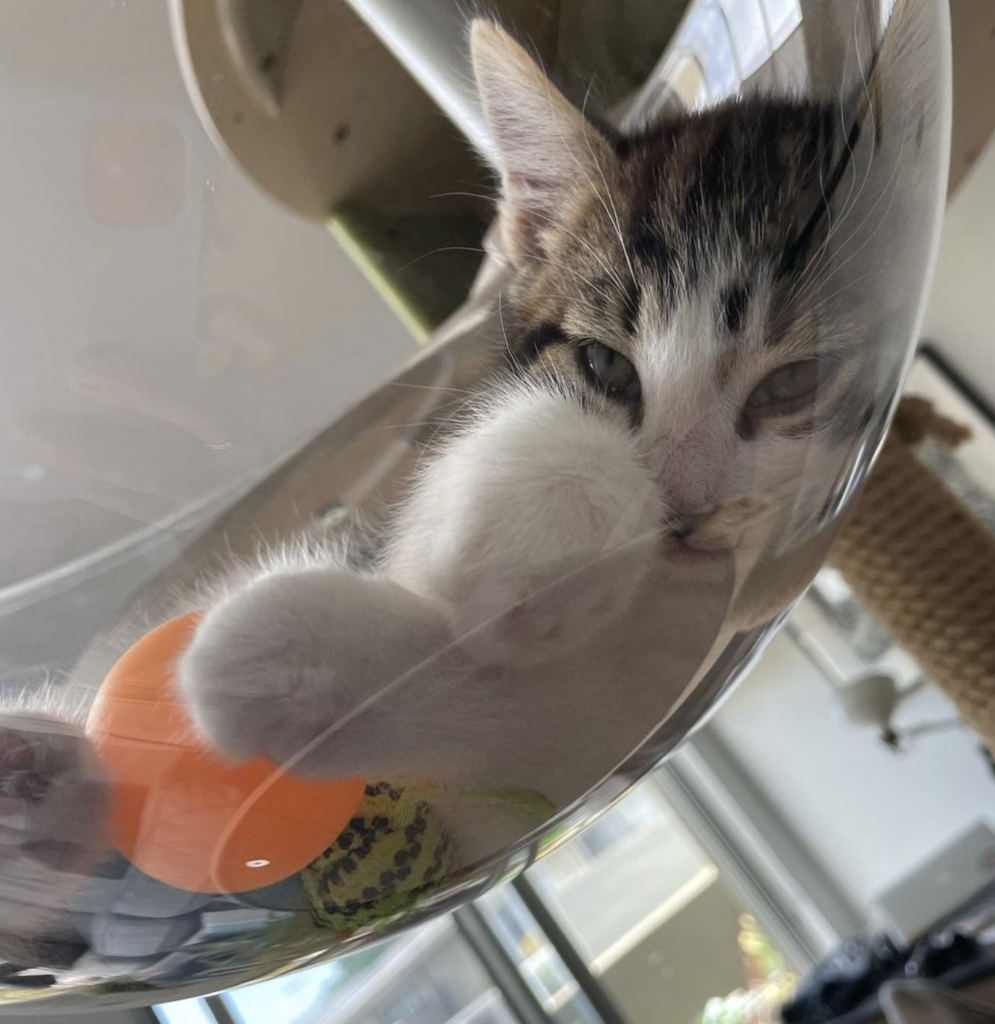 3
Our cat loves this tree, hangs out in the little house and uses the scratching pole a lot. Our foster kittens love playing in the acrylic bowl, it's very entertaining. Love the minimalist design and good quality vegan materials. It's also awesome that Woods for Cats help stray cats and support shelters!
1 month ago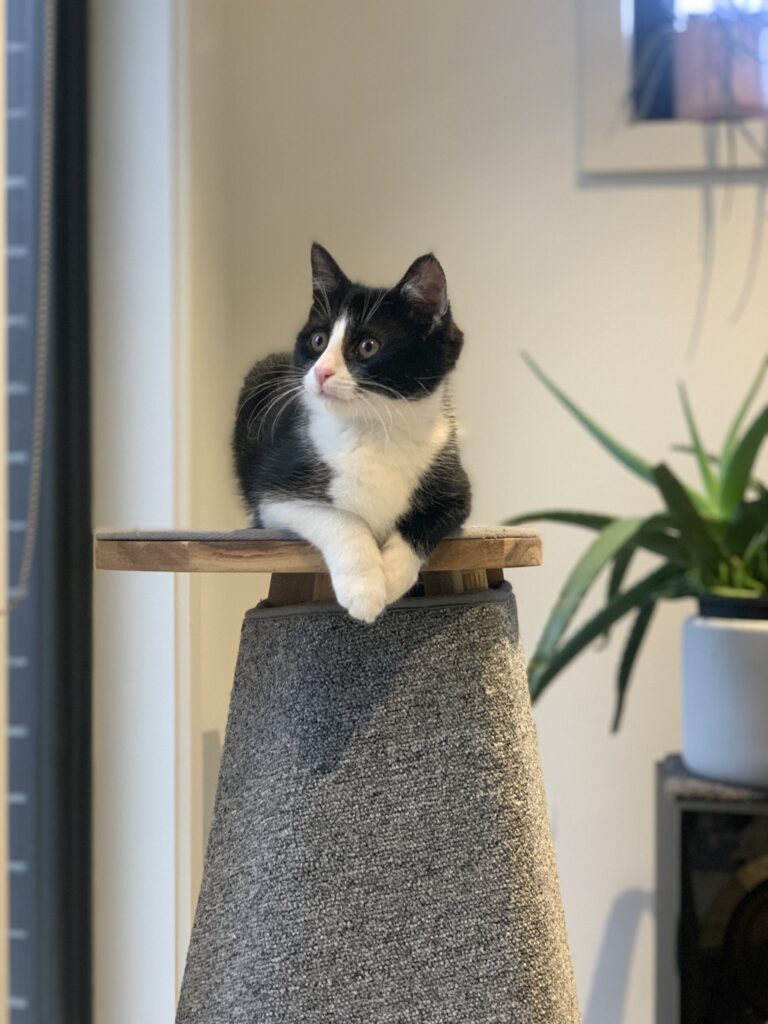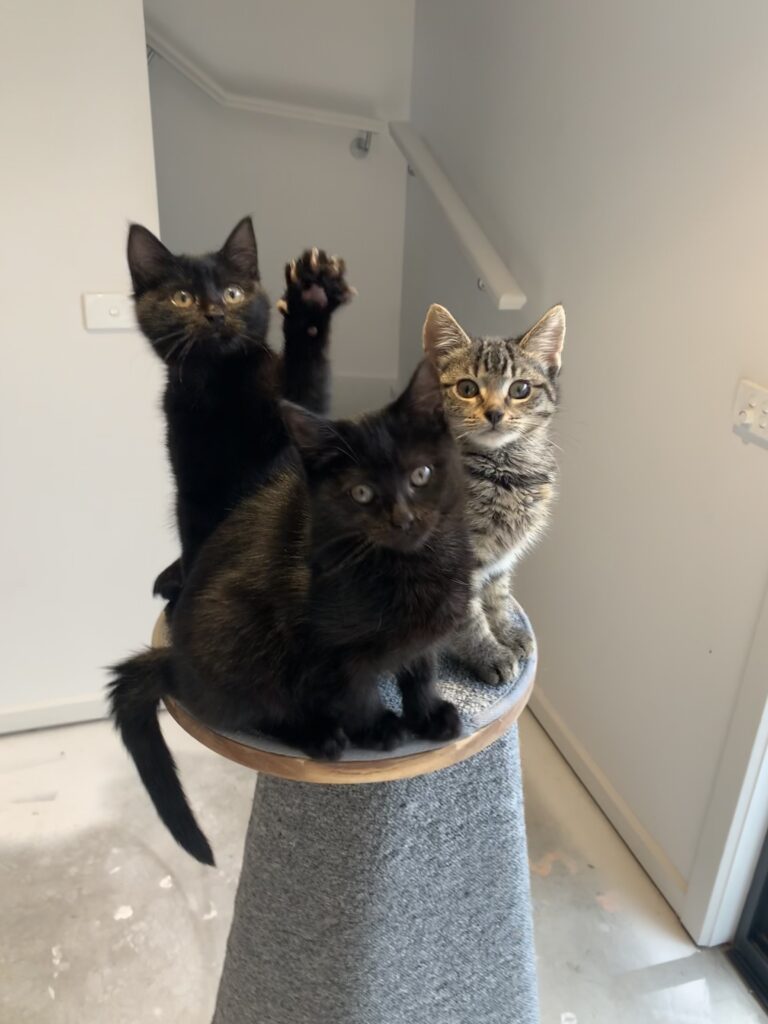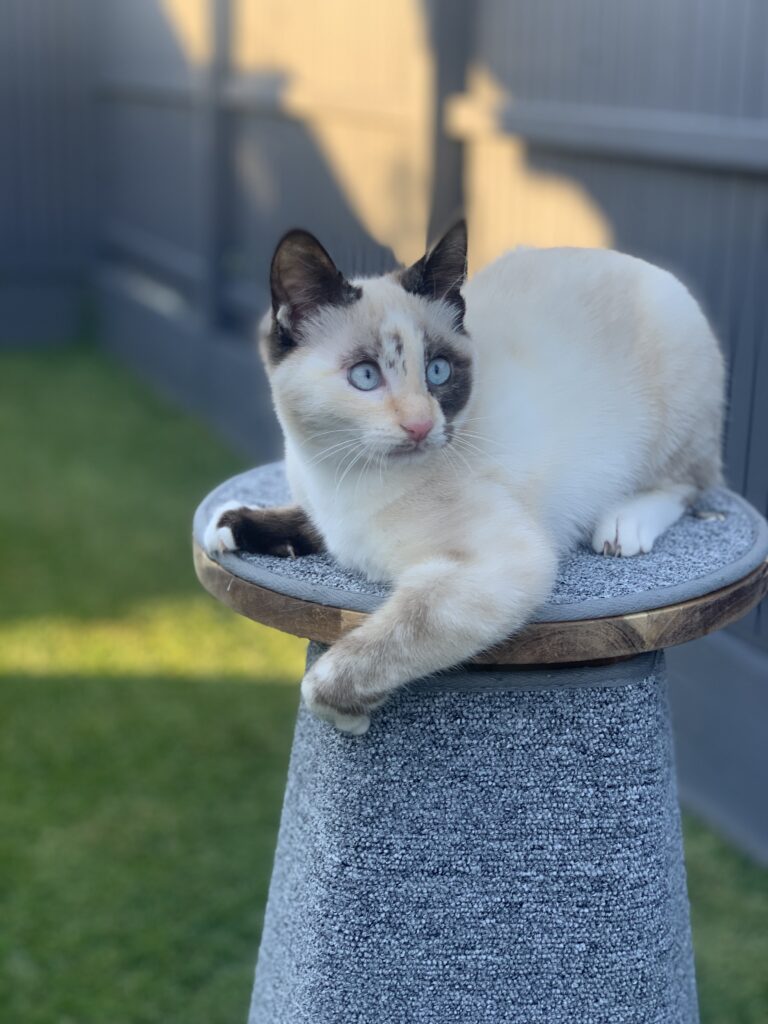 3
I'm a foster carer and the Cone is an absolute essential in our rescue for all our fosters. Most love running up and down and playing chasing with each other, some actually love sleeping on it when it's next to the window, a few are a little cheeky and play hide and seek in the hiddy hole.
A beautiful made piece of furniture that's of high quality.
Thank you Woods for Cats team for always creating stylish, sturdy, ethical and very cat friendly furniture.
1 month ago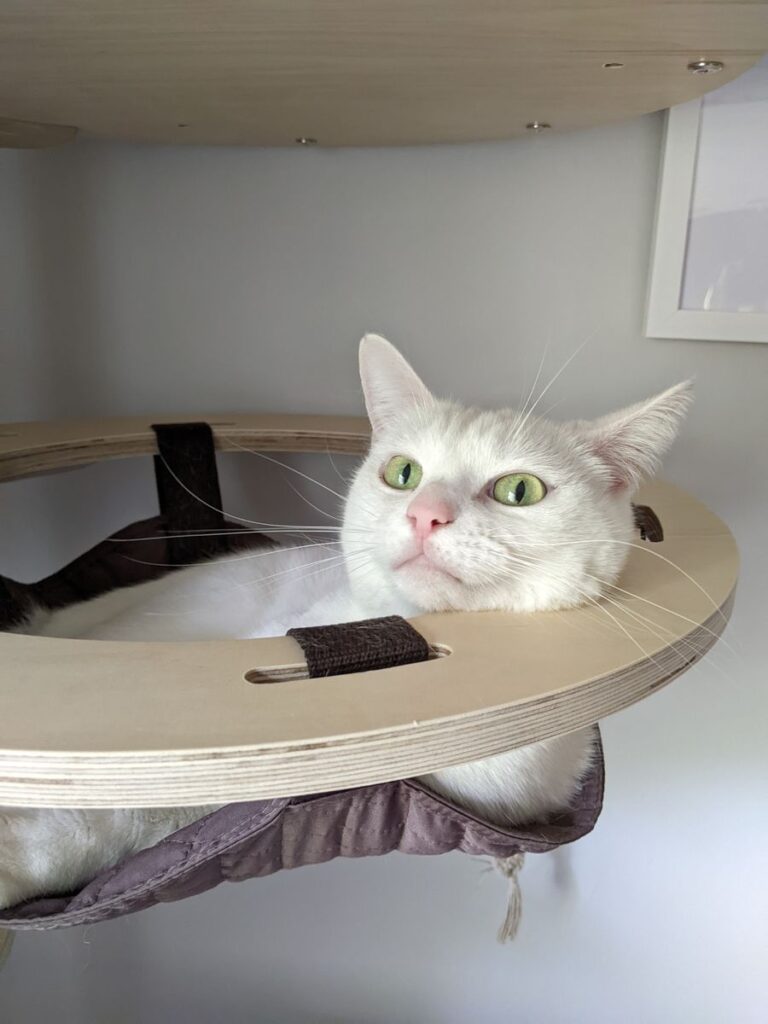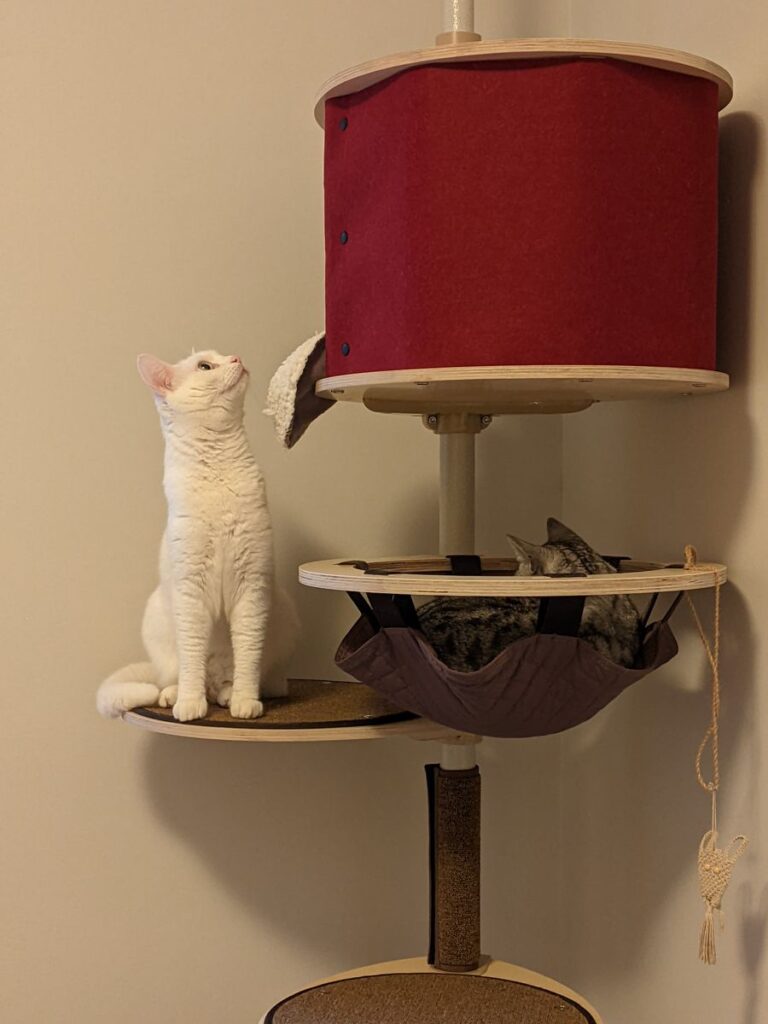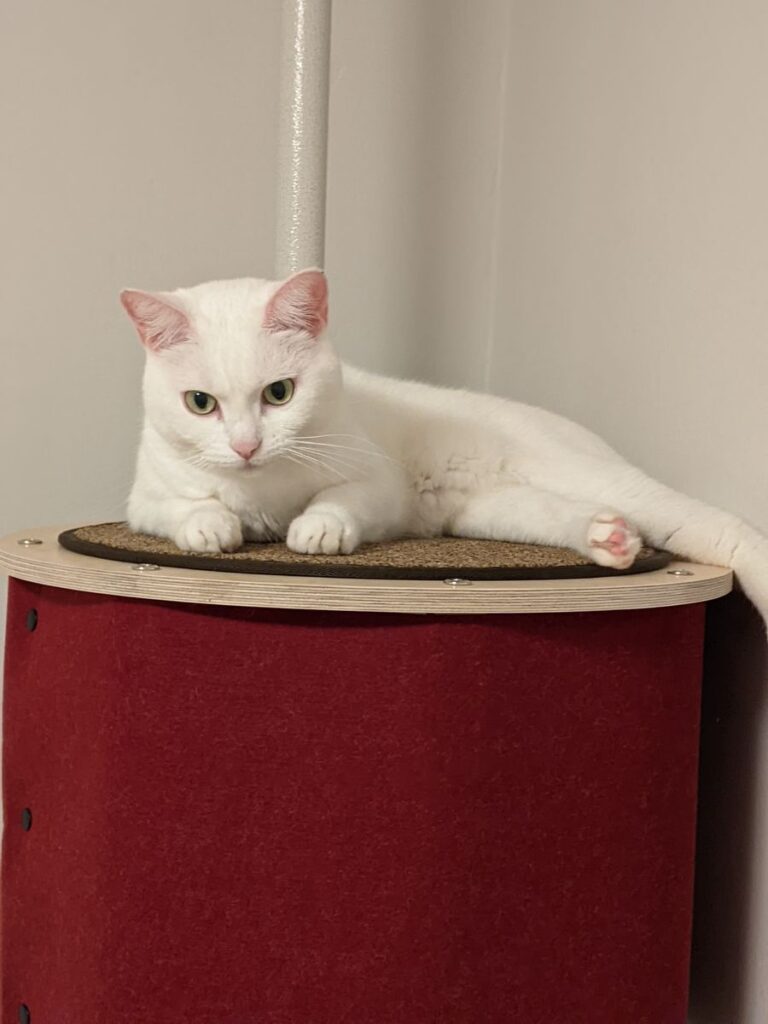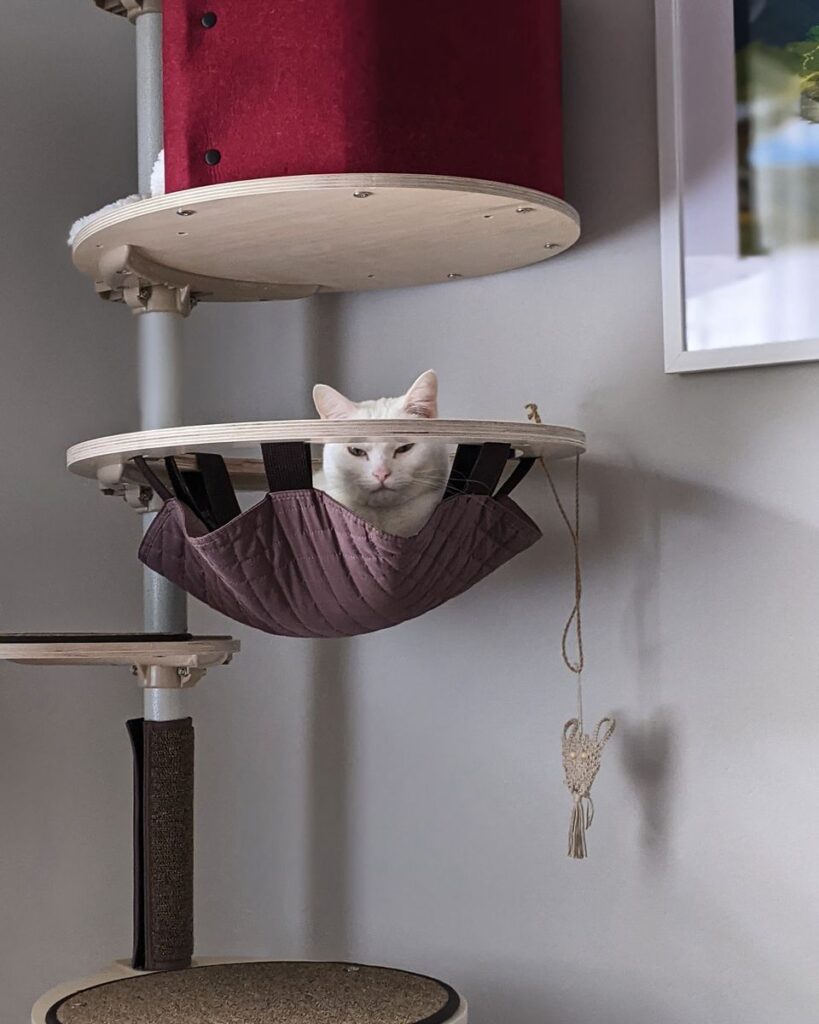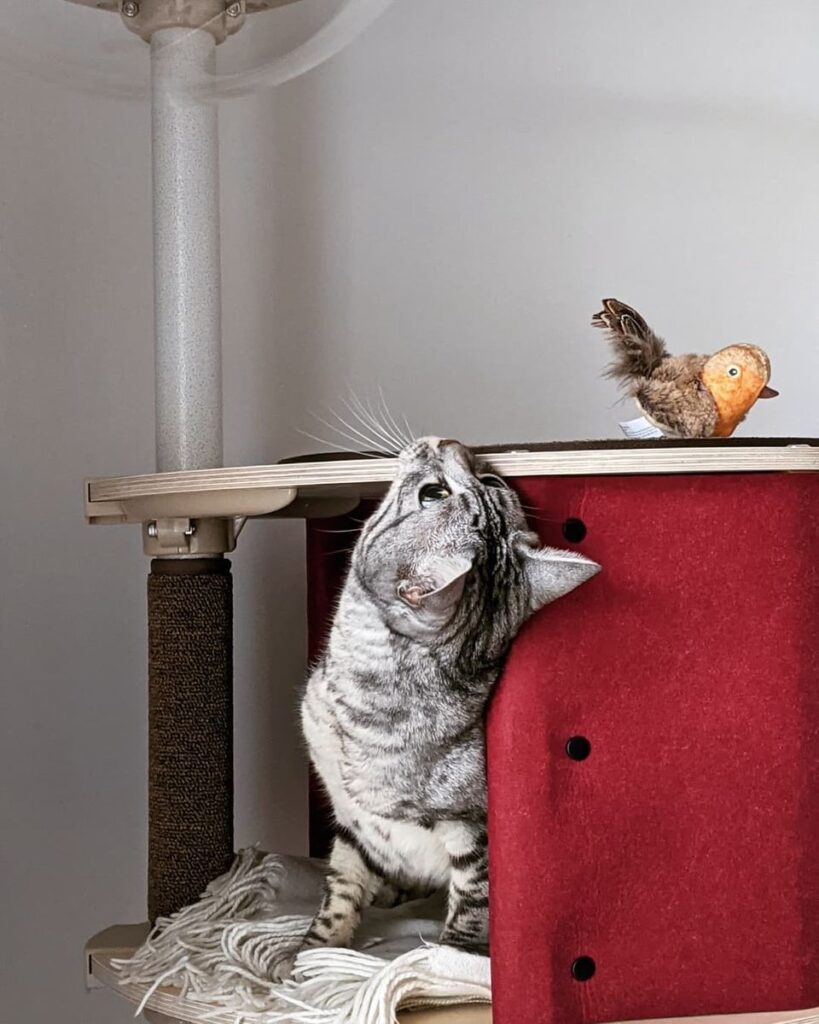 5
Cherith C.
Verified owner
The best cat tower in town!
It's hard to fully express how much we and our two cats love our Tok Tok tower. We were looking for a floor-to-ceiling tower that would allow Evie and Snow to enjoy hanging out up high (their favourite place to be) without taking up too much floor space or requiring screws to fix it in place.
They both took to it really quickly and now the hammock is Snow's favourite snooze spot in our whole apartment. She also loves to lounge out on the very top of the house. The best thing is you can move it to a different location relatively easily and change the configuration of the platforms etc to suit how you cat/s use it.
The team at Woods for Cats are extremely helpful and clearly care about every cat they are supplying to, with thoughtful touches with each delivery.
1 month ago
Fiona
Verified owner
Our cats love the tok tok trees. They are amazing quality great to look at too! The climbing board is their favourite way to run to the top as fast as they can.
1 month ago
Fiona
Verified owner
We love our tok tok trees and the pillar scratcher was a great addition. Our cats stretch out for a scratch most times they walk past.
1 month ago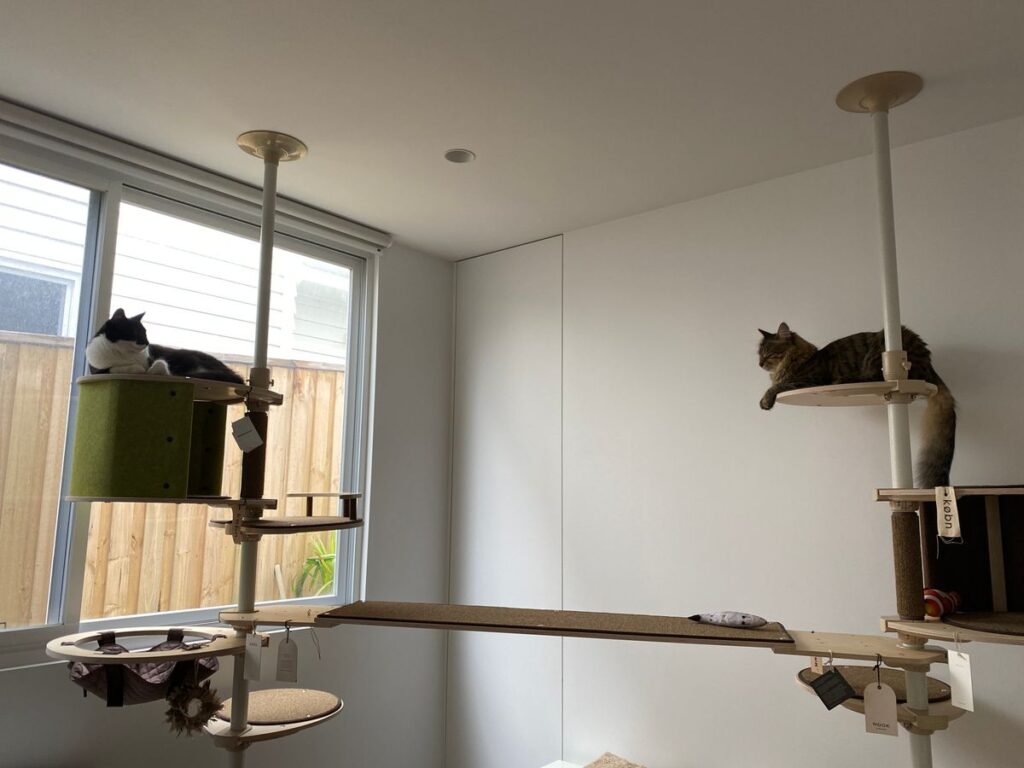 1
Fiona
Verified owner
This is a great addition to our 2 tok tok trees. Our cats love being able to run across and play on the bridge. If they can't decide which house to sleep in they wander back and forth till they get comfy!!
1 month ago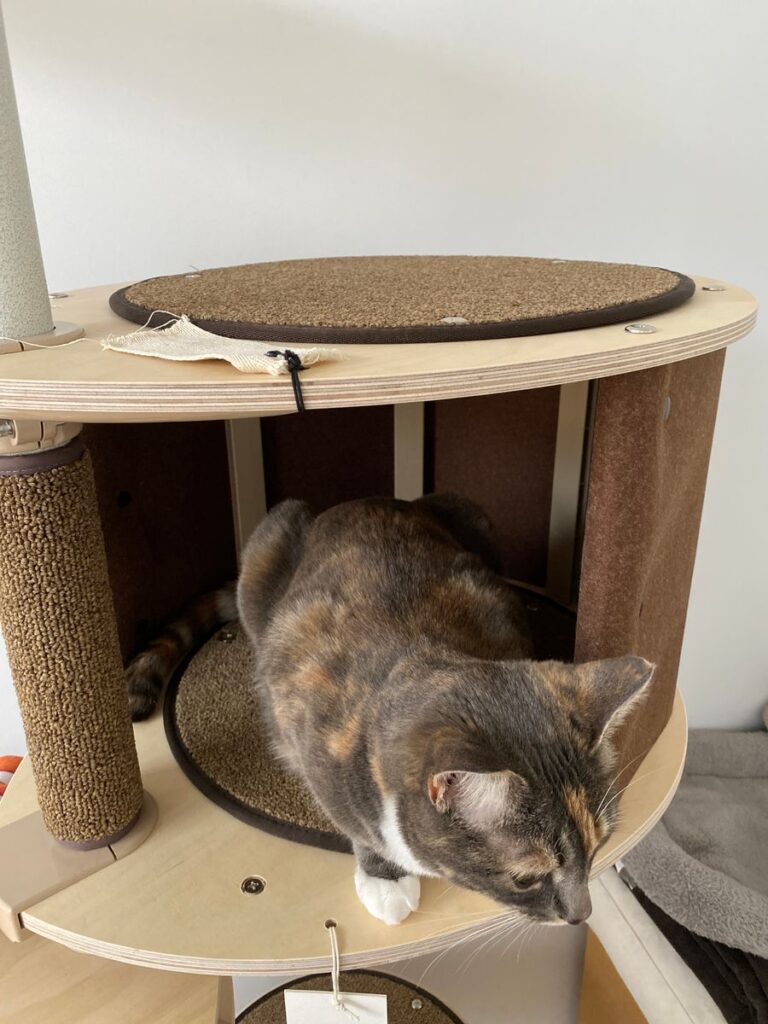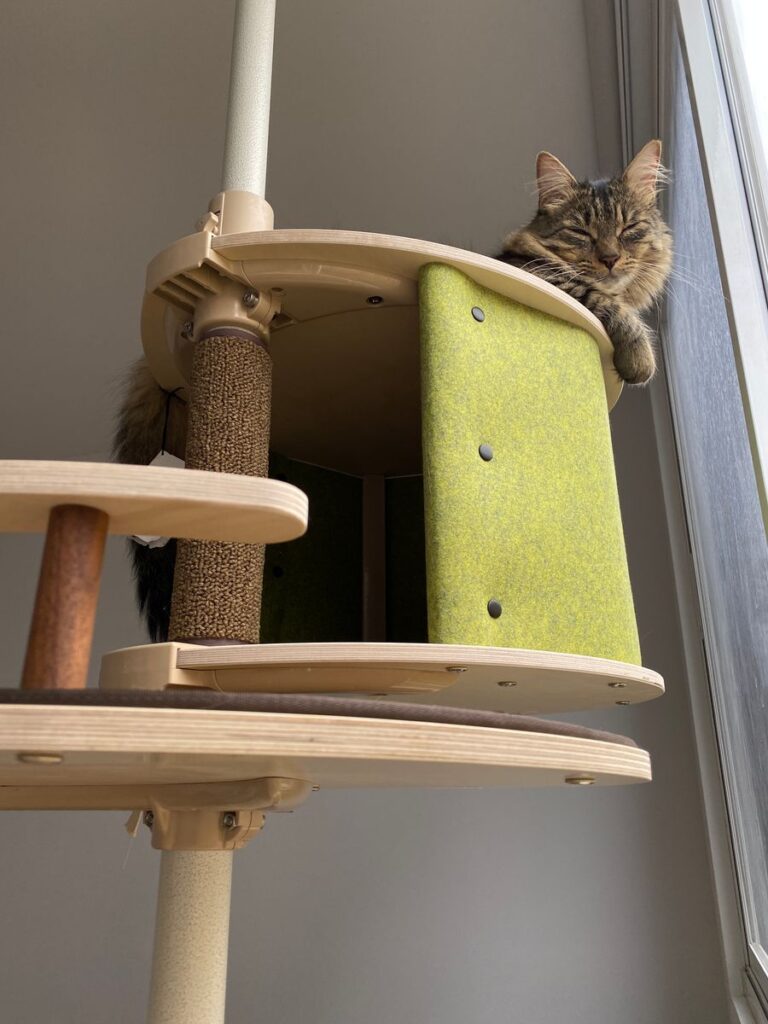 2
Fiona
Verified owner
We purchased extra carpet so we could have it on top and inside our tok tok houses. Our cats use both inside and on top and it saves having to add other cushions or blankets that might be a slip hazard, as they love to run and play around the houses (as well as sleep!)
1 month ago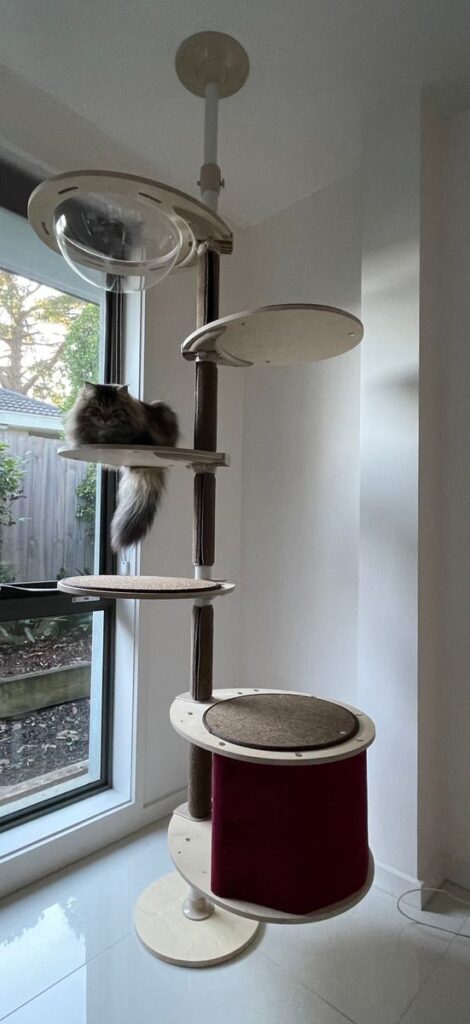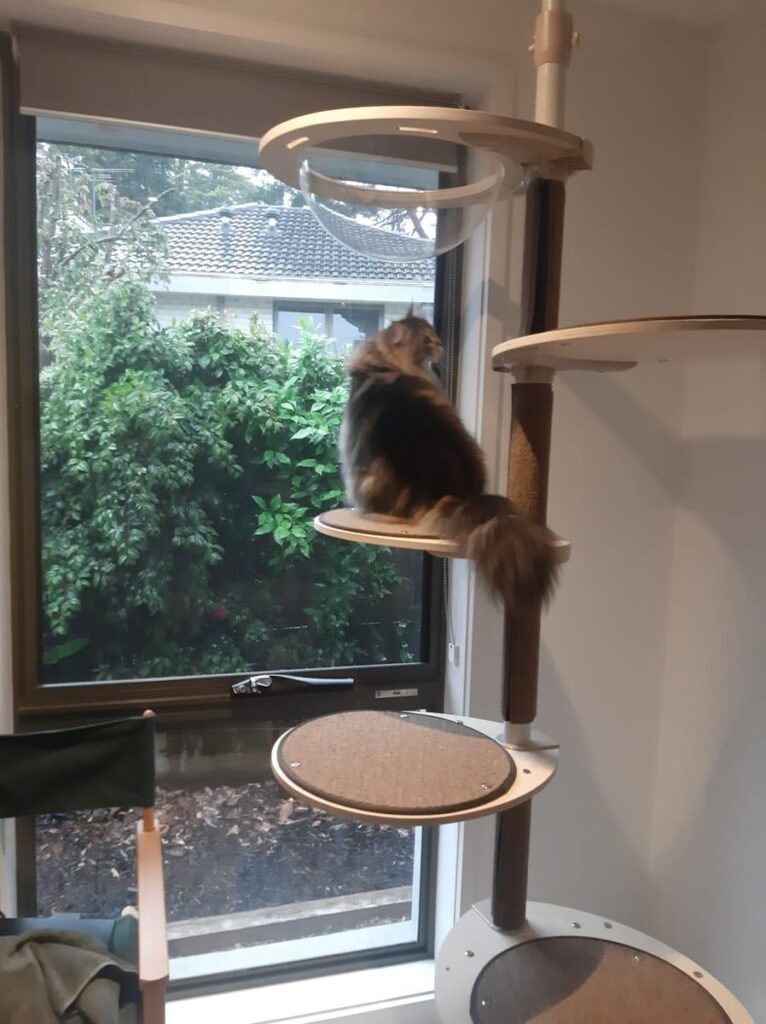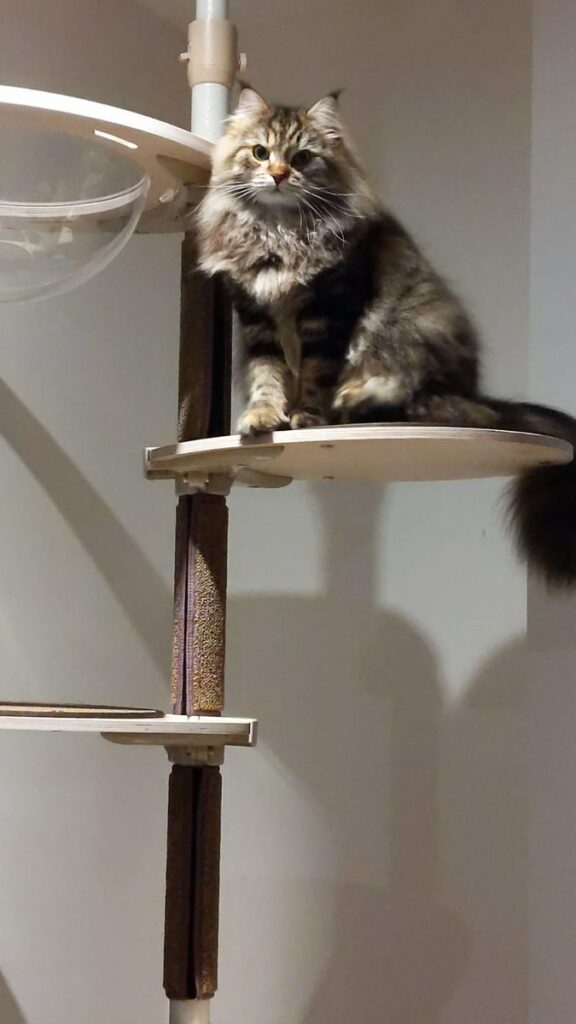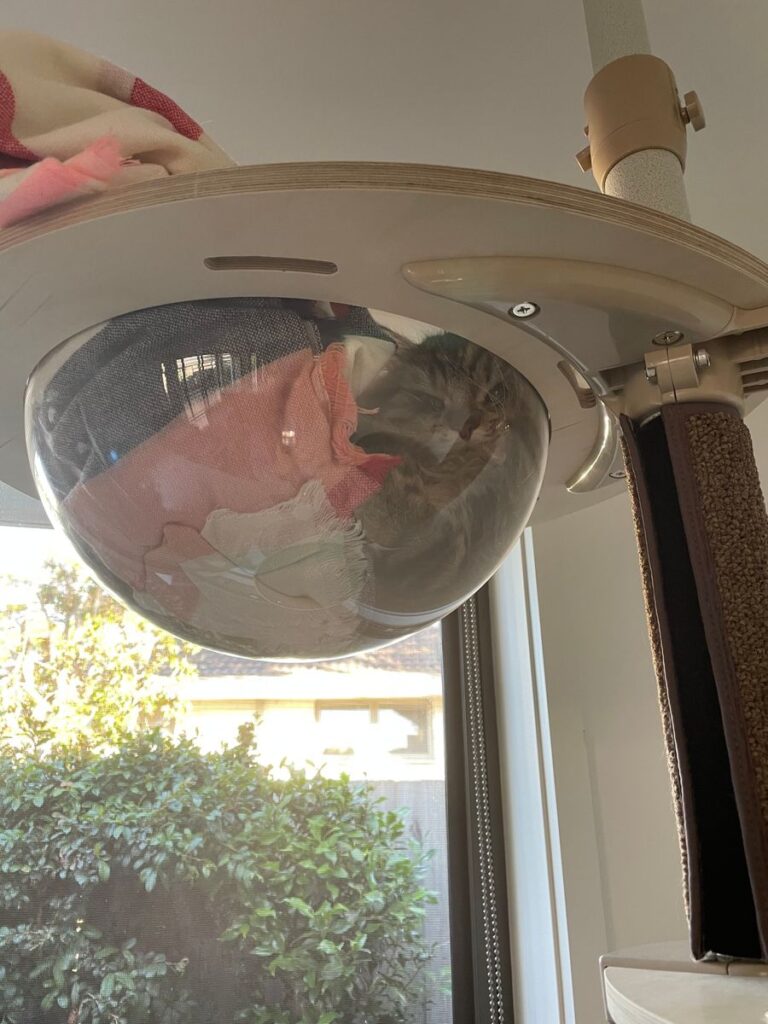 4
Anonymous
Verified owner
The tok tok cat tree looks great in the house and is quite sturdy. My cat took a few weeks to get used to it and I had to encourage her by playing with her near the cat tree but she's now used to it and spends some time perched up on the planks or in the bowl. But I found it tricky to set up. Though customer service is great with quick responses to my queries including sending me a video to help me set it up. Thank you Livia for your help.
2 months ago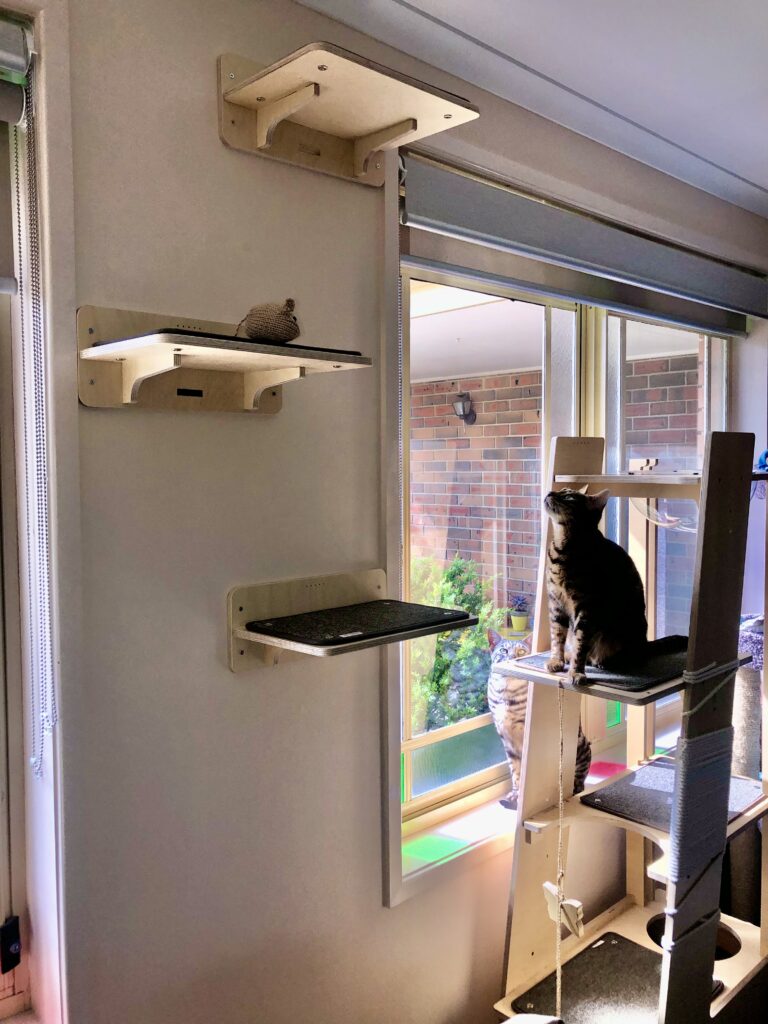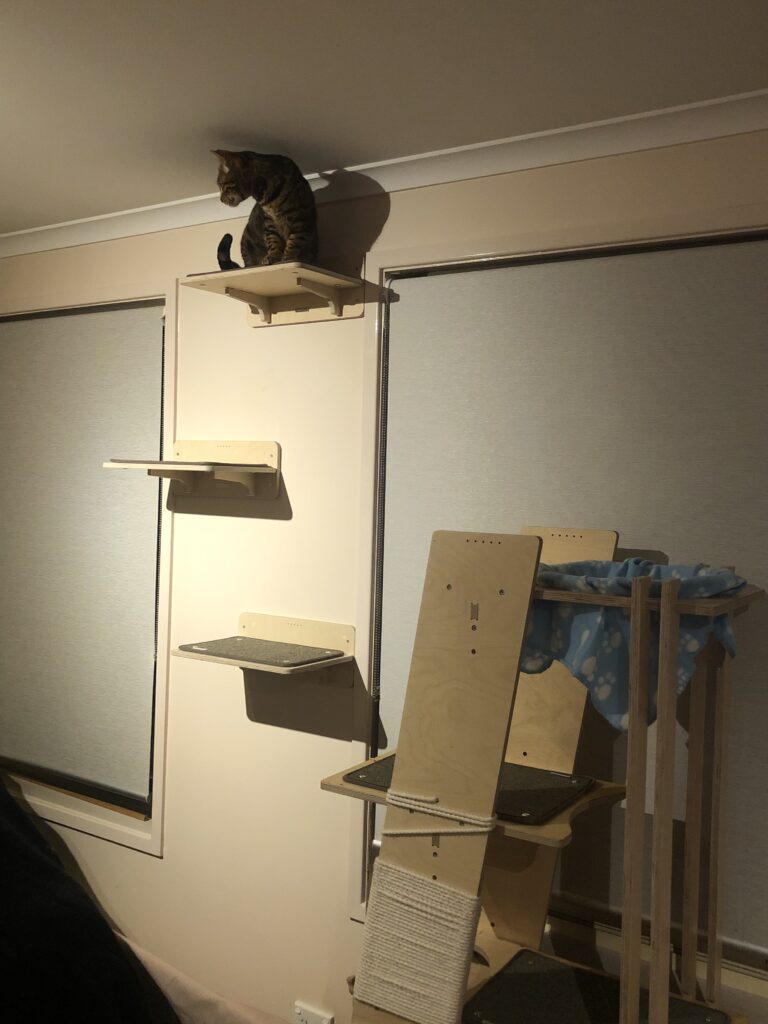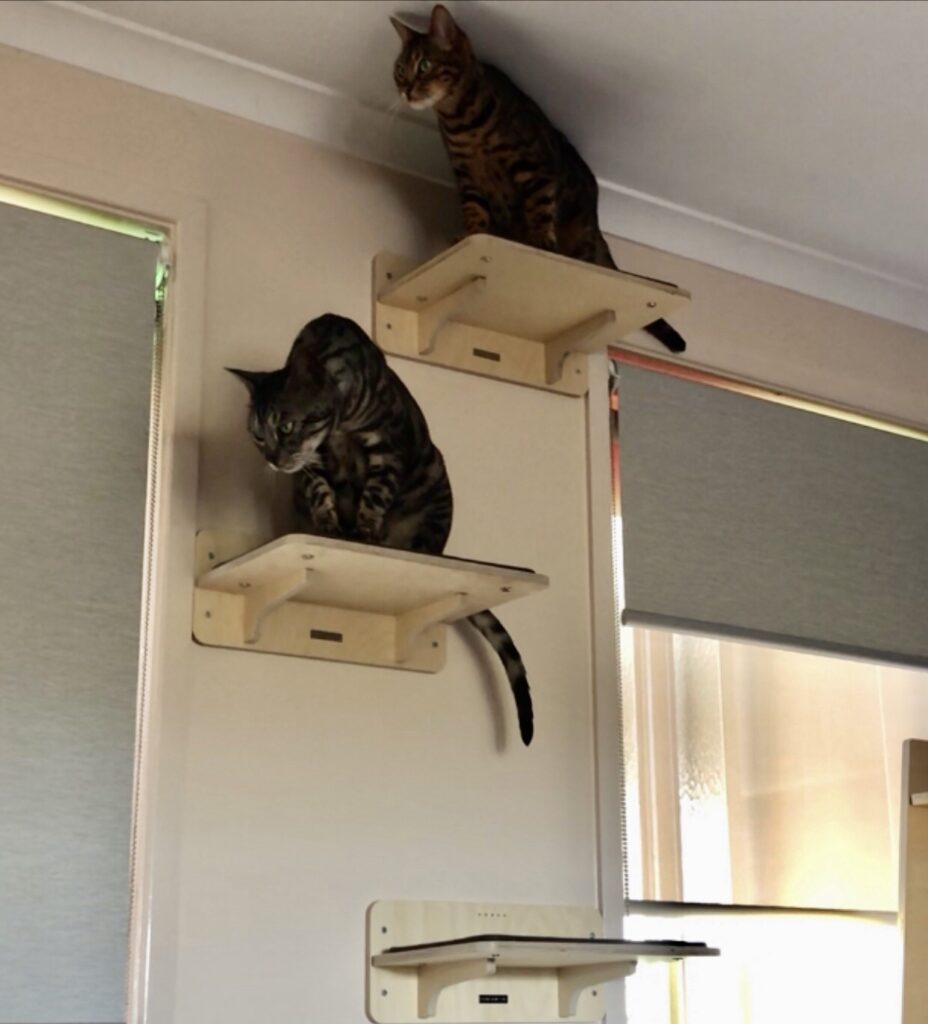 3
We are huge fans of Woodsforcats furniture and and we purchased and installed them easily. We are not experienced builders by any means and the instructions, tool, screws and wall plugs included made it an easy and fun installation.
The mounts are beautifully crafted, sturdy, top quality and look great in our lounge room. The kitties love to climb, perch and relax on them with a view from above.
We love this furniture as much as our kitties do!
Thank you WFC from Maui, Tink T & J x
2 months ago
Jay C.
Verified owner
Easy to set up, looks great and the cats absolutely love it. Couldn't be happier.
2 months ago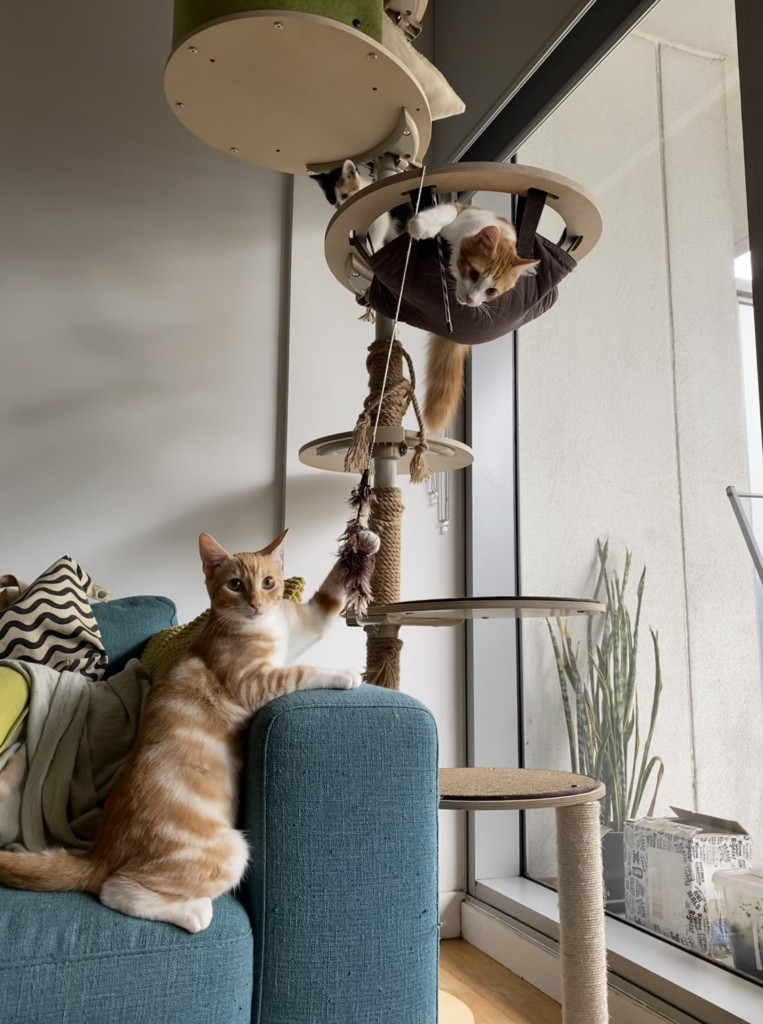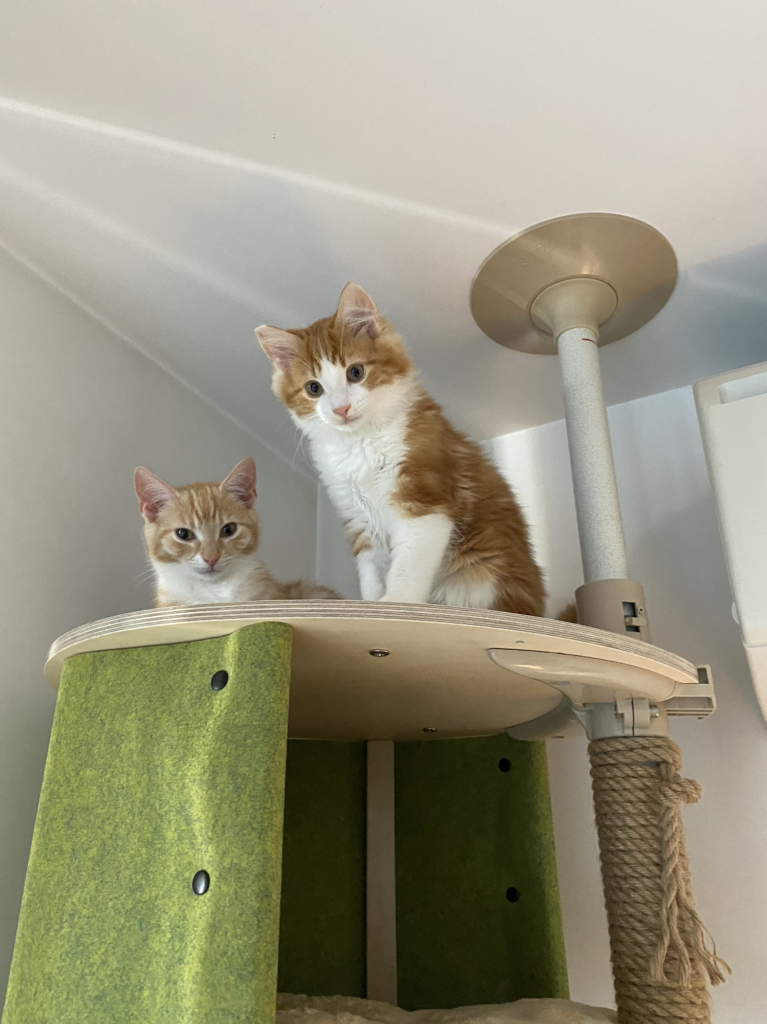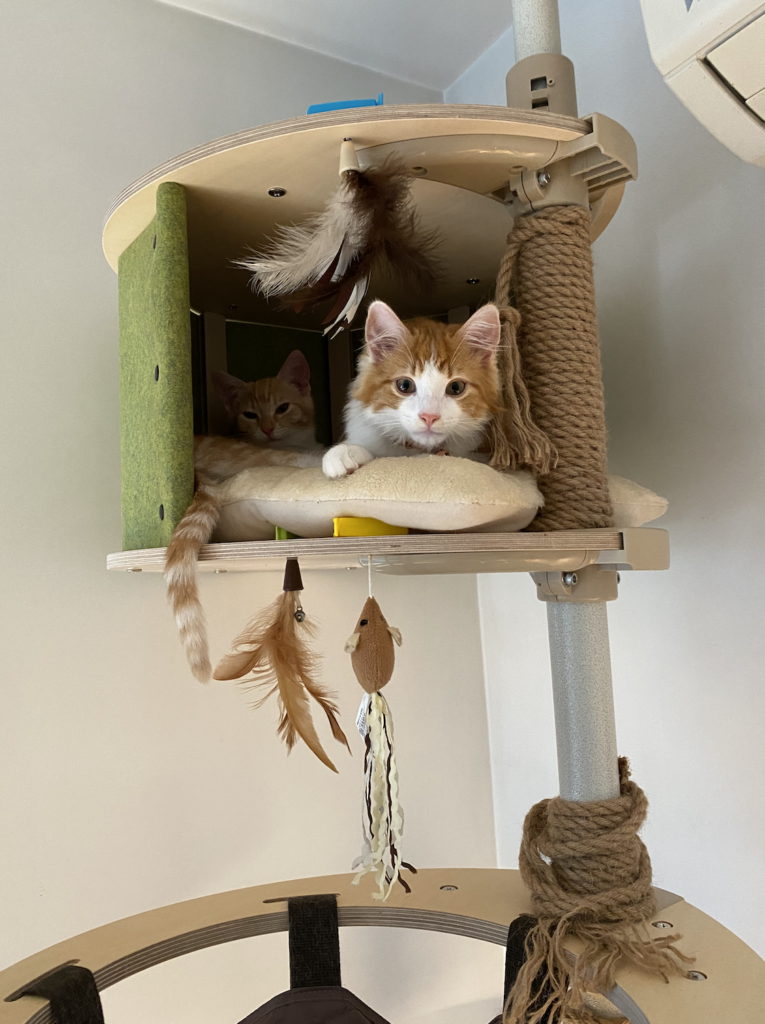 3
I fell in love with the design when I saw it and I think this is something that will last for years! just perfect for my tiny apartment.
Peanut and butter absolutely adore this cat tower! our tiny foster kitten quickly also joined them in a matter of days! They spend every day napping on the hammock and observing the world outside.
I had some issues with delivery (courier's fault) but it was quickly resolved by the customer service. would recommend this company!
2 months ago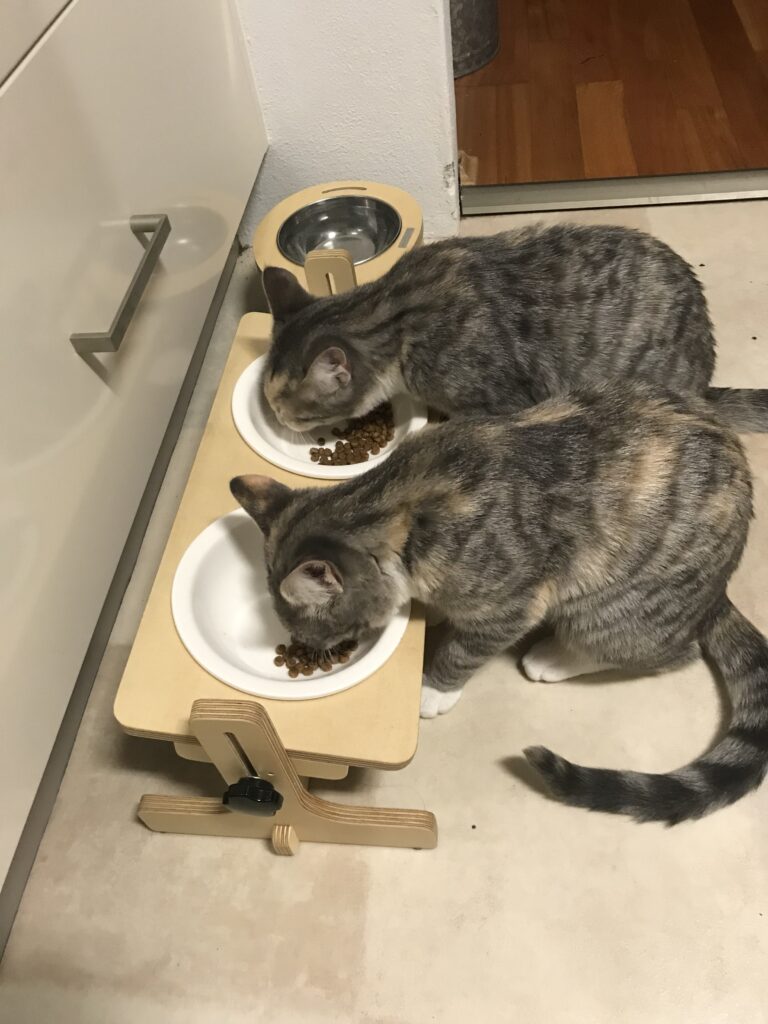 1
My two young kittens took to this adjustable food stand from first go. It was immediately obvious to me that they were both in a much more comfortable position to eat with the raised and angled bowls when compared to a bowl sitting flat on the ground. It is great to be able to adjust the height up as needed over the last few months as they grow. Excellent quality and beautifully made product!
2 months ago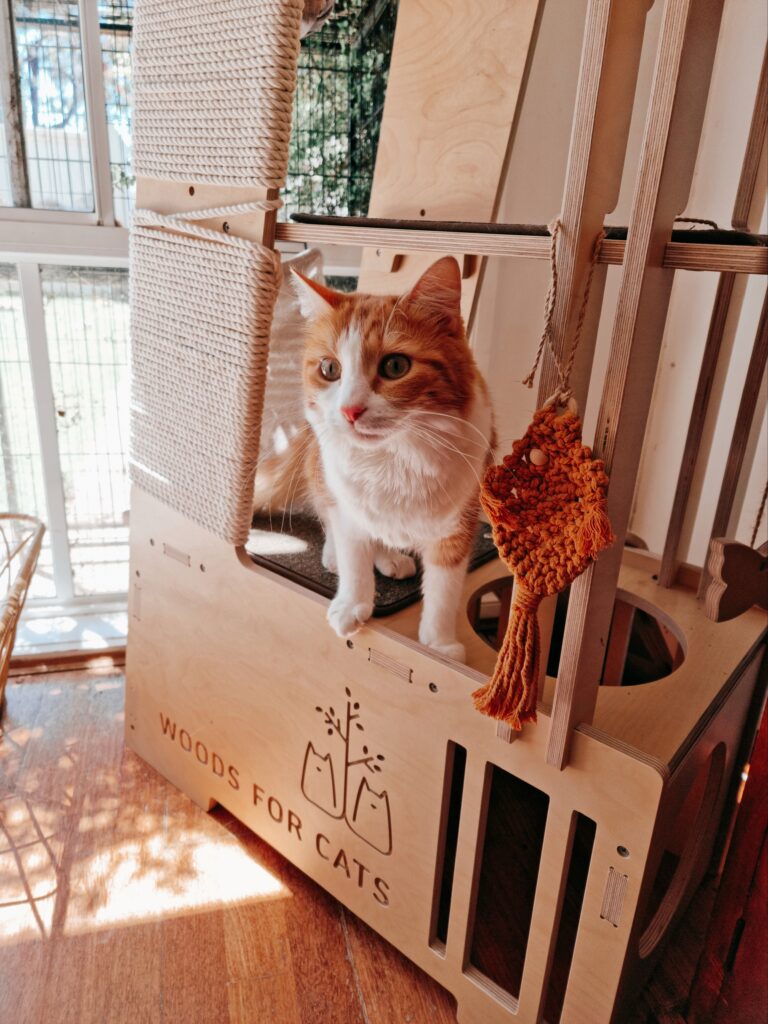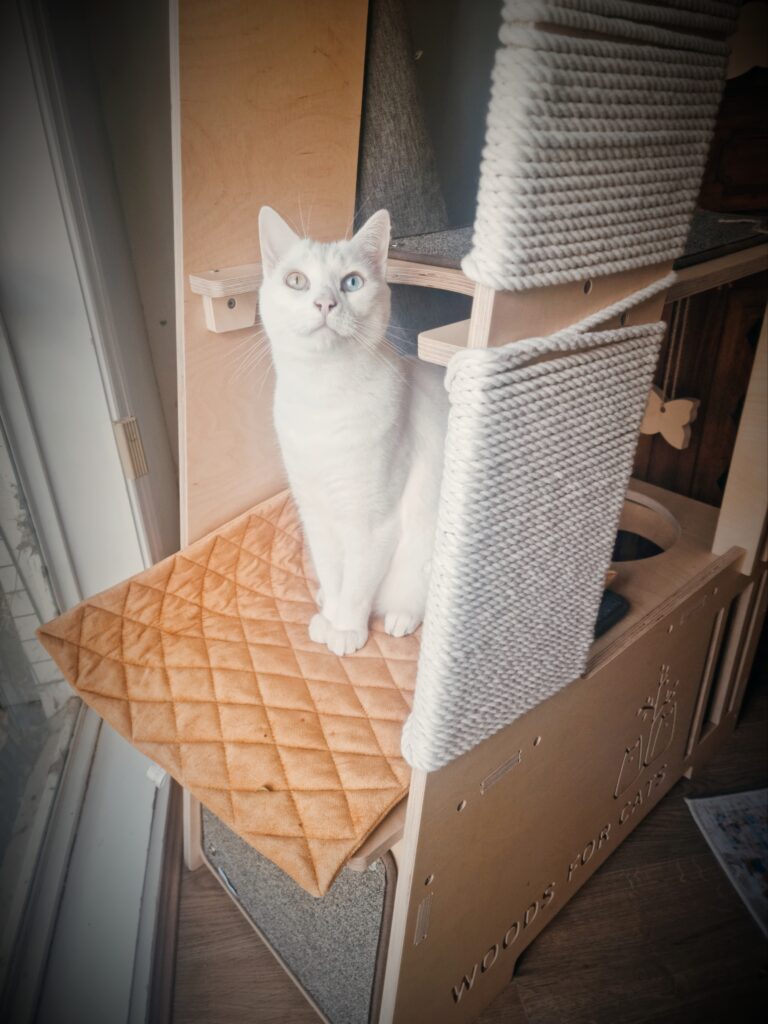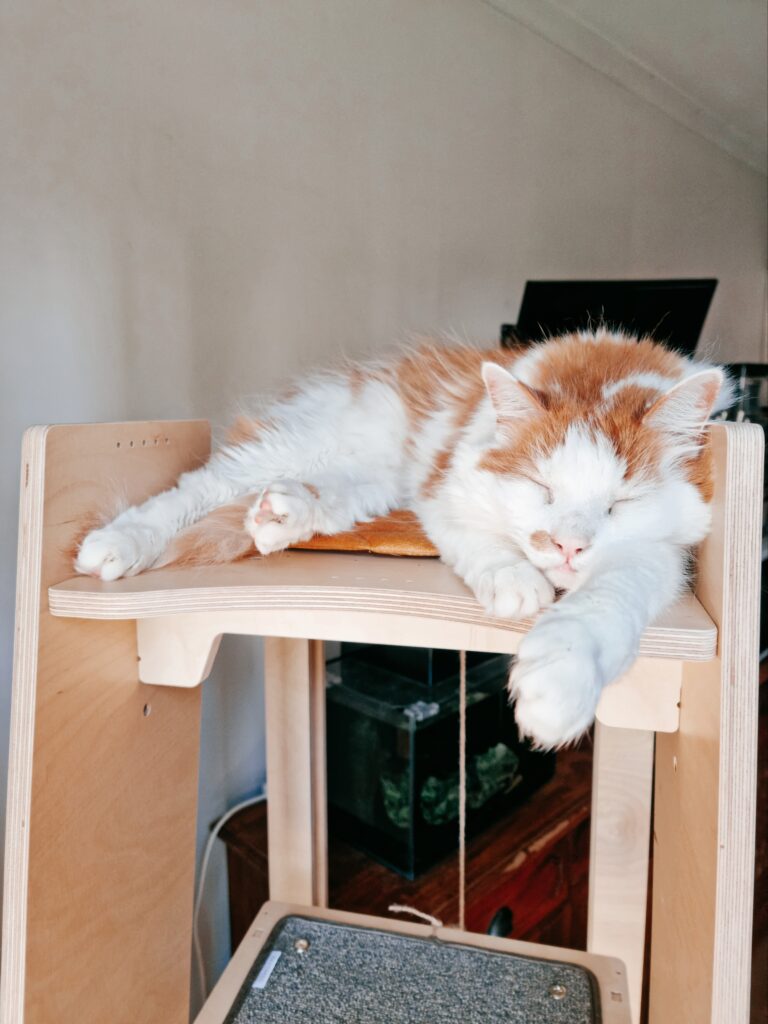 3
We love the Grand piano!
With owning many cats it's great to have multiple levels for each kitty to lay on! Easily accessible even with a special needs kitty. Instructions are very clear and easily to assemble. Great quality wood super sturdy and will last a lifetime. I love how it's easy to clean and the carpet can be replaced. The best place for a cat nap on our Grand Piano! Highly recommended
2 months ago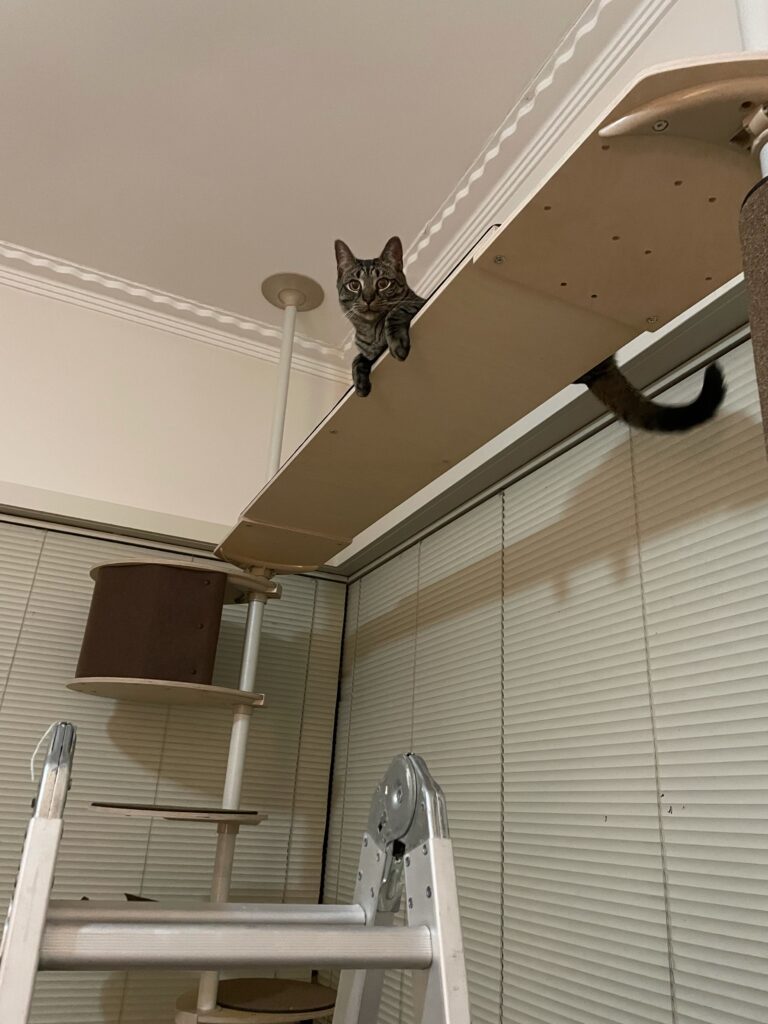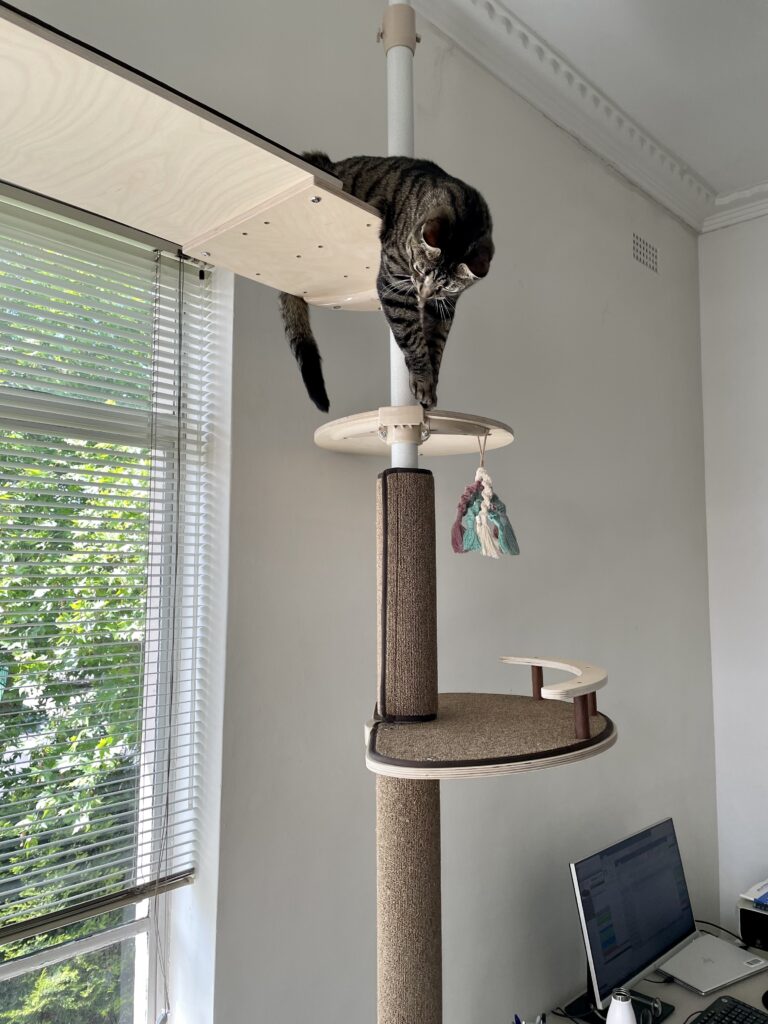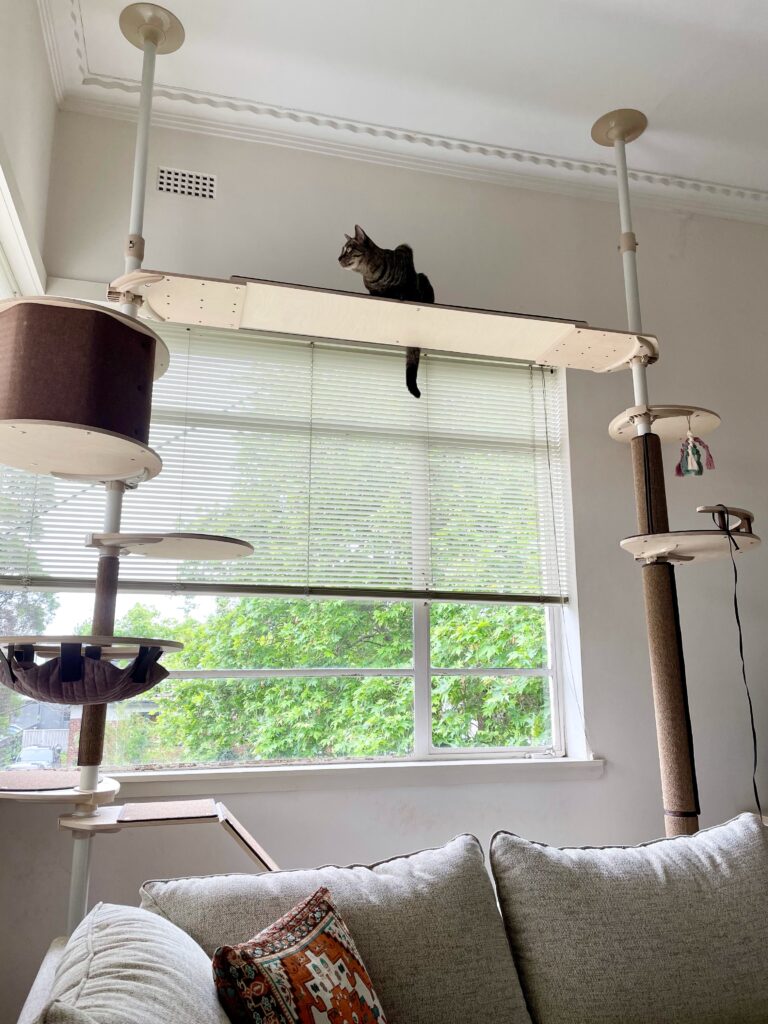 3
Michelle Mc
Verified owner
We purchased the Tok Tok Bridge with Cat Pole Dancer to connect to our existing Tok Tok. Francis was up on the bridge before I had even finished setting it up! He mainly uses it during zoomies to cross from one side to the other, but has recently started just chilling up there too. Another high quality, sturdy product from Woods For Cats and we always receive impeccable service.
2 months ago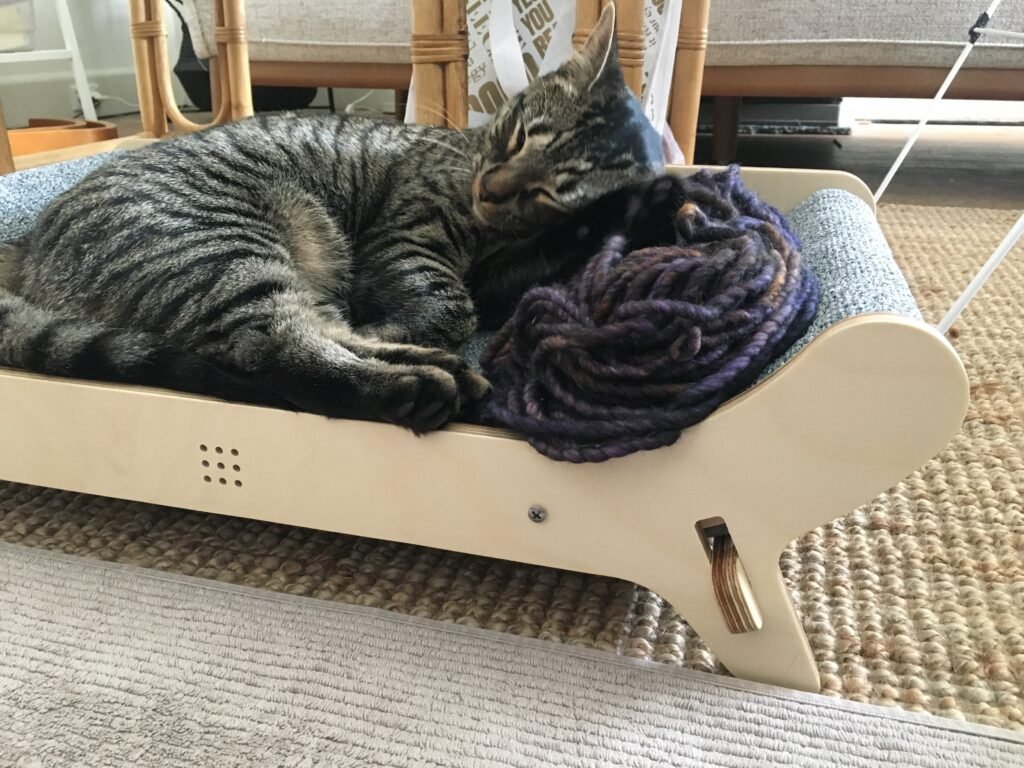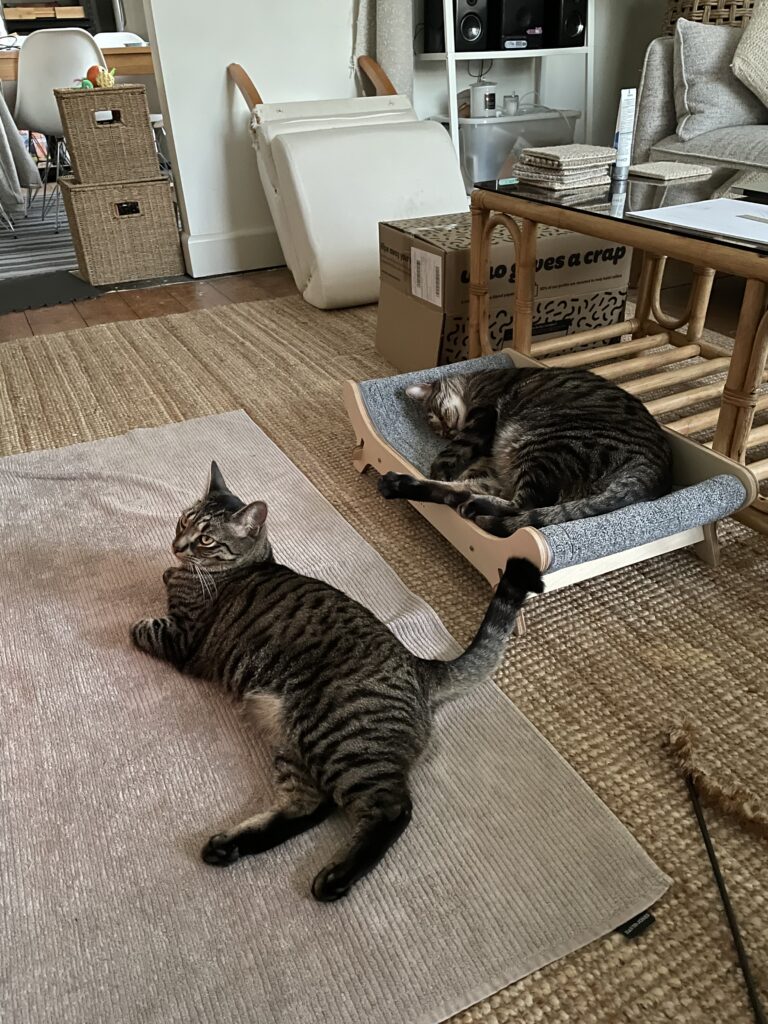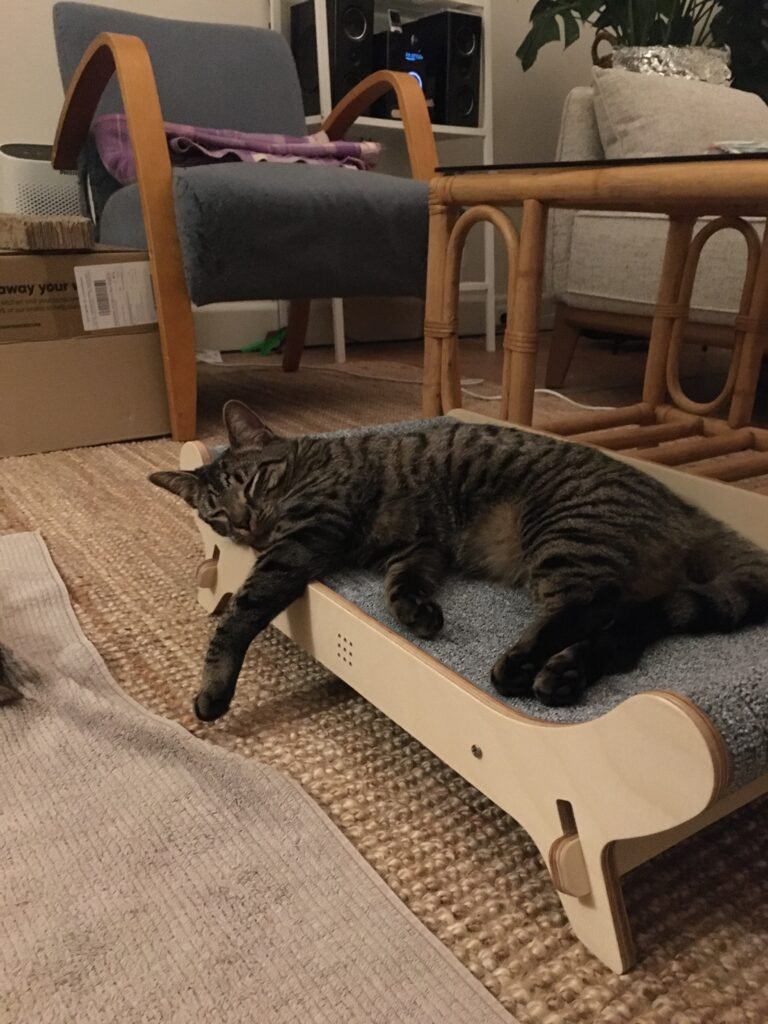 3
Hi! My name is Francis and I absolutely love my scratcher/couch! When I was little, I slept on it with my favourite ball of wool. I also like to swat toys underneath and spend ages trying to get them out again. My big brother Gilbert tried to steal the couch from me one time, you can tell by my face I wasn't very happy about that! If you need a sturdy, comfy and beautiful place to nap, you should tell your pawrents to get one of these!
2 months ago
Jill
Verified owner
Bertie thinks this is the best thing ever! We think it was easy to put together, we have even changed the position of the house! Well worth the money because Bertie loves it and it looks good in our home
2 months ago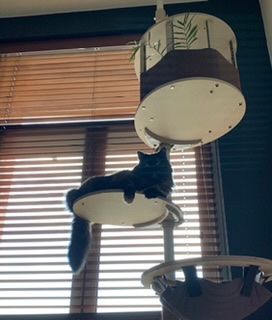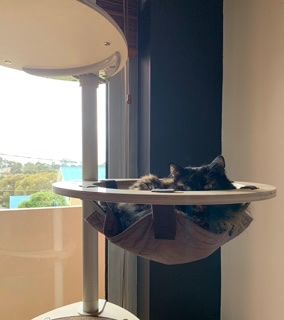 2
Velda A.
Verified owner
My cat loves this cat tower! She got used to it in less than 2 weeks. I love how it purrfectly blends in with my home décor. Assembling the cat tower was also quite quick and easy.
The customer service was exceptional. Livia was very responsive to my questions. They gave me complimentary extension rod, extra fabric for the house and some extra cotton rope as well.
2 months ago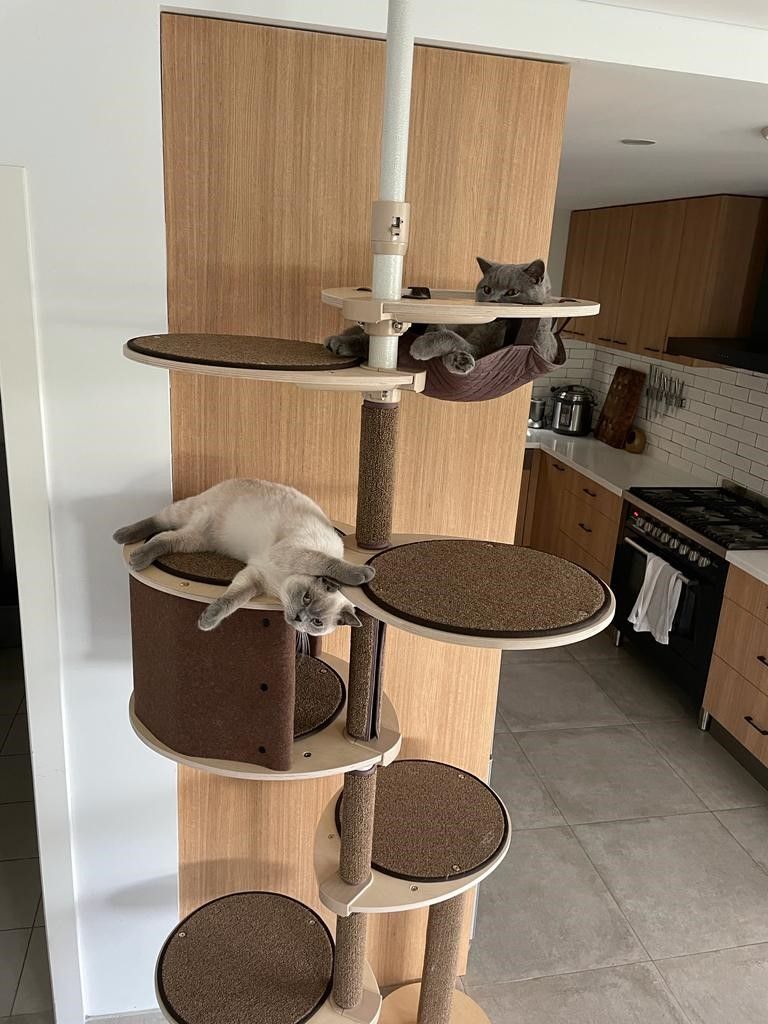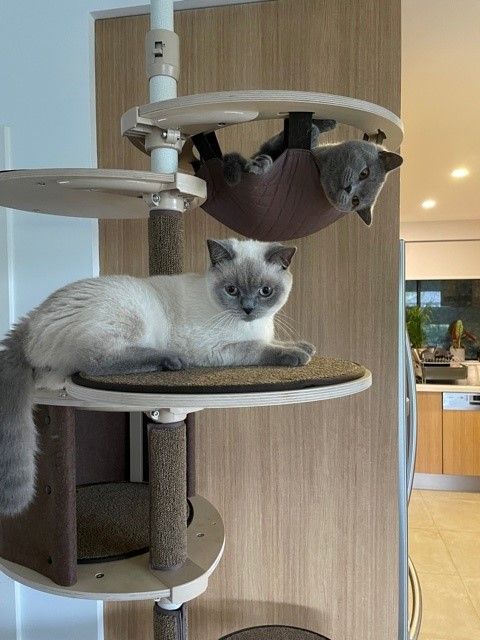 2
Danielle Dickson
Verified owner
Thank you Woods for Cats, Coco and Smokey love their Tok Tok Cat Tree. The design is functional, quality is exceptional and we have had many positive comments from visitors as it complements our home decor.
2 months ago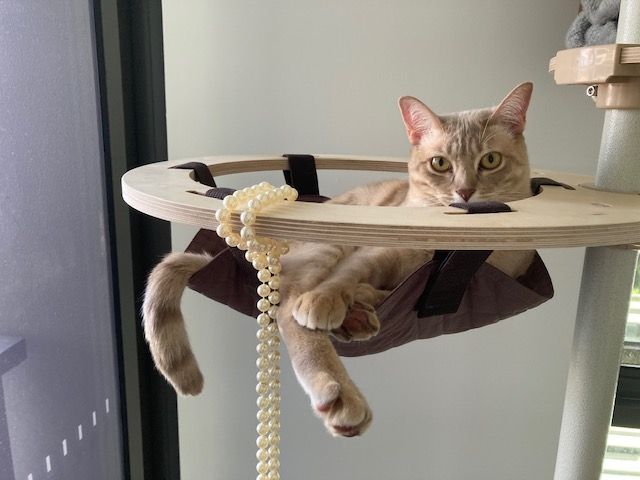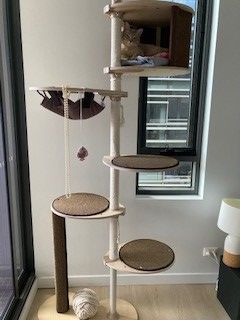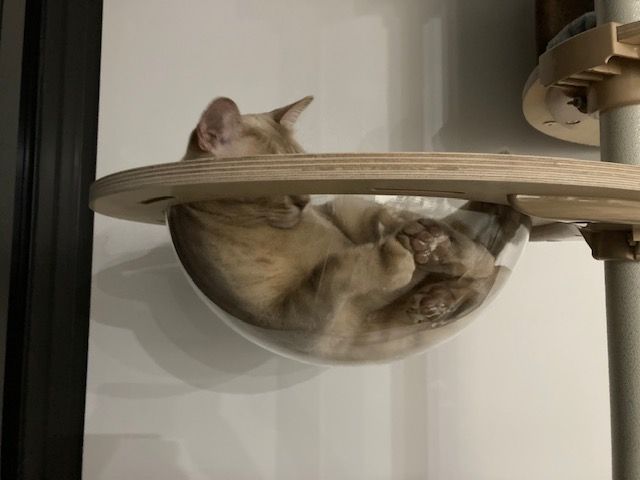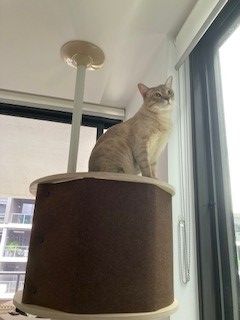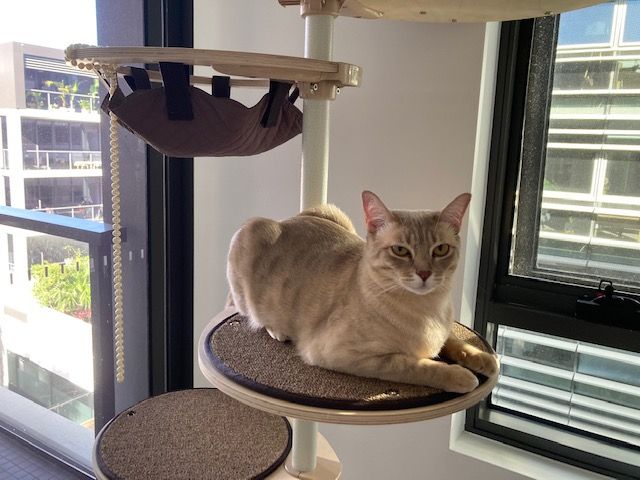 5
Taryn C.
Verified owner
Mila LOVES her stylish TOK TOK pole. It's got a small footprint, it's really good quality and I can tell it's going to last a very long time. Mila loves the hammock and hangs out in this all day long. She also likes the clear dome but put something in it so they can see the bottom or they'll be a bit scared at first to step into it.
The scratching pillar is a great addition and she actually climbs it like a monkey! Hang the end of the rope out and tie it (as recommended in the instructions) so they have something to play with and add some of their favourite toys so they can play and lounge. If you can put it near a window even better as they can lounge and watch birds fly by!
This came super quick - basically arrived in 2 days and whilst it took a bit of time to put it together, we got there in the end and it's great. I never wanted an ugly standard cat pole in my house, so my pampered kitty got a designer cat pole! I highly recommend this pole as you can change it up and keep it interesting and there is no drilling into any walls. My cat loved it instantly, she's almost 1.5 years old and very active. She scratches every level of rope and step and has a great time all day long. She judges her human slaves from up high and can keep an eye on all the food in the kitchen being prepared 🙂
Great customer service - the team are so helpful. Choose the right pole and additions for you and your kitty and they'll love you even more than they already do.
2 months ago
sharne y.
Verified owner
Beautifully made but my cat isn't really interested in it!
2 months ago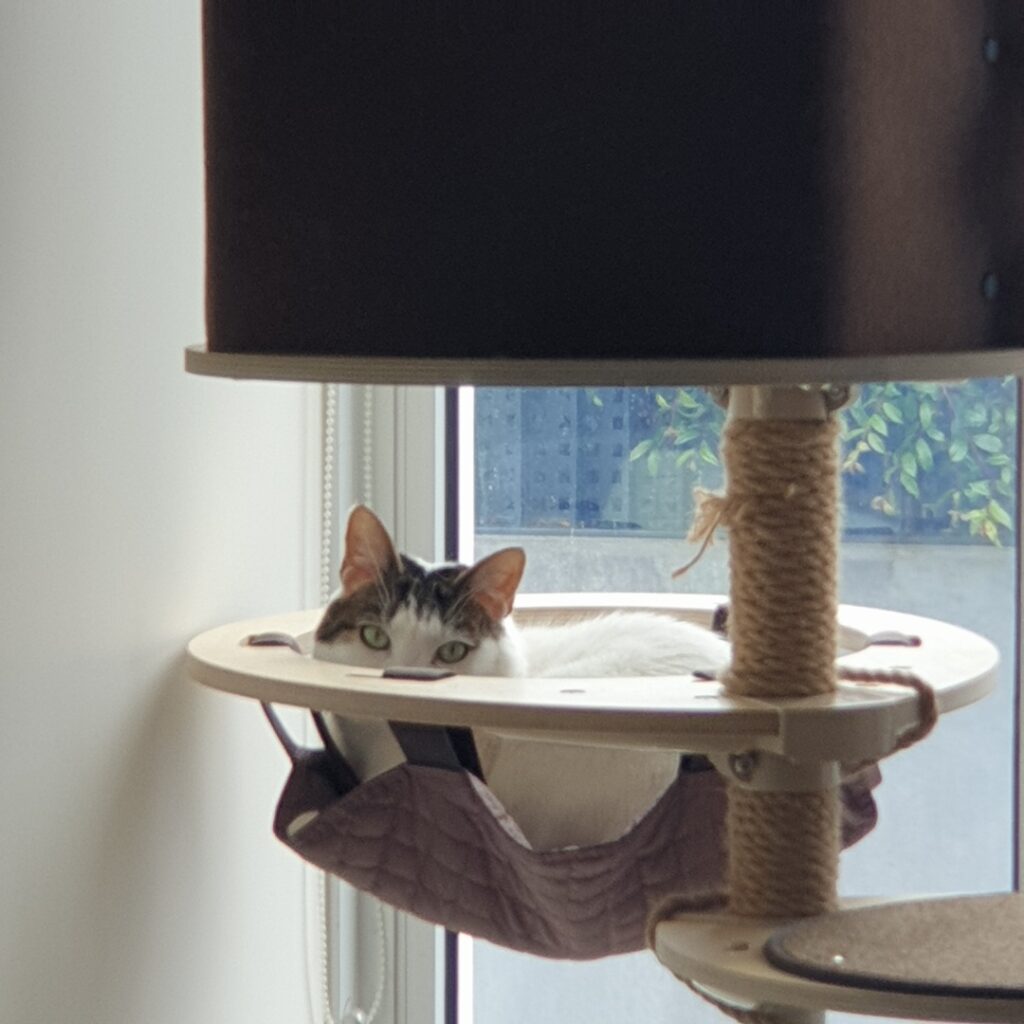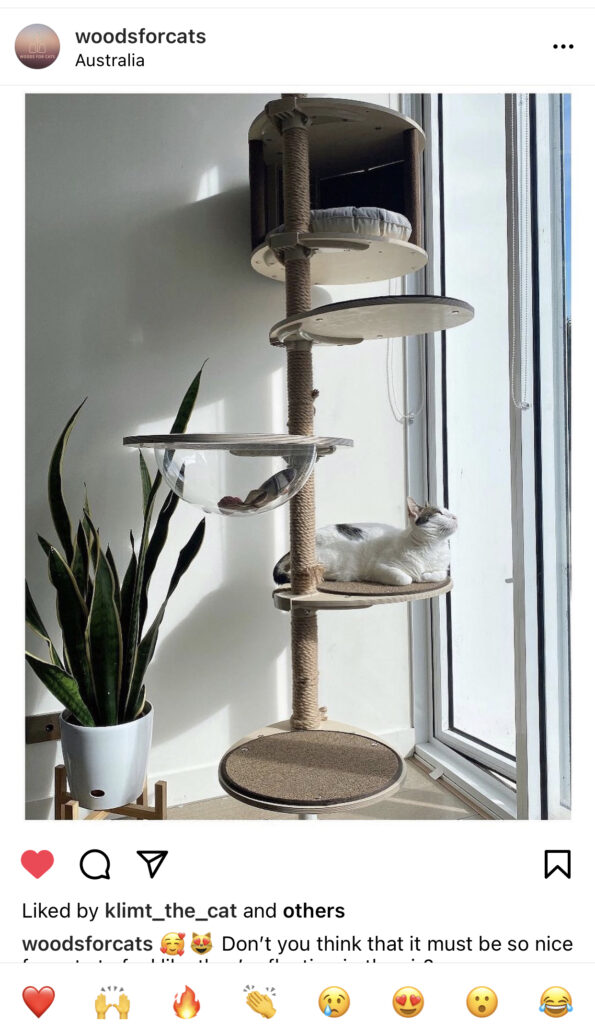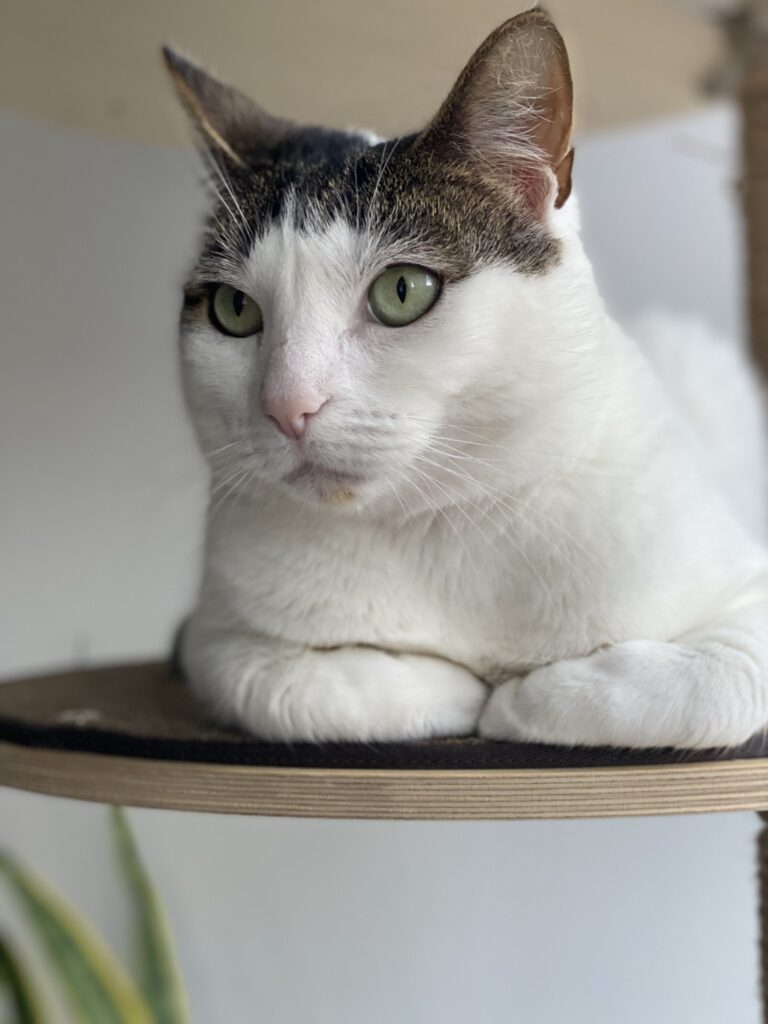 3
The first time I saw the Tok Tok tower I fell in love with it coz its not bulky like the usual cat tree.
Our Princess Tilly took few weeks to adjust to it and many Thanks to Livia for guiding us on what to do when Tilly won't go to the tree , took us 3 tries until she finally went into the house but she was scared of the hammock bowl so after a few months of trying I bought the hammock and now its her favourite spot to nap. Thank you for going above and beyond for us Livia not just about the Tok Tok also with Recommendations on what to do on some of Tilly's health problems🤗👍😊
2 months ago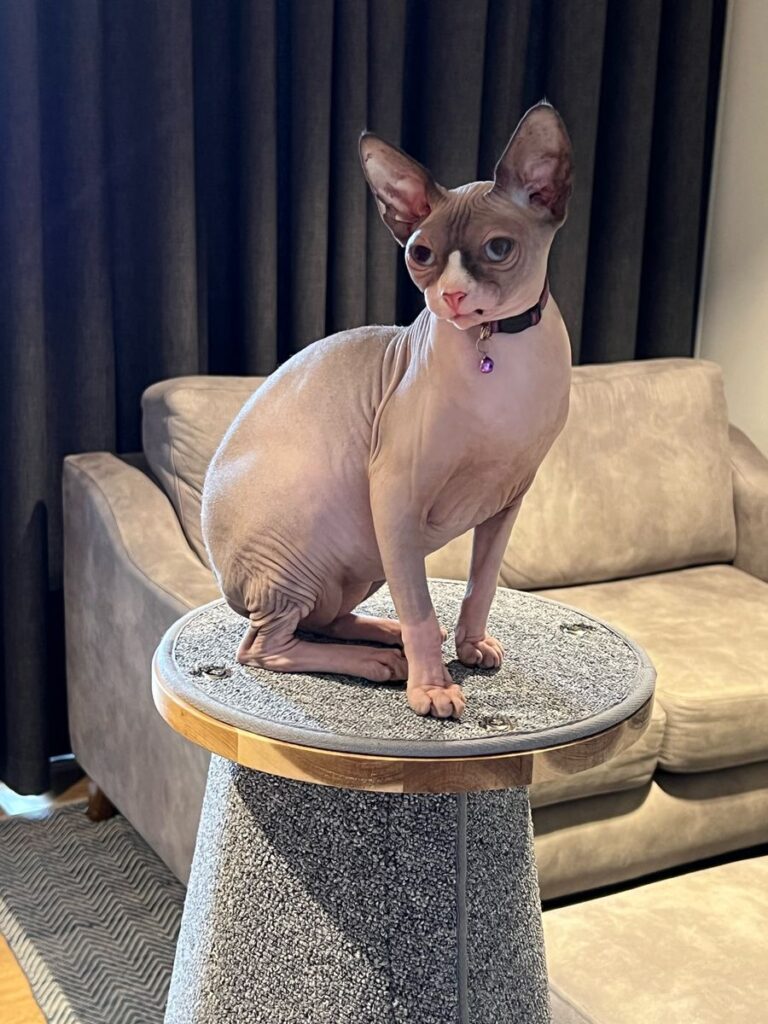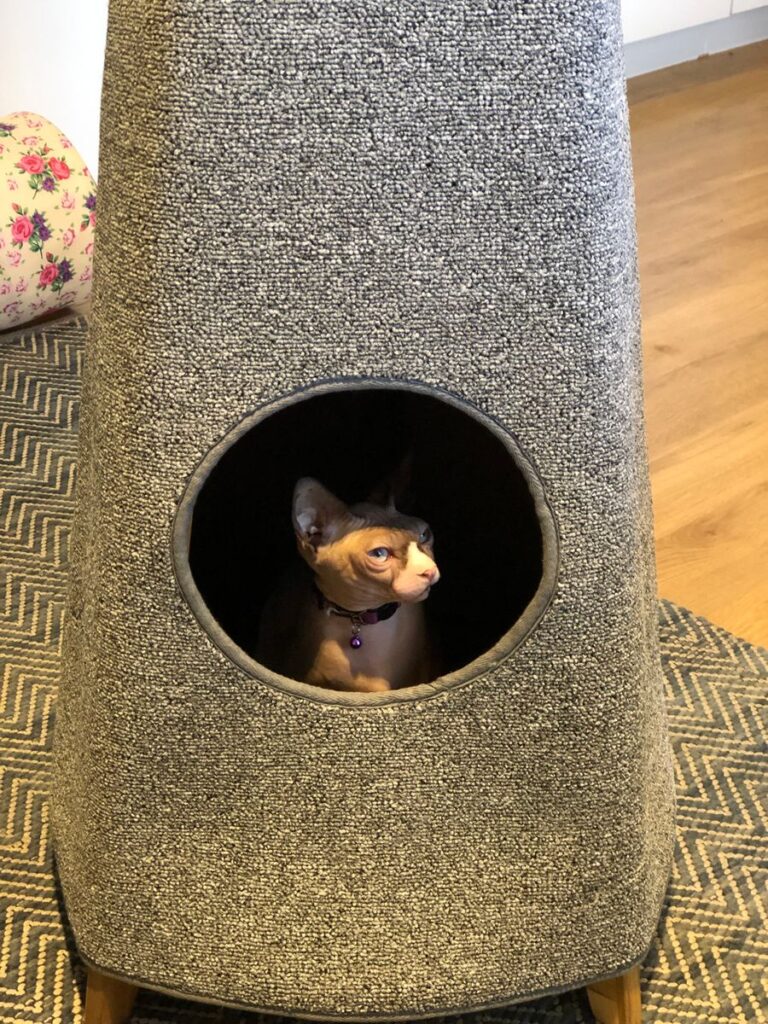 2
Leanne
Verified owner
Excellent high quality piece of furniture, my kitten absolutely loves it she took to it immediately without any hesitation. Beautifully finished in a grey carpet which suits my apartment decor. Customer service was excellent with prompt processing of my order and delivery. I would highly recommend.
2 months ago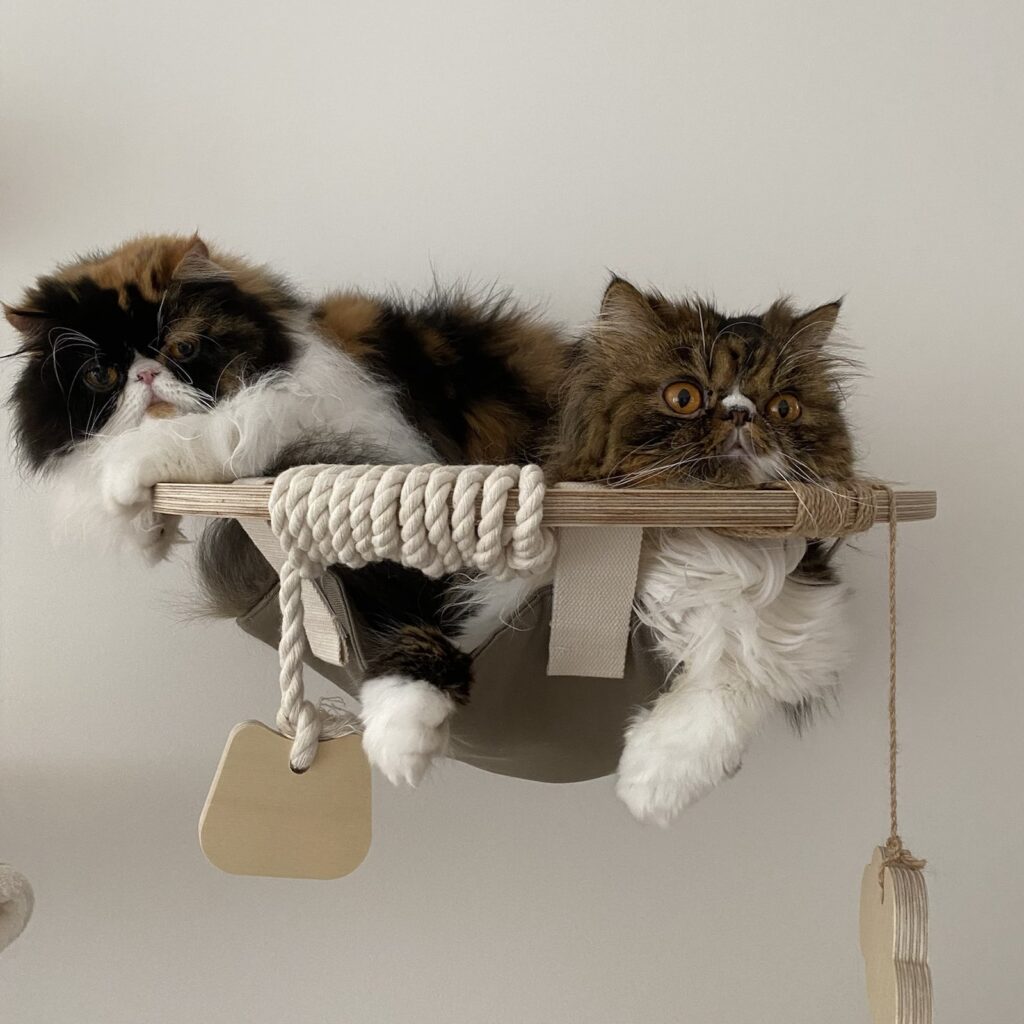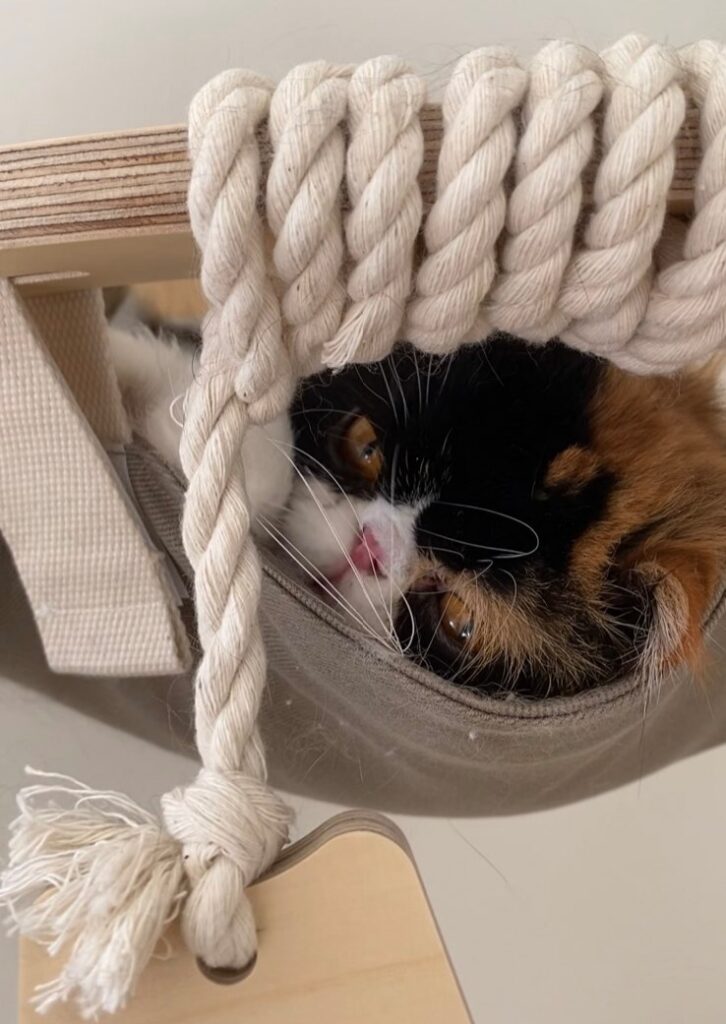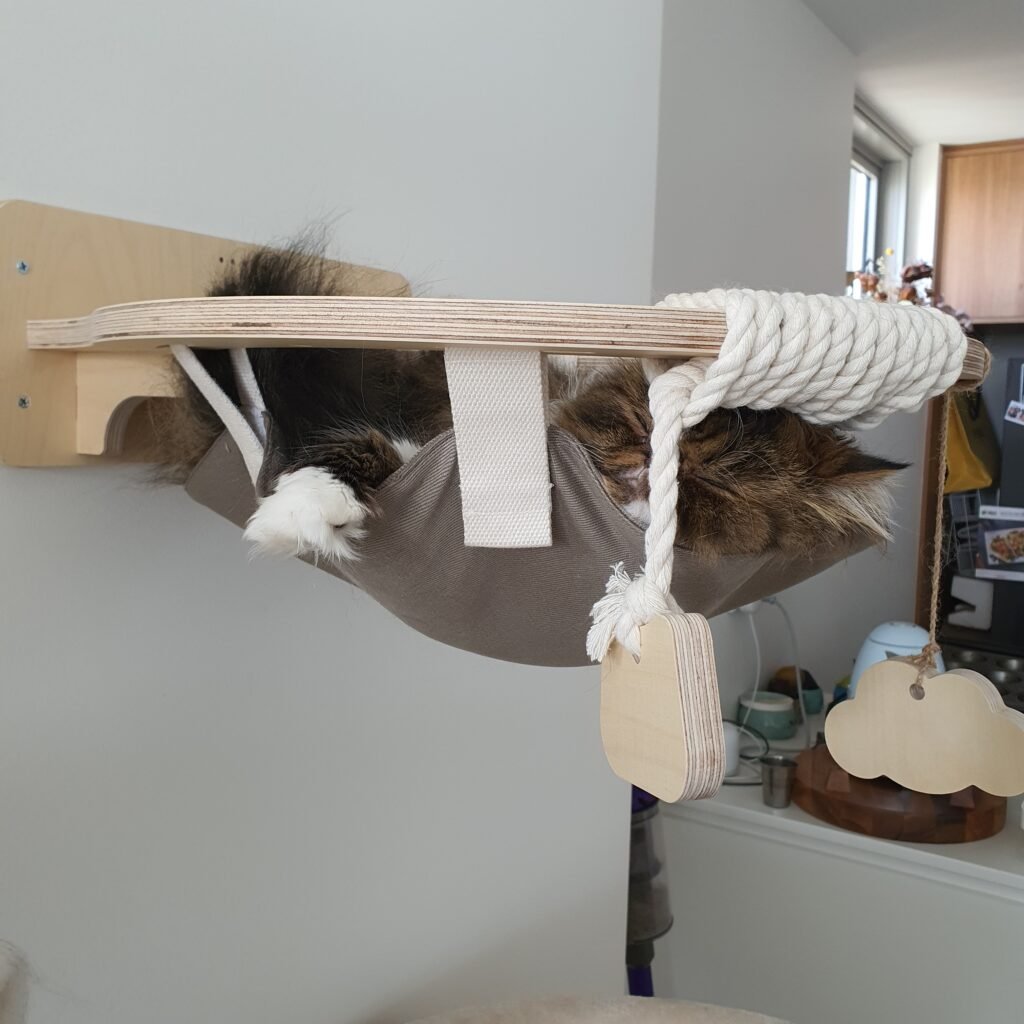 3
We absolutely love this hammock, it's such a versatile and minimalist aesthetic and fits right in with our human and other cat furniture!
Mushie and Pumpkie have taken to the fabric hammock so quickly and they love to play with the dangly toys and to scratch at the twine/rope. The hammock is super sturdy and is able to hold their weight even when they're both resting there!
We're a bit clueless when it comes to basic handyperson skills, but received a lot of advice from Woods for Cats! We decided it would be best to get some help with installation as we didn't have a drill - and once that was handled the rest of the construction was as easy as could be!
We get so happy seeing them in there, hope you do too 🤭
2 months ago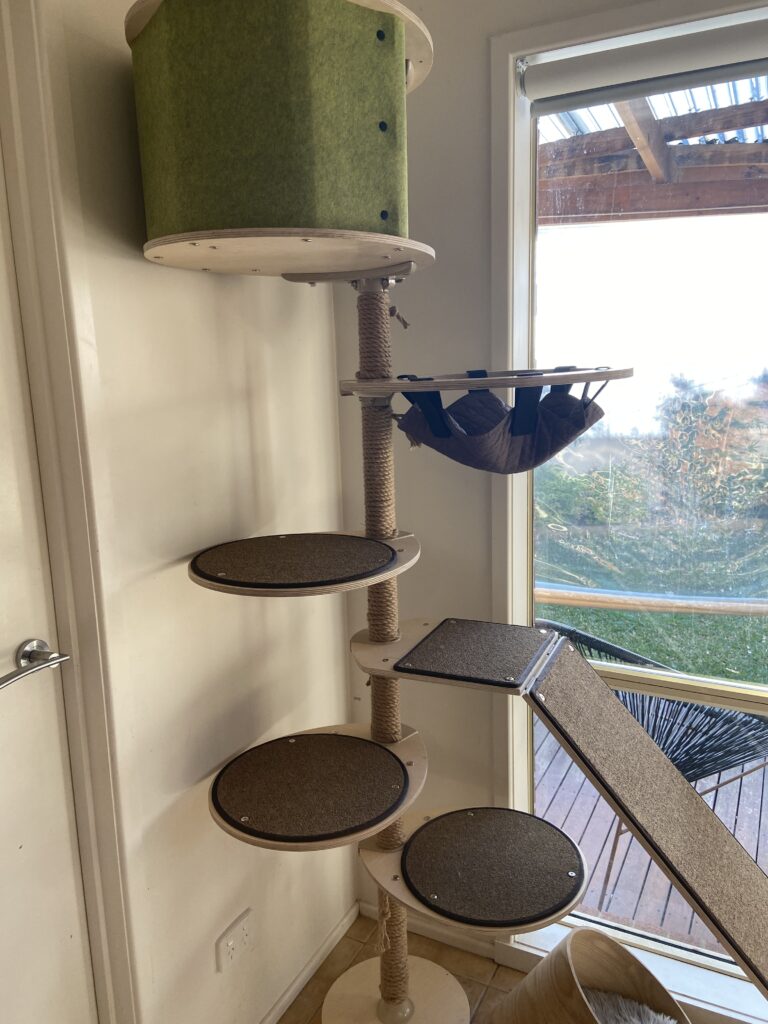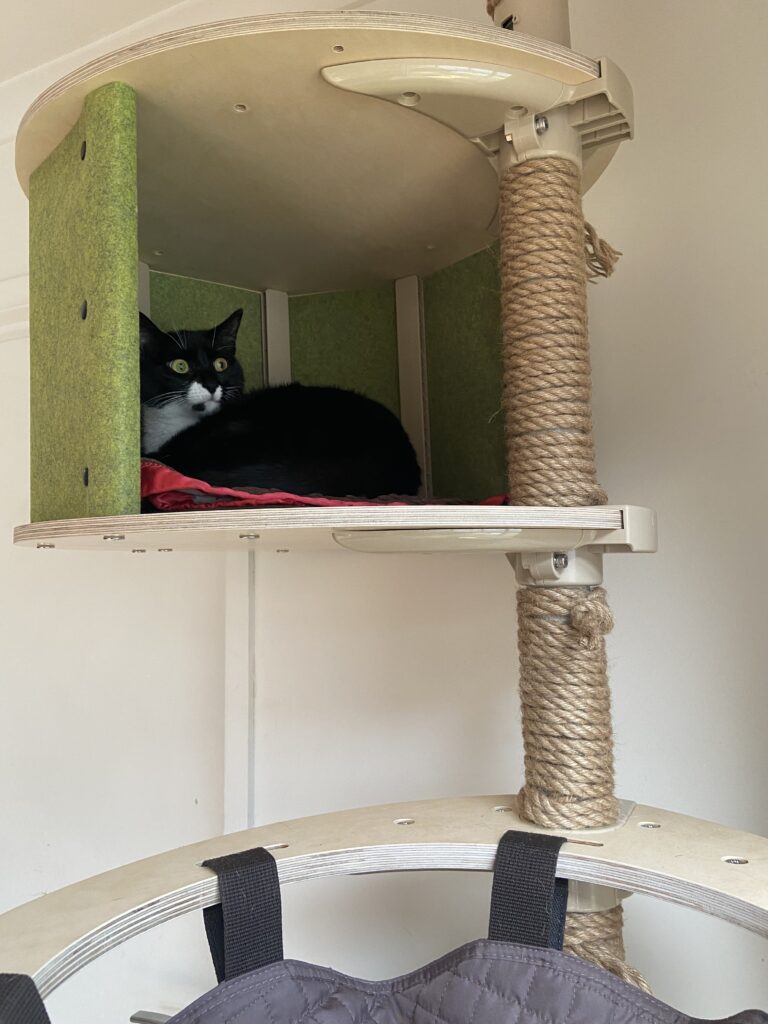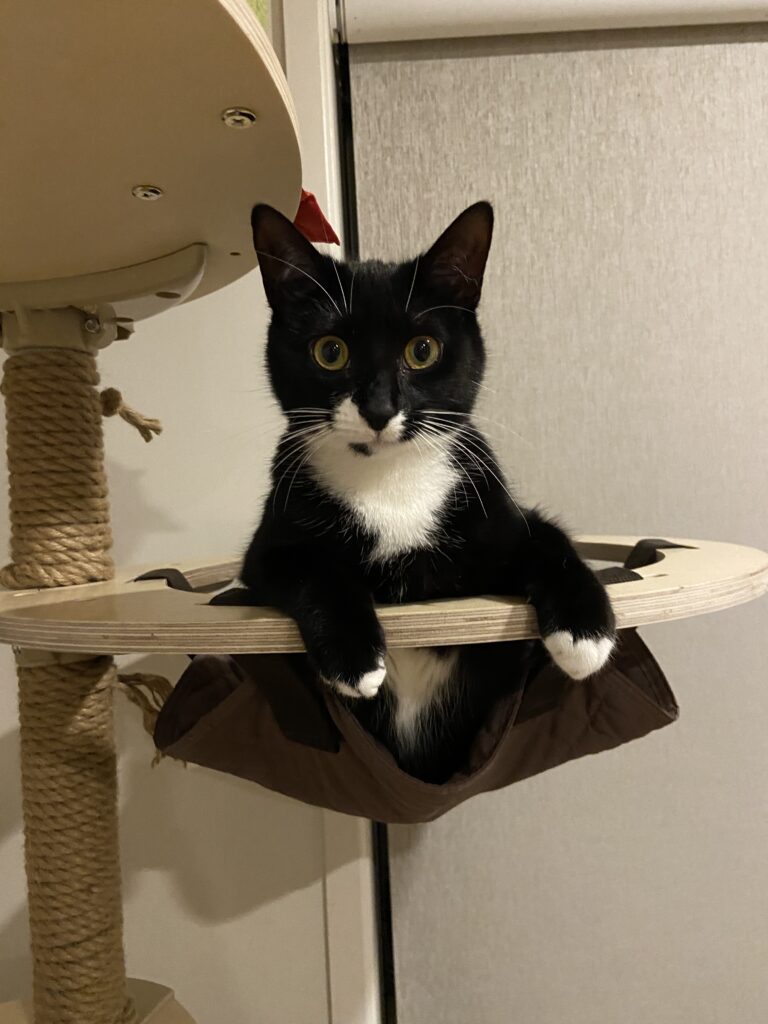 3
You might be thinking, is this too much for my fur child? What if they don't like it? Fear not, you'll not regret purchasing the Tik Tok, it's is the ultimate cat playground
Construction was super easy and we loved how you could customise where you placed the levels. This is a quality made product and will last a lifetime. We love the minimalist design and Scandinavian aesthetic that fits nicely into our home and takes up little space.
The service from Wood for Cats was second to none. We had some shipping delays due to restrictions and they were great at checking in.
We can see how much our Taylor enjoys her Tik Tok (we call it her tree). Especially as an indoor cat, she spends most of her days using the various levels and viewing the outdoors.
We are SO happy with our purchase, thank you Wood for Cats!!
3 months ago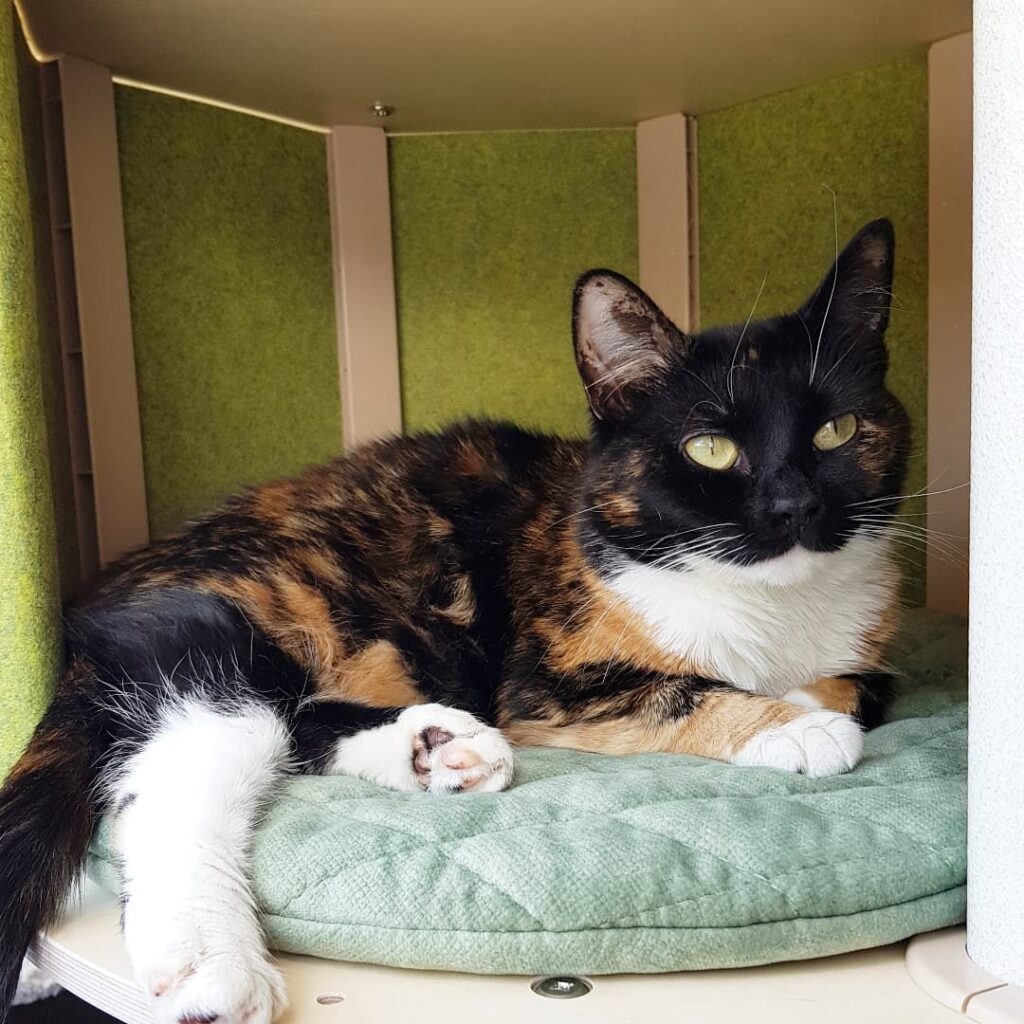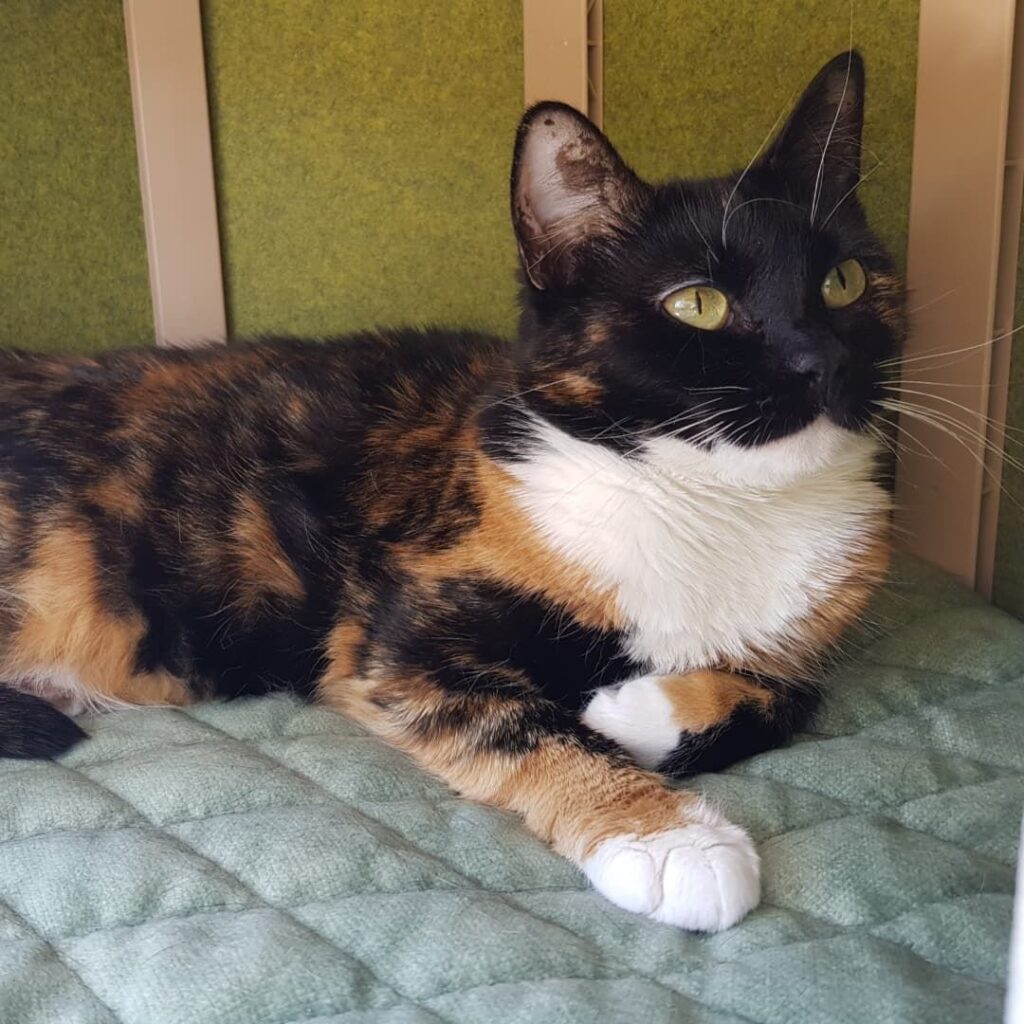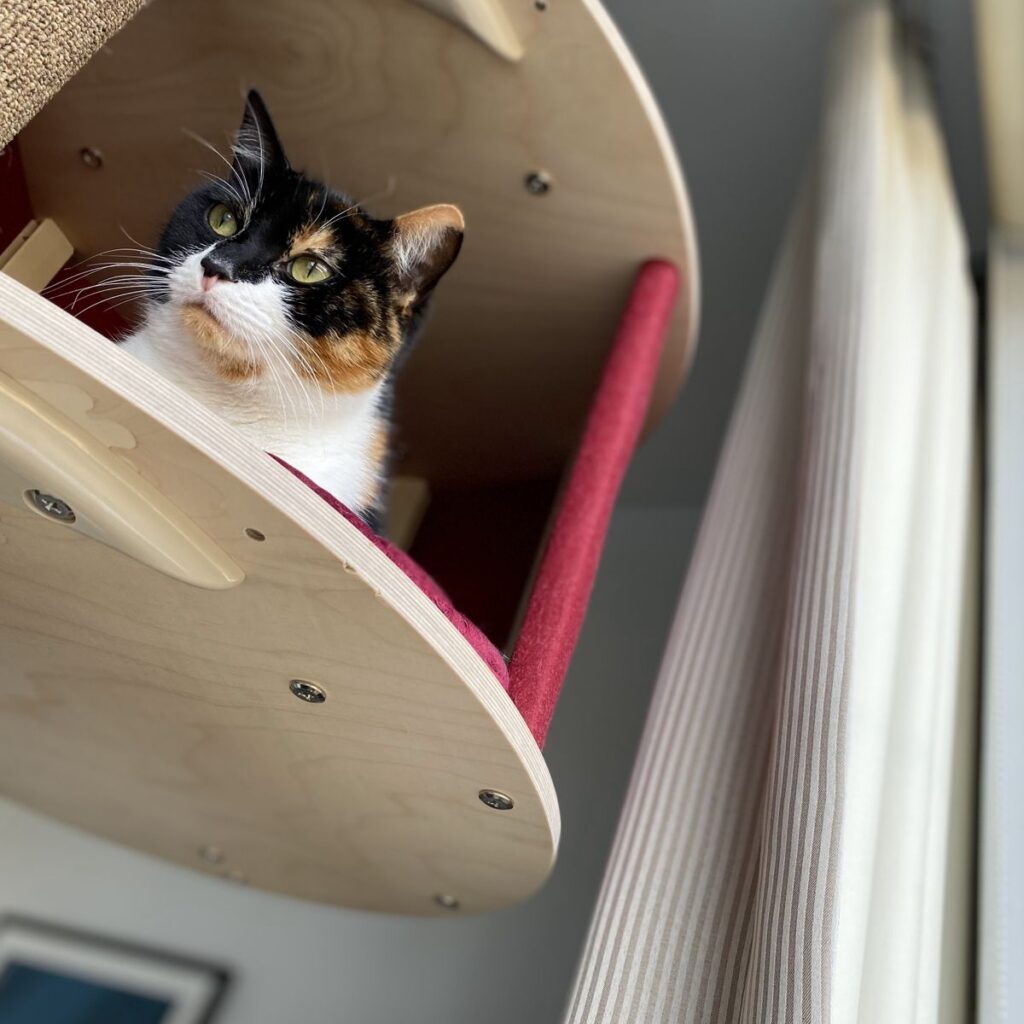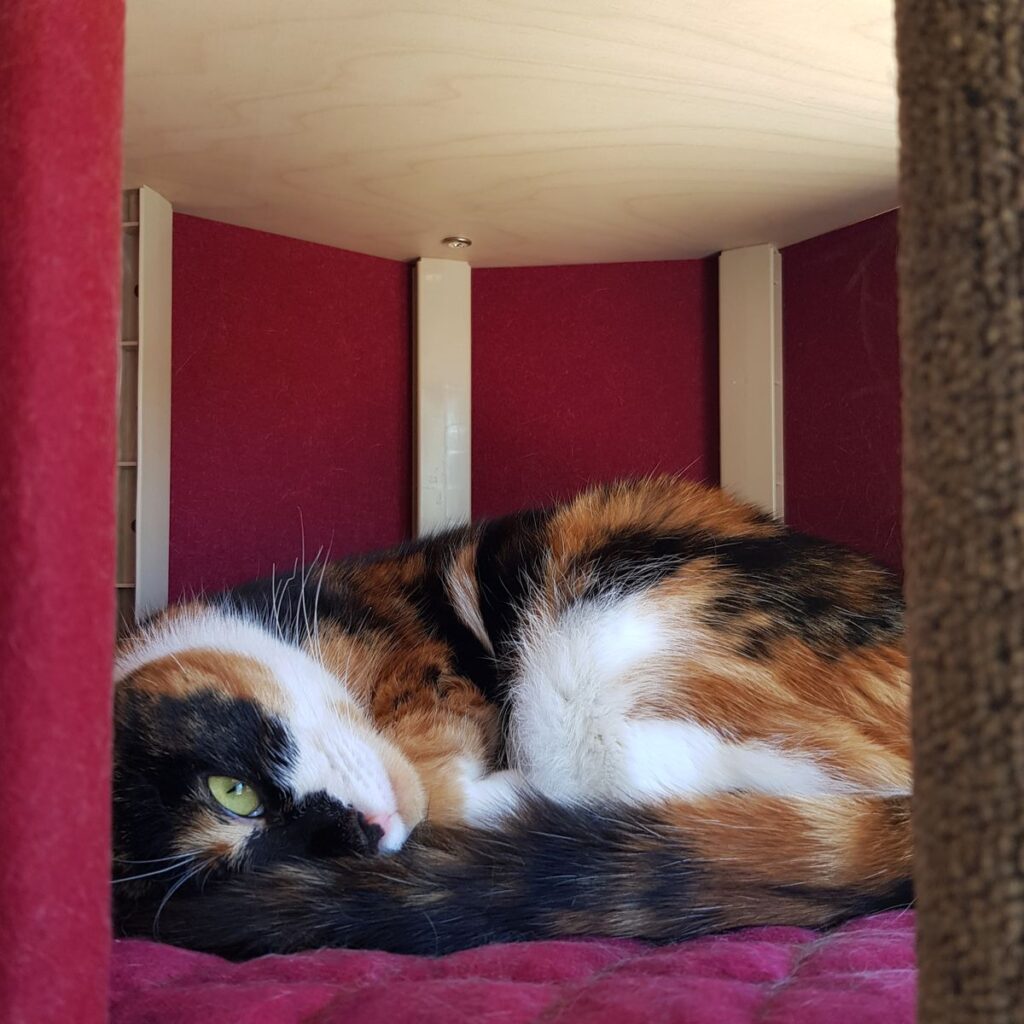 4
Megan
Verified owner
This was the second house I purchased for the Tok Tok as I had two cats competing for primo real estate! As with the other they have taken to it immediately. It's beautifully made and they love the soft velvet cushion for the interior. I can't speak highly enough as to what a pleasure Woods For Cats is to deal with. Customers for life here
3 months ago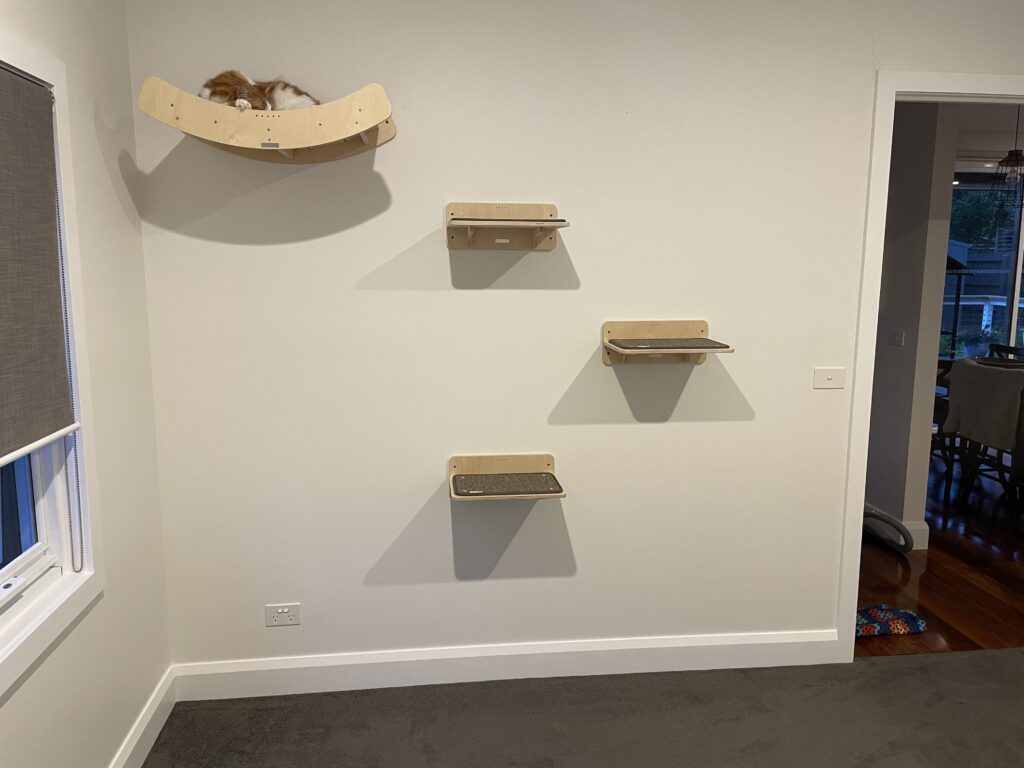 1
Jenny
Verified owner
I got the curved platform and a few flat ledges and Jonesy simply loves it - the photo is of him snoozing on it an hour after installation.
Installing the flat steps was fairly simple. The curved one is fairly heavy (feels like about 5-6kg) and add that to the weight of your cat, you need to be sure you use the right materials to fix it to the wall. In plasterboard we decided not to use the anchors provided and use the large plastic screw-in anchors. Plus, we added two additional holes for extra strength (instead of the three catered for), and also made sure we had at least one of the screws (the centre one in our case) in the timber wall frame for added strength. Further, given the weight and non-flat nature of the curved design, you'll likely need two people to install - it gets a bit tricky to ensure it's level if only one person is doing all the work. So it takes just a little preparation and consideration to ensure strength, appropriate to the material that your wall is made of. But once done, it's amazing and looks so lovely. A big warm thank you from me and Jonesy xo
3 months ago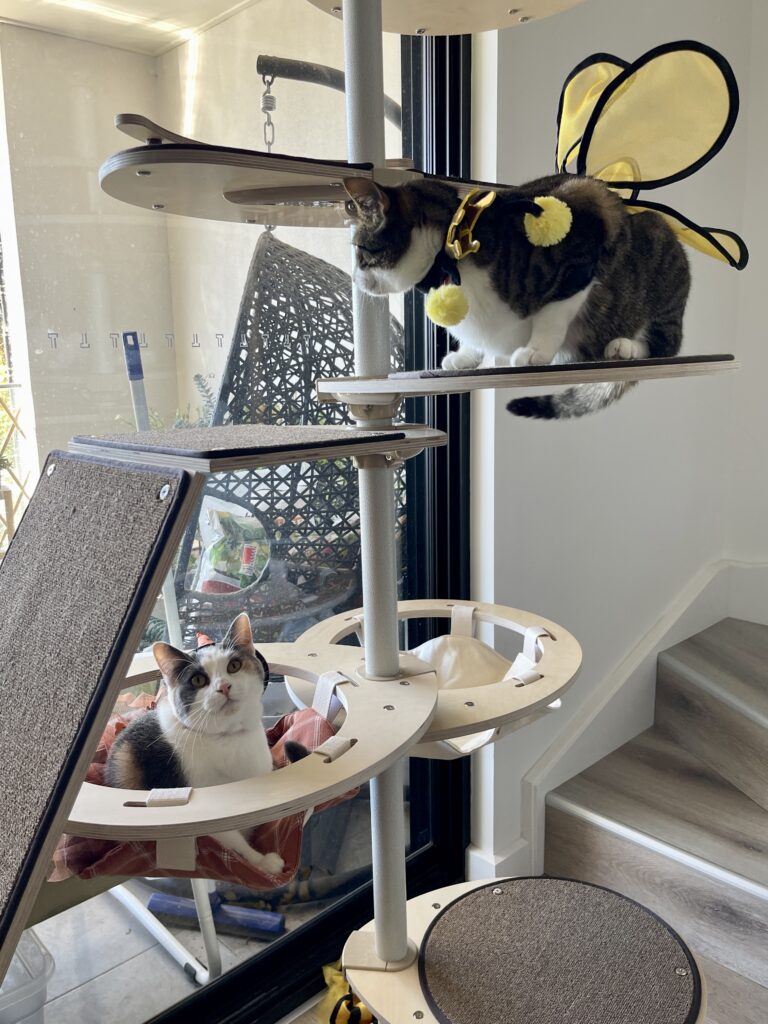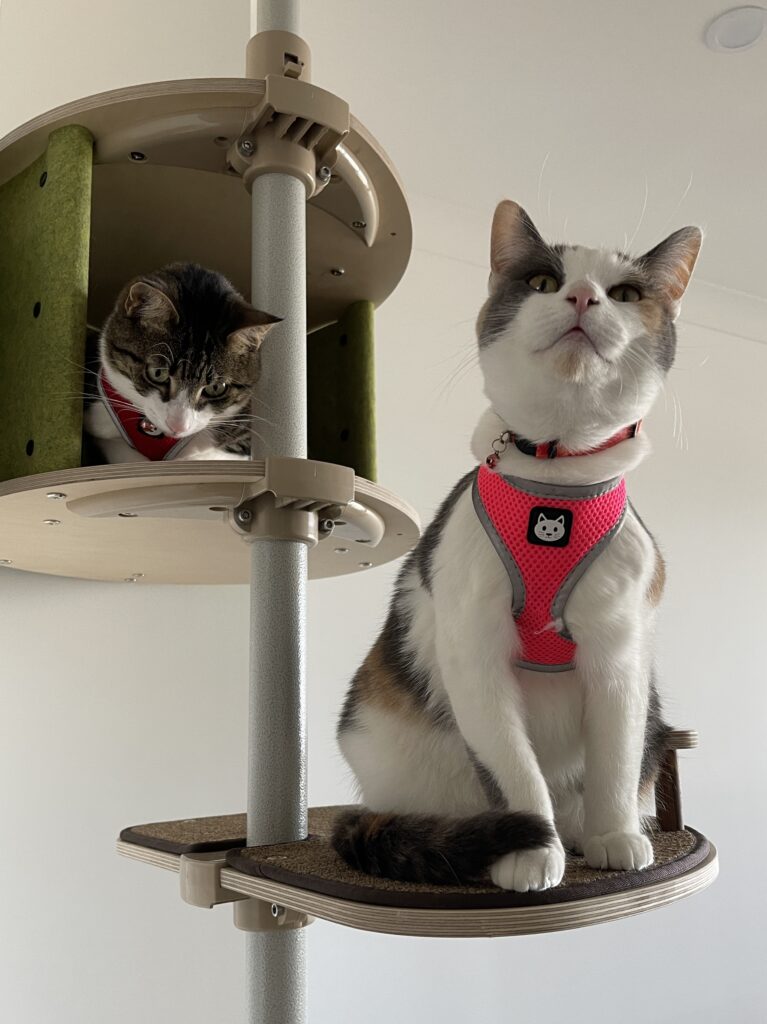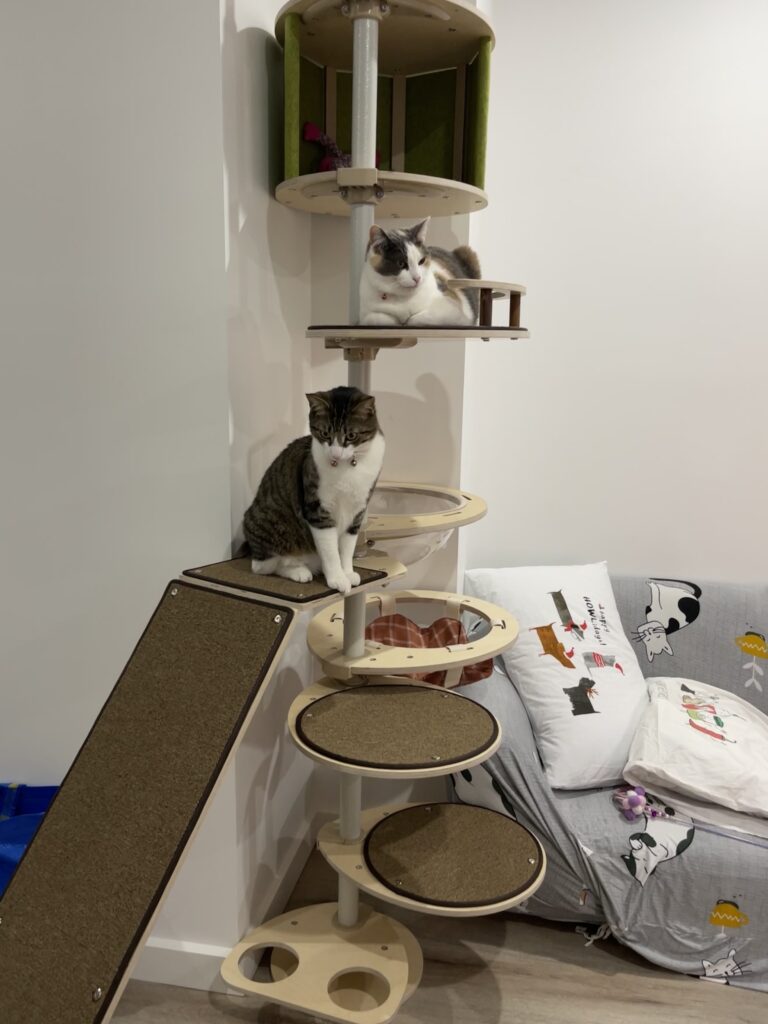 3
1. Set up was so easy! Not at all hard even if you were doing it on your own (like me!).. Everything came labelled and instructions were step by step. So many ways you could set it up so it never gets boring for the kitties!
2. Quality is awesome. So smooth even you could rub your cheeks on it and not get a graze! So rest assured your babies can do the same..
My 2 kitties Toby (4.6kg) & Lara (4.5kg) chase each other up and down the toktok and nothing's come loose/it doesn't look the slightest bit like falling over.
3. Service is exceptional. Livia loves cats and cat parents alike. She's always got an extra minute to answer my questions, and sounds just as excited as I am when my cats do something new in the toktok. She's also full of bright ideas on customising the tree to each household and space and cat. She's so full of knowledge on all things cat and absolutely generous with that - yet humble and never once mean.
Totally worth it.
3 months ago
Catherine
Verified owner
We ordered the Scratcher Couch and our 3 cats absolutely love it. We hadn't even taken it totally out of the box and they were on to it. It is made really well and we love how it has the non slip pads on the feet as we have got floorboards. Really great product, quick shipping and it looks so good! Thank you Wood For Cats 🙂
3 months ago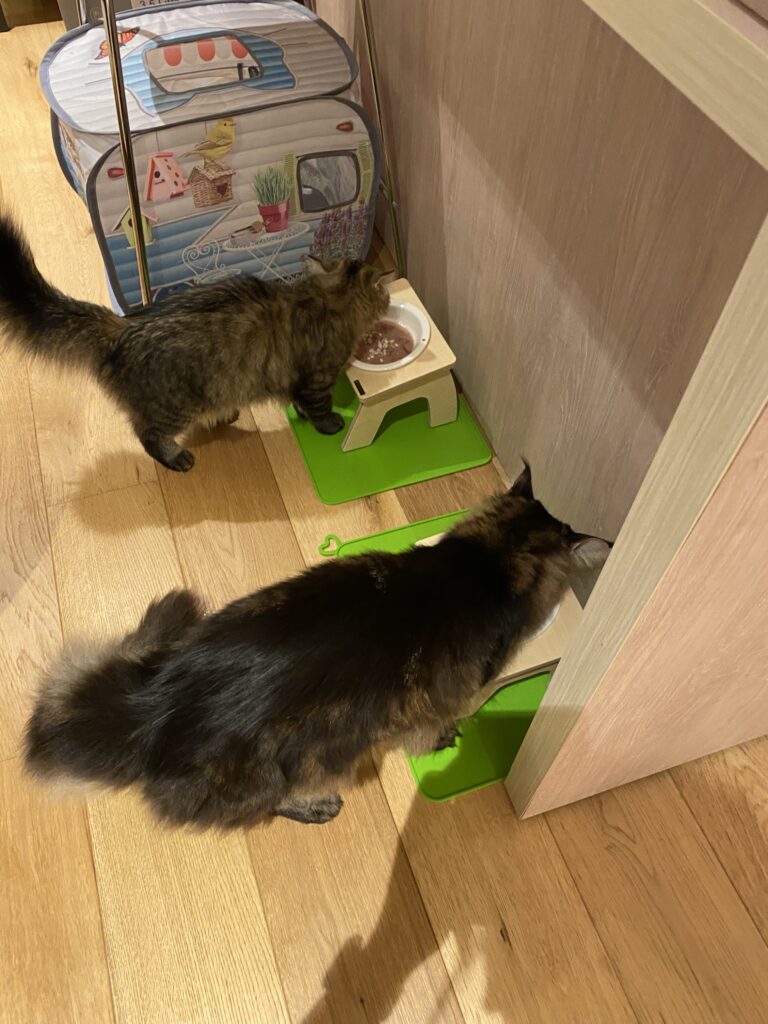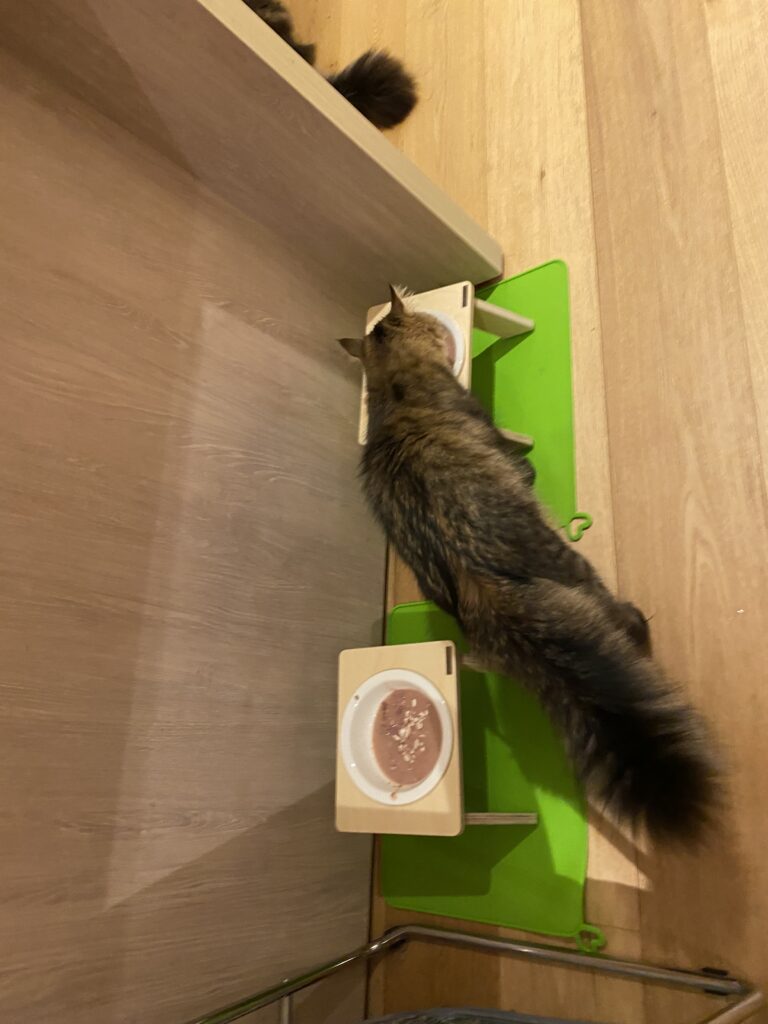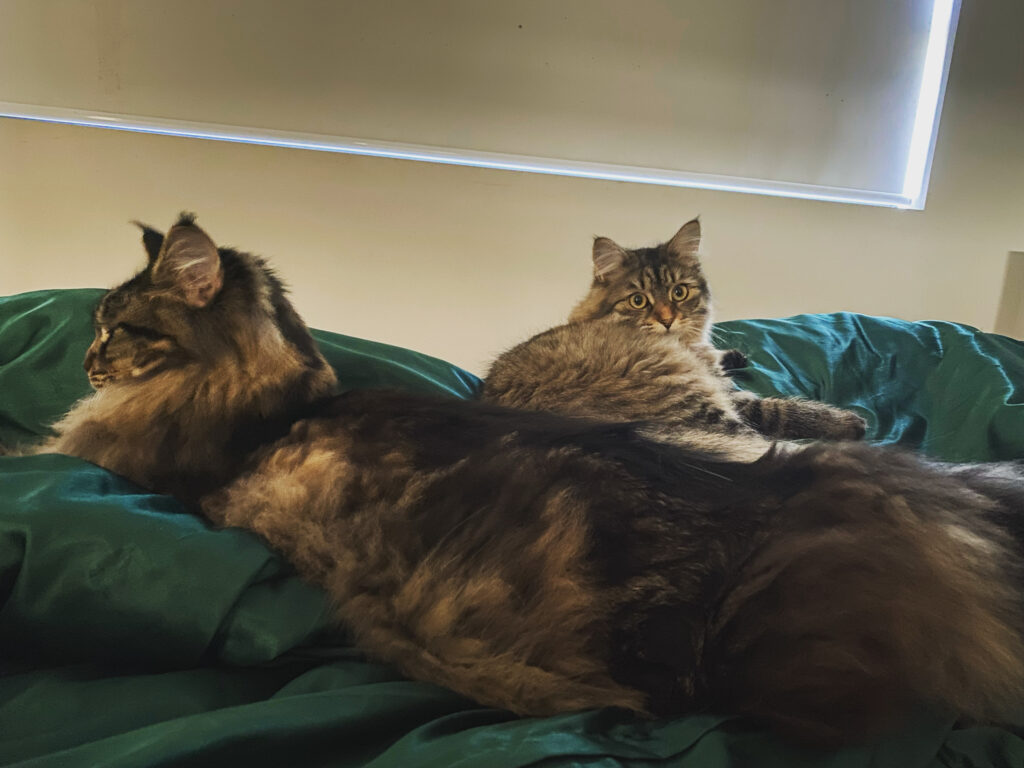 3
If there were 10 stars I'd give it that! I have two kitties, a Mainecoon (Spork) and a Siberian Forest cat (Kroshka). They differ in sizes with my MC being the size of a medium sized dog and my Siberian kitten a short stumpy potat. Both can use this with ease and both of them have been eating more after we switched!
It looks pretty and blends in well with our interior and it's super easy to clean! I feed raw food so cleaning is a big requirement for us otherwise it starts to get gross and stink and these ones are super easy to wipe. Doesn't get stained either (so far and Kroshka is a messy eater!).
Spork didn't eat much before. I suspected it's because he had to stoop so low and it was hard work. I went through 3 different food bowl/elevation items and finally found this. After we used this, his appetite got heaps better! Same food, same routine in our kingdom of floofs but just the change in bowl improved his appetite!
My kitties love love love love love this and so do I! 😀
3 months ago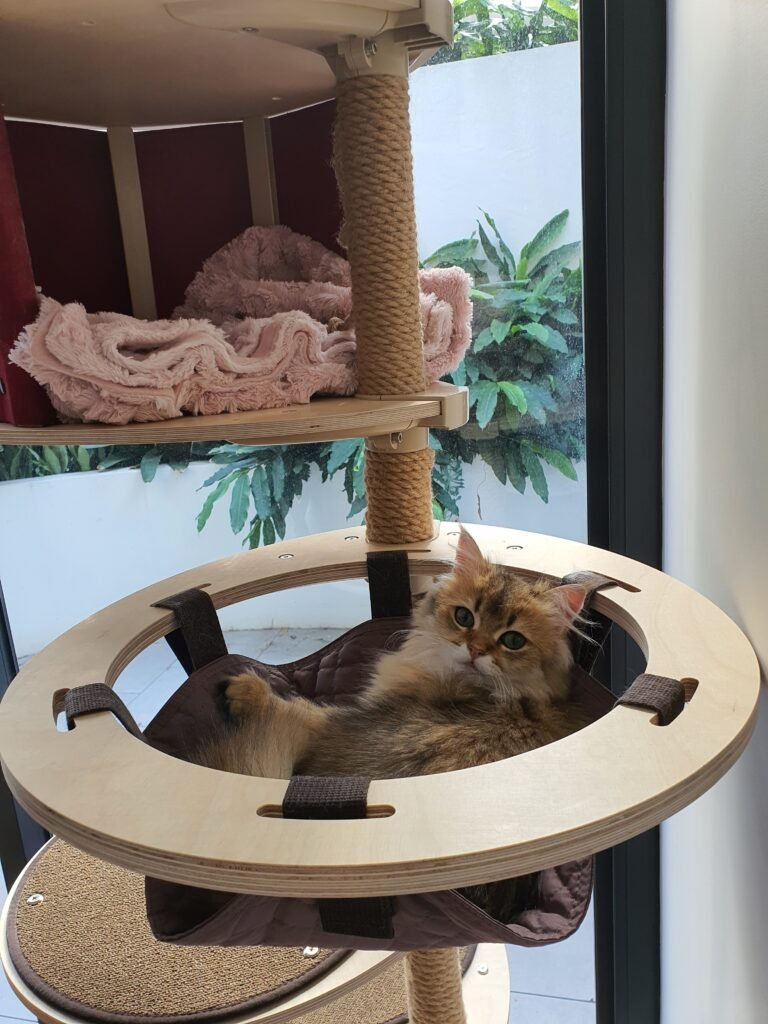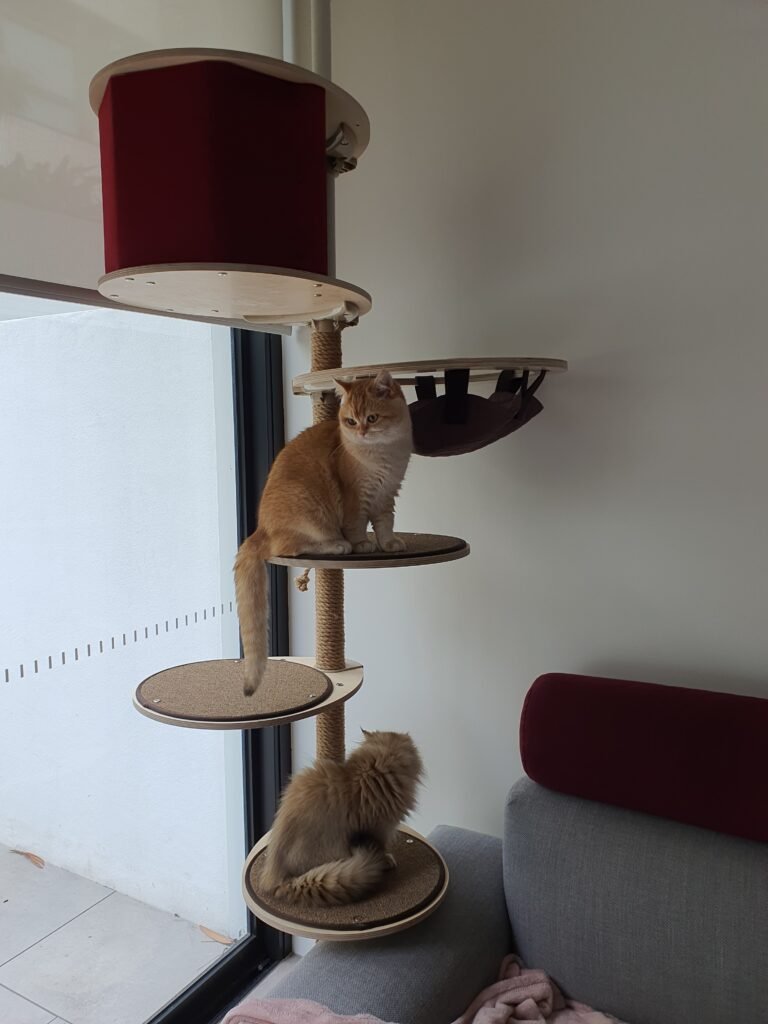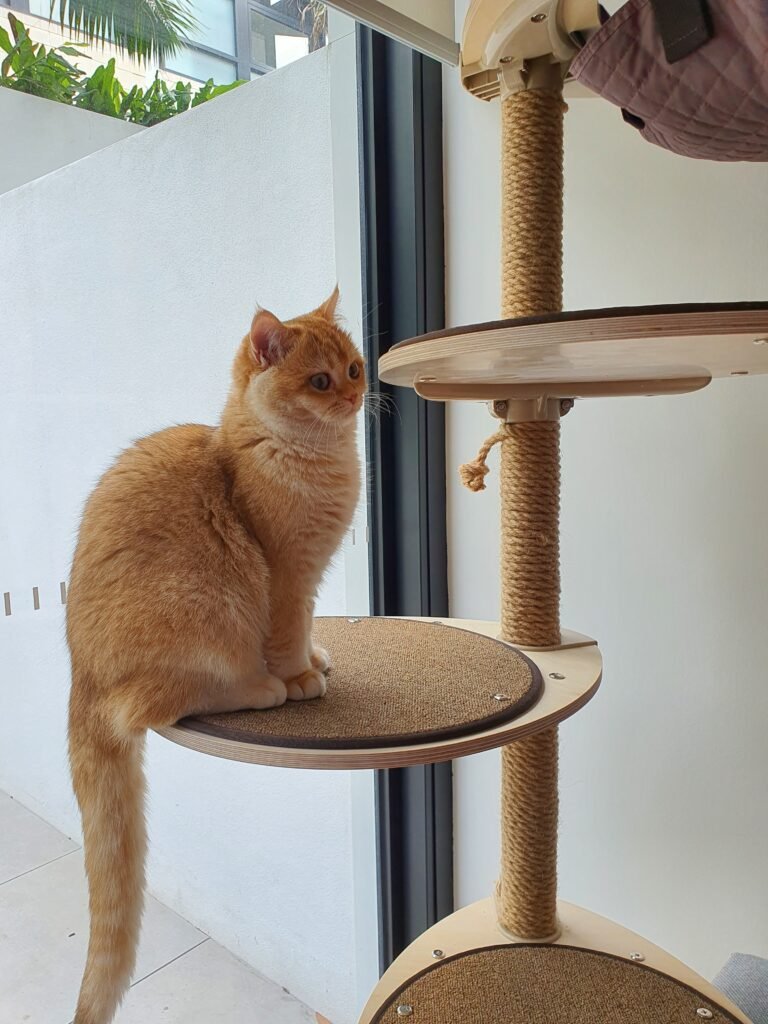 3
This is the best looking floor to ceiling cat tree I could find in the market! I like the slim and modern look so it doesn't overwhelm/ruin the overall aesthetic of the living room. My cats took very little time to get used to it. It is very good quality and I am comfortable with them jumping up and down without breaking the tree and hurting themselves. Be prepared to spend some time and have someone to assemble it with you. I highly recommend this product!
3 months ago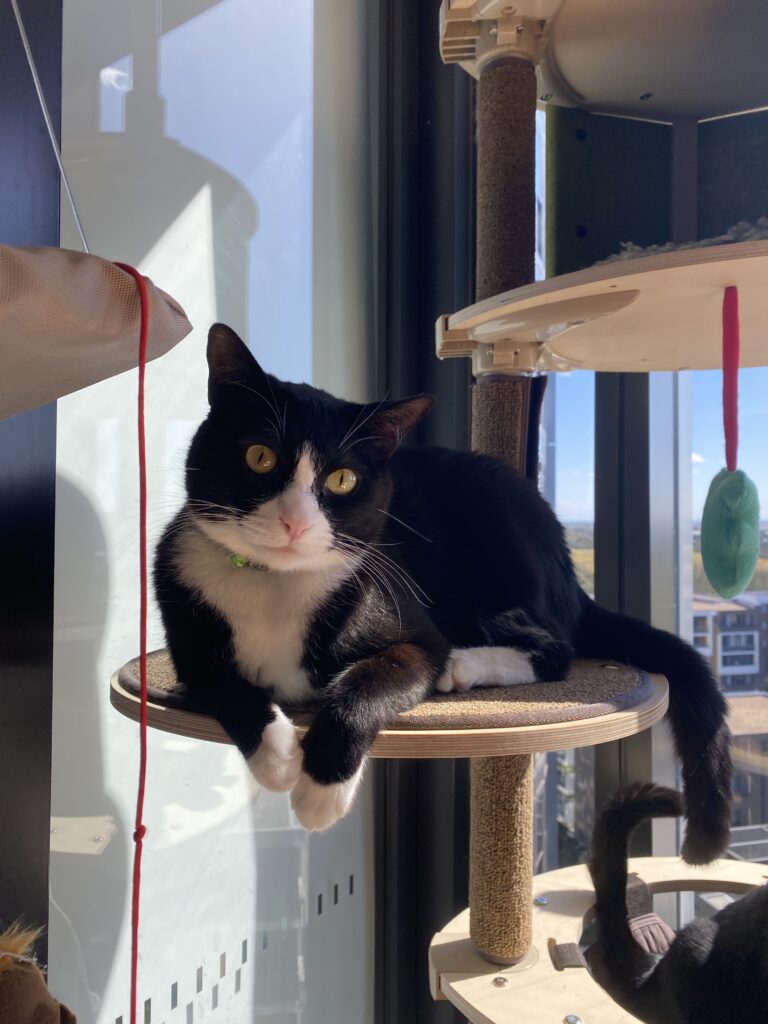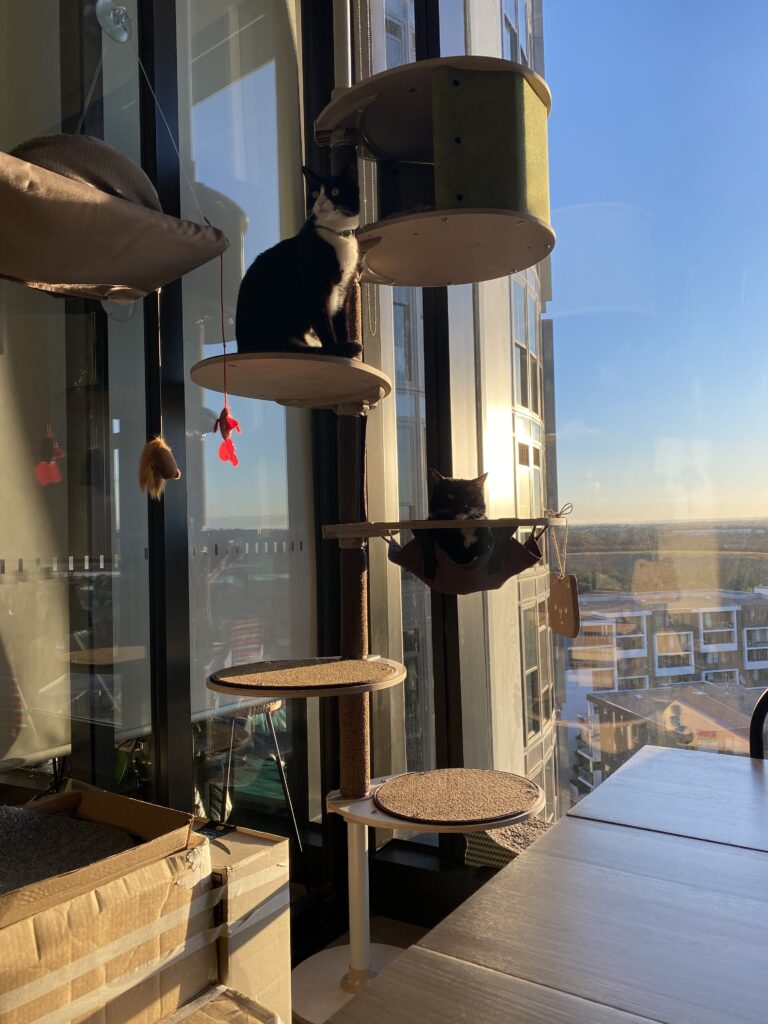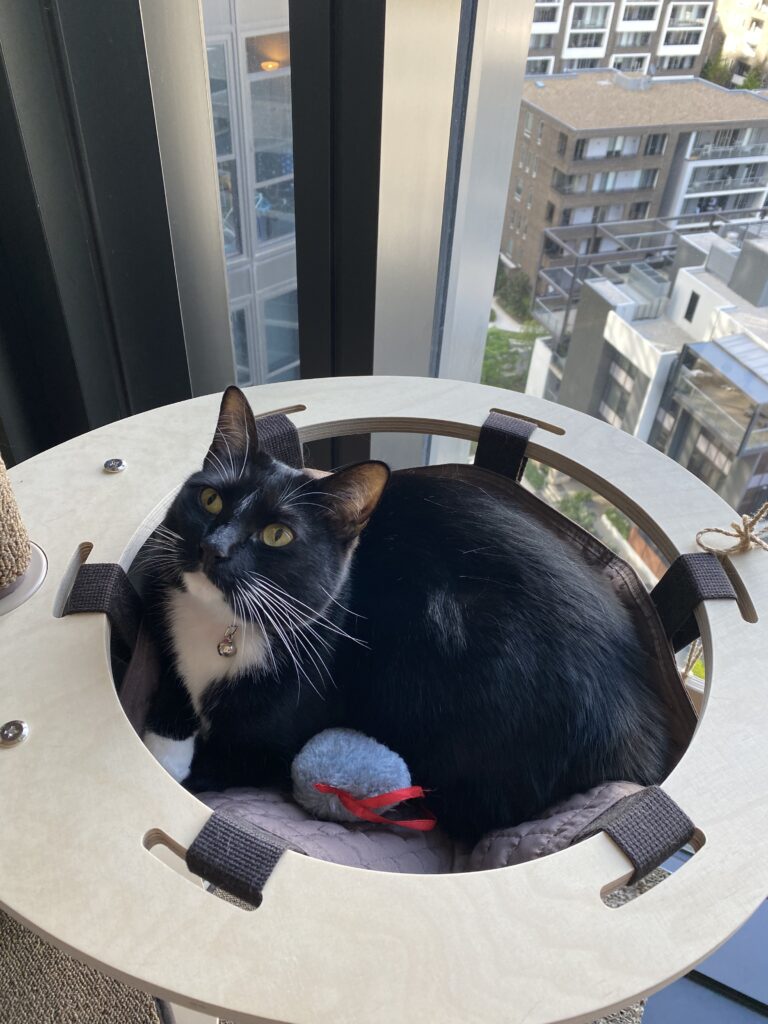 3
Both myself and my two fur babies ADORE this tree!! Livia is so wonderful and took care of us perfectly through the whole buying process, we had a couple of screws missing and she had them shipped out to us ASAP.
I highly recommend both the tok tok and buying from WFC!! Nothing but high praise for this business 🙂
3 months ago
Julie
Verified owner
My two fur babies, Polly and Sukey, and I all absolutely LOVE LOVE LOVE the Tok Tok Floor to Ceiling Cat Tower!
Having been a lover of cats forever and sharing my home with cats for as long as I can remember, this is hands-down one of the best purchases I have ever made for my feline family members!
Not only is the minimalist design aesthetically pleasing but it capitalises on under-utilised vertical space in a way that is not bulky, cluttered or imposing. I have a small apartment, so this is particularly significant for me.
It was easy to build and with its flexible design, it is also easy to change-up - a bonus for both me and my fur babies, giving us both the opportunity to infinitely explore different outlooks. For Polly and Sukey it also has the added value of challenging them physically and mentally with each change.
TBH I am already dreaming about add-ons that will enrich the lives of my fur babies even more!
3 months ago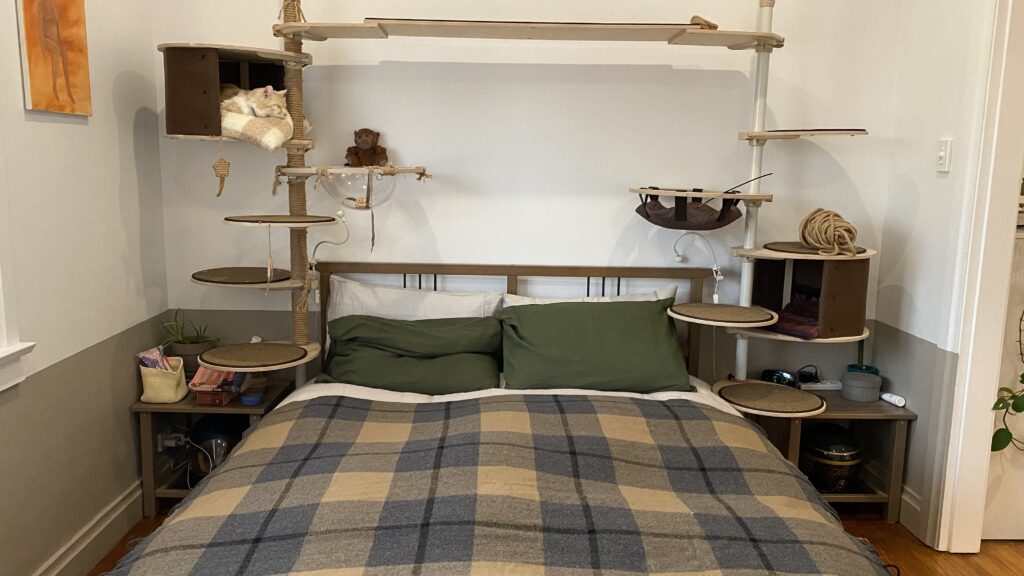 1
Our Tok Tok Bridge compliments our 2 Tok Tok trees nicely. It sits rights above our bed!
It was easy to put together and gives our 2 kitties some room to explore the 2 Tok Tok trees.
There's just something great about elevated cats !
3 months ago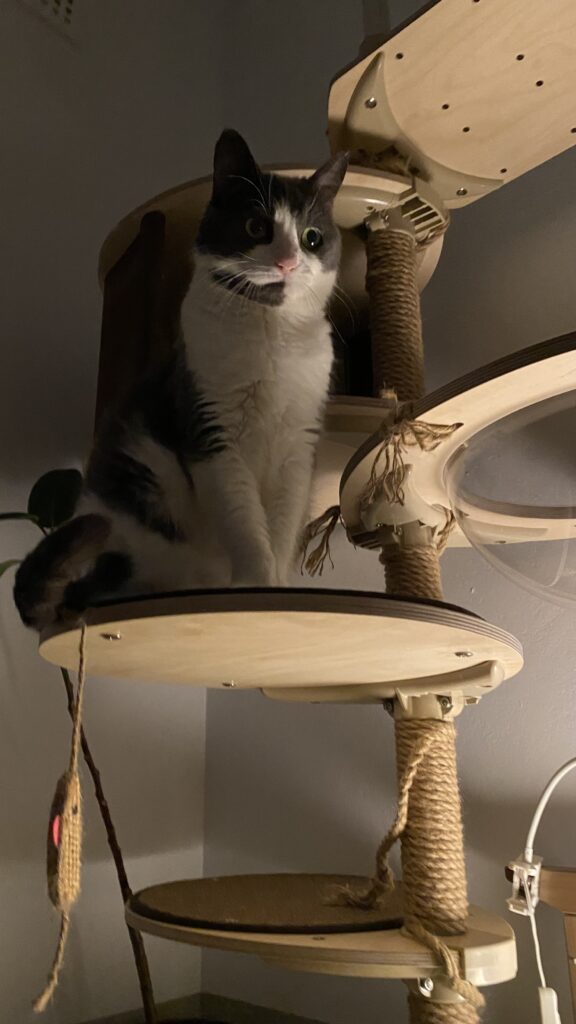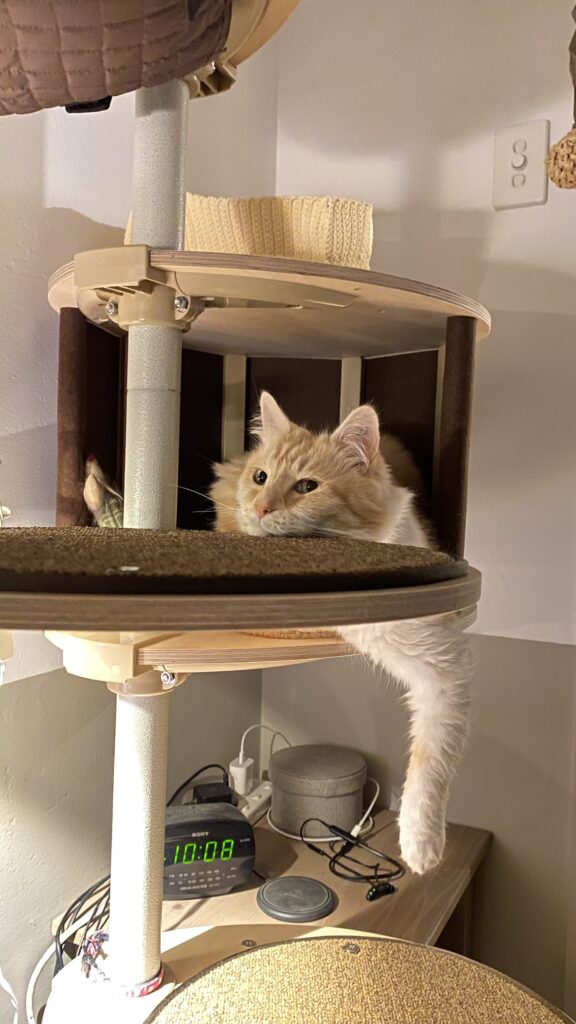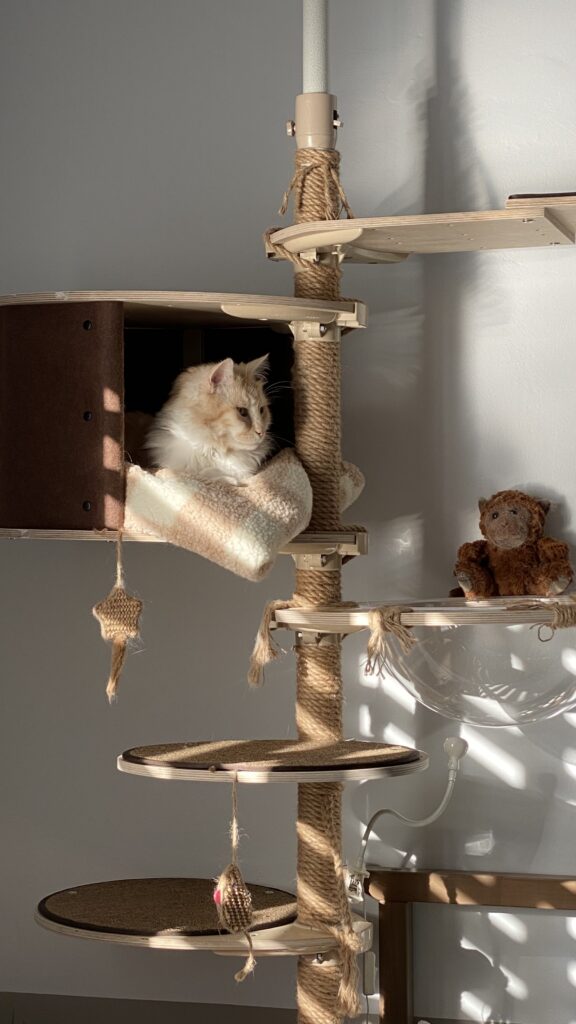 3
Our cats are very happy with this product! They have made it their new home, especially our ginger boy Milo.
We live in a small apartment, so we were after a practical but stylish cat tree that would compliment the human furniture 🙂
Woods for Cats are very easy and friendly to deal with. Excellent customer service and follow up support.
Could not recommend Woods for Cats enough, my partner and I will be looking at more of their products in the future.
3 months ago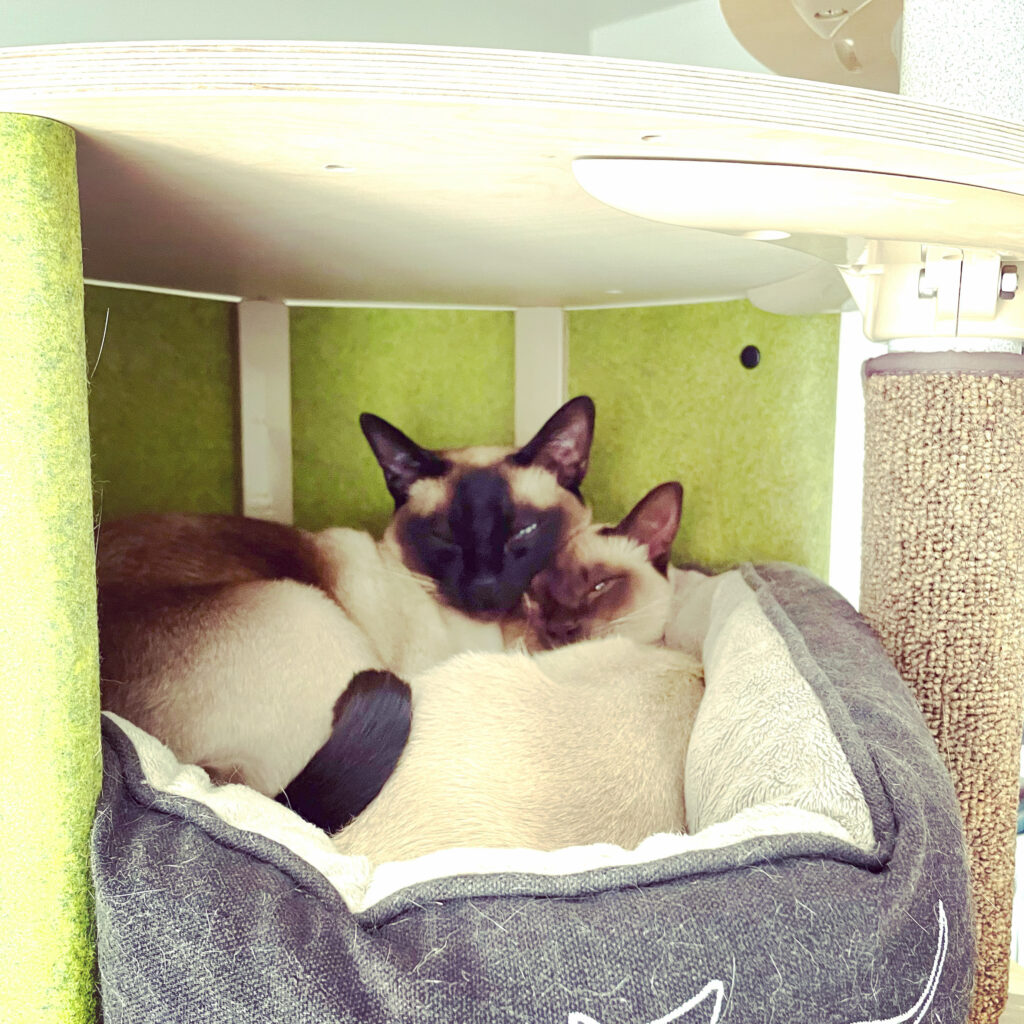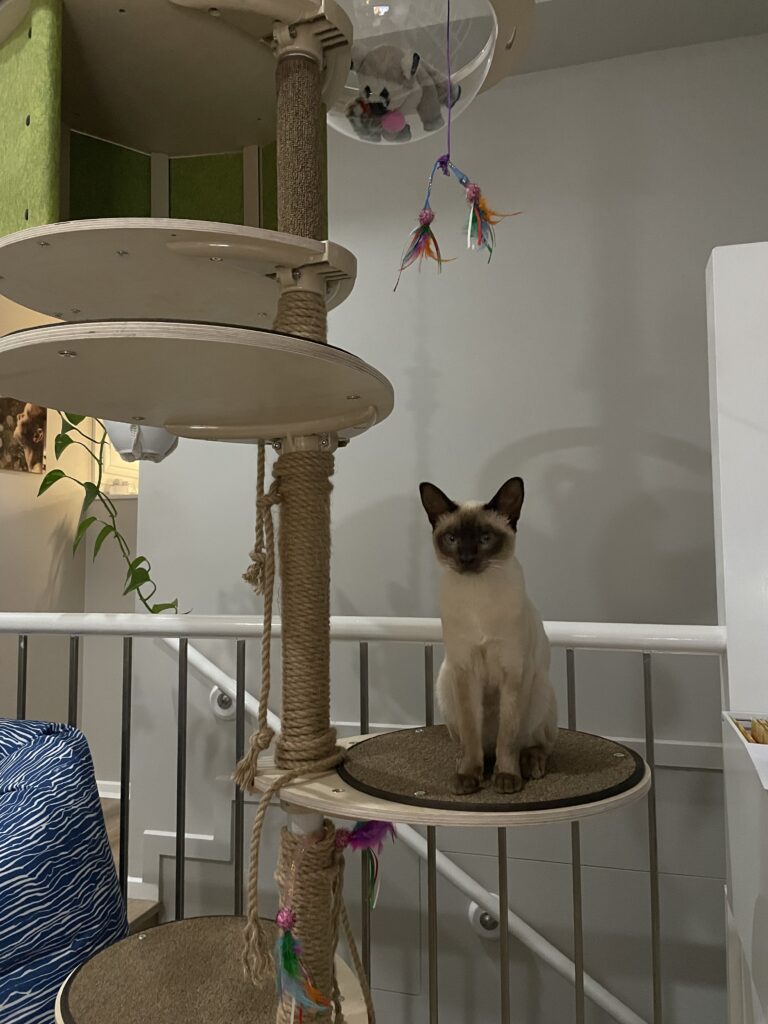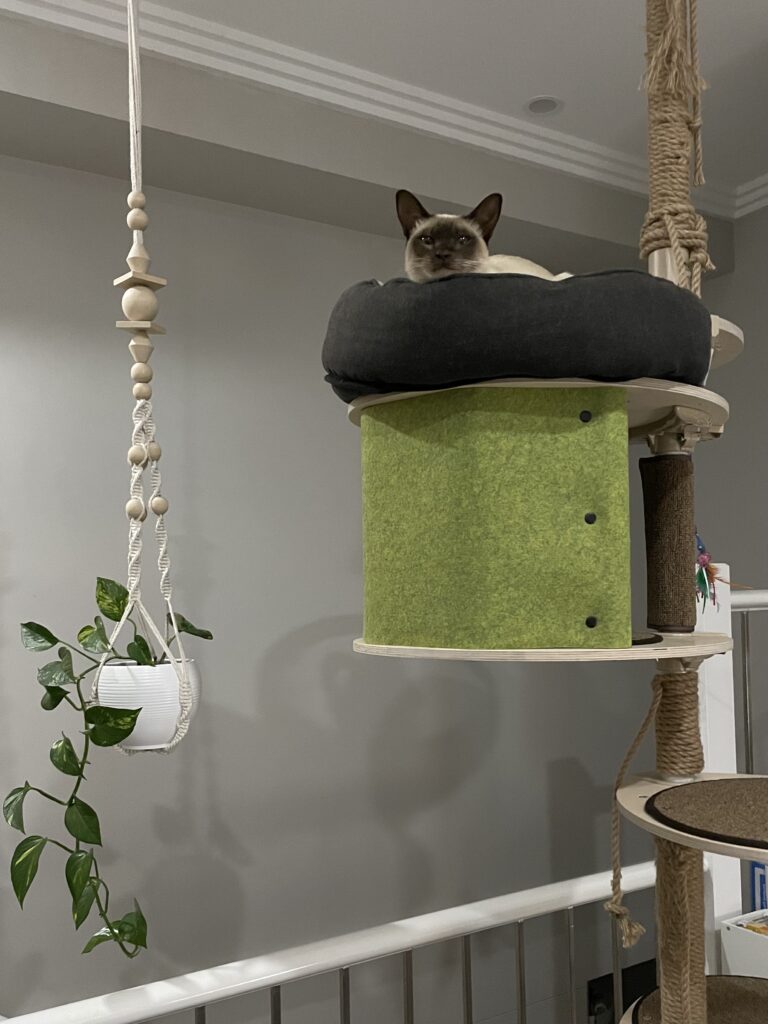 3
The wood for cats products are amazing. Great design and well made. Easy to install. Cats just love their tree!
3 months ago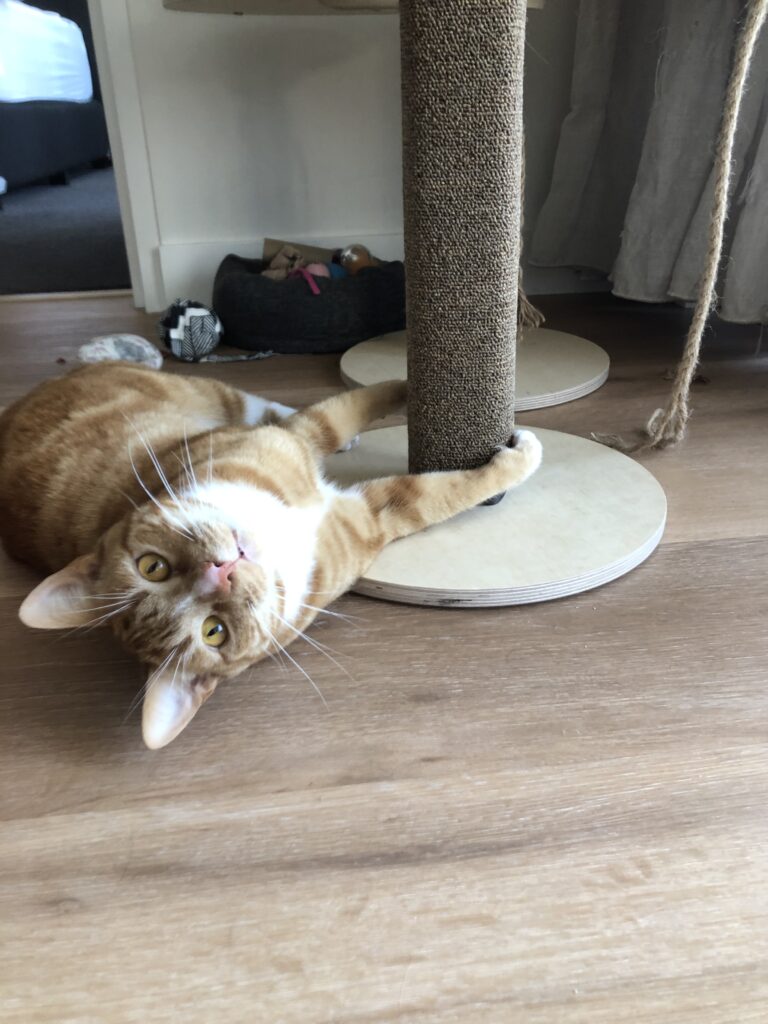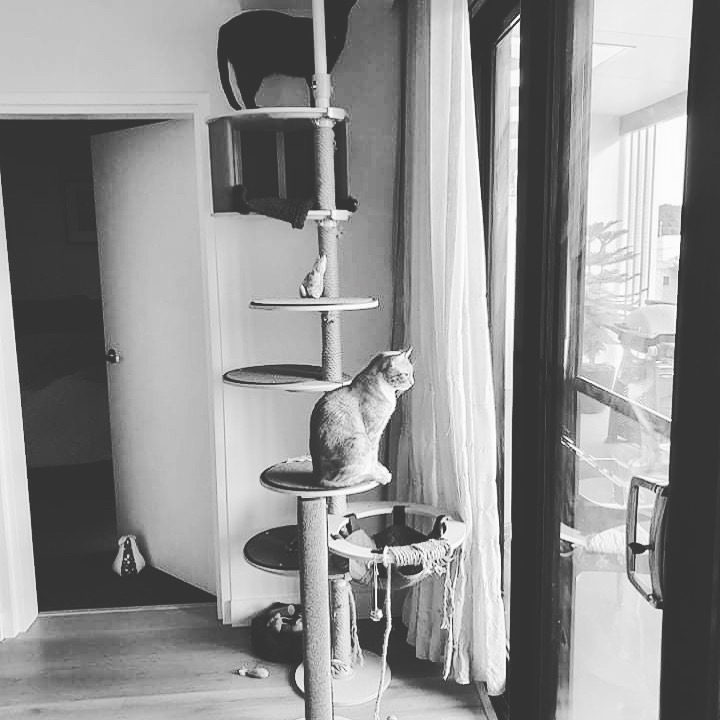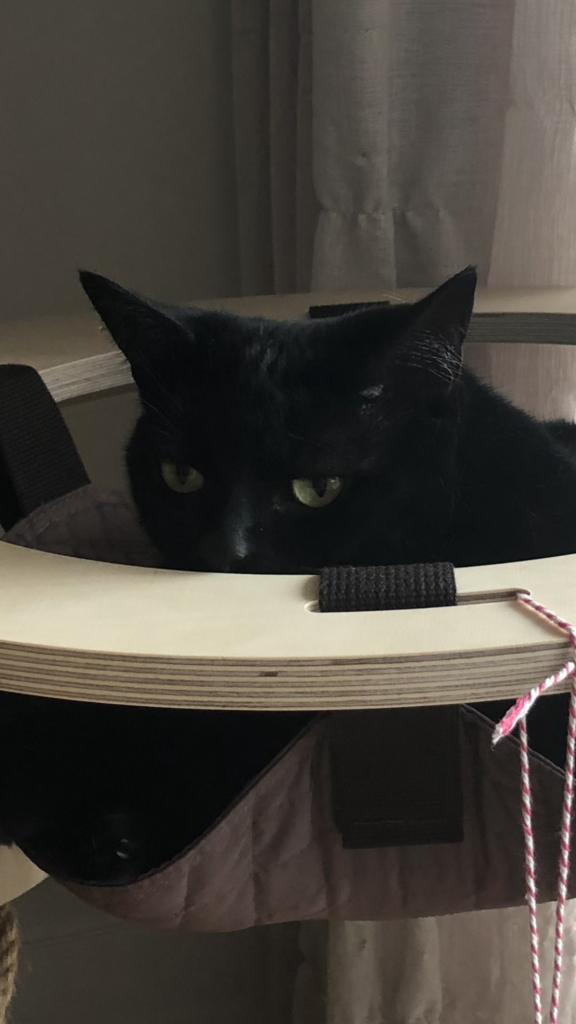 3
We live in a small apartment with two young cats that own us.
The environment is important to us so when we found Woods for Cats we were very excited. Passionate about cats and their health and happiness and having a product that is environmentally sound in terms of production and longevity..A great circular economic investment with support for problem solving readily available..
Pearl and Harry love their TicTok and it's a beautiful art work in our small space .
In comparison we would have had to replace our cat tower every 3 years in general terms but we can look forward to years of use with limited need to replace rope and carpets .
I
4 months ago
We have 5 cats and they love the scratcher. It is awesome for scratching, climbing and launching themselves from. It is also great as a watch tower on the top and a hidey hole in the base!
Service was awesome, this is the 3rd purchase from Woods for Cats as the quality is superior to anything else on the market and they fit into our home as pieces of furniture, not to be hidden!!!
4 months ago
Absolutely brilliant, most definitely not an eye saw but instead aesthetically pleasing, And most importantly our cats are loving them so much that I'm planning on buying the single food table for our youngest cat. We absolutely love Woods for Cats. Everything we've bought is quality and long lasting and most definitely will be returning in the near future. Cheers
4 months ago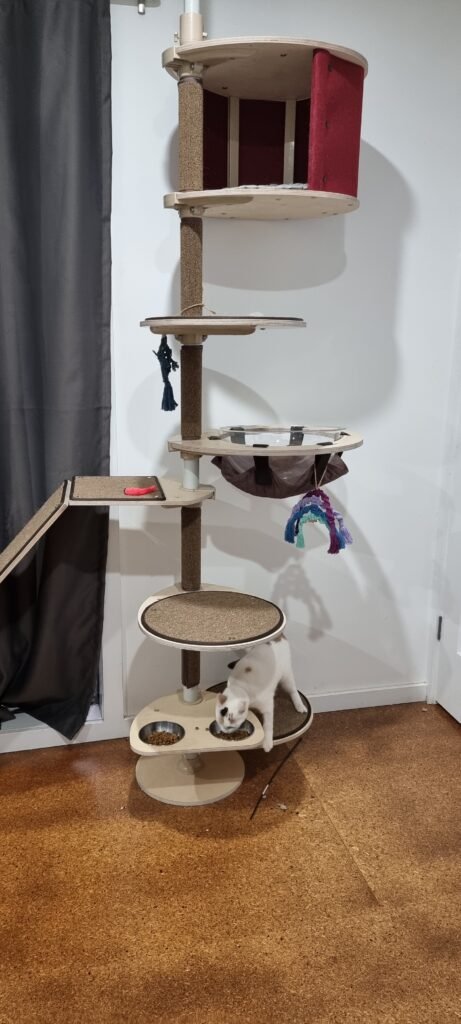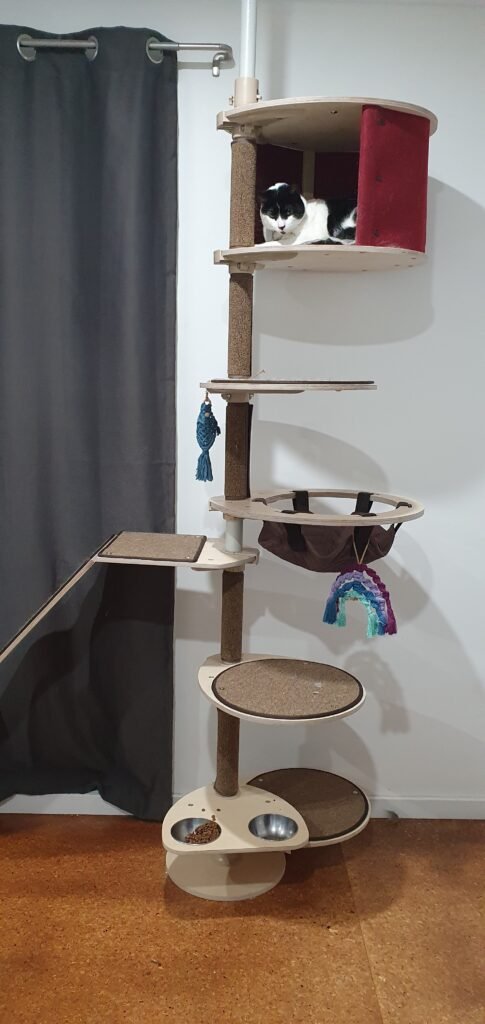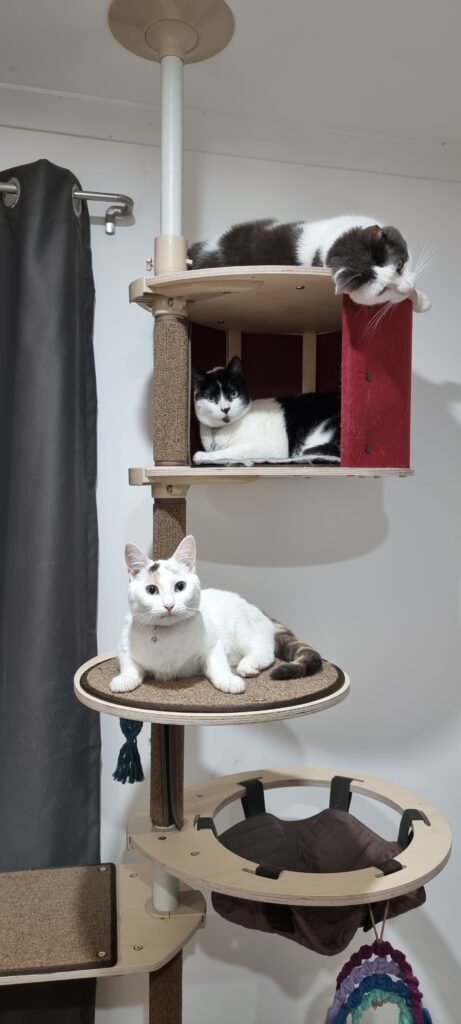 3
The Tok Tok is the best cat product I have ever purchased. It is completely customisable, easy to assemble and there are so many awesome extras you can add on to it. We have three cats (one special needs) and I love that I have been able to make it safe and enjoyable for her as well even if she can't get to the top.
I love how sturdy it is and the two bigger cats both fit in the house together. It was so easy to assemble and very easy to change whenever we needed to.
4 months ago
Michelle
Verified owner
We thought our Tok Tok tower was the ultimate, but adding Cat Pole Dancer to our set up was THE BEST decision ever! Francis scratches and climbs it multiple times a day and it provides excellent exercise for this indoor kitty. The half moon platform is also his new favourite nap spot. Highly recommend!
4 months ago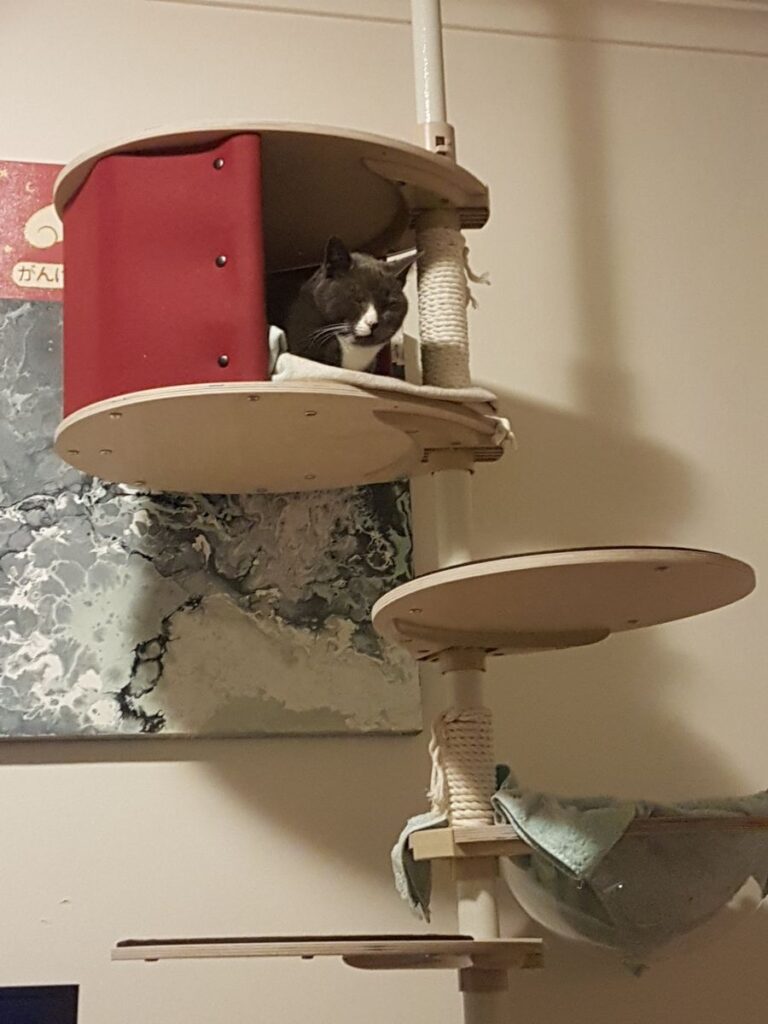 1
Chloe
Verified owner
This is genuinely a fantastic purchase. I was initially worried about the cost (what if my boy Matsu didn't like it??) and it did actually take a few weeks for him to get used to it. But now, he sleeps in the cubby or the bowl daily (I lined the bowl with an old towel as he was a bit unsure of it). He also loves scratching the rope provided that I wrapped around the bottom. So worth it!
4 months ago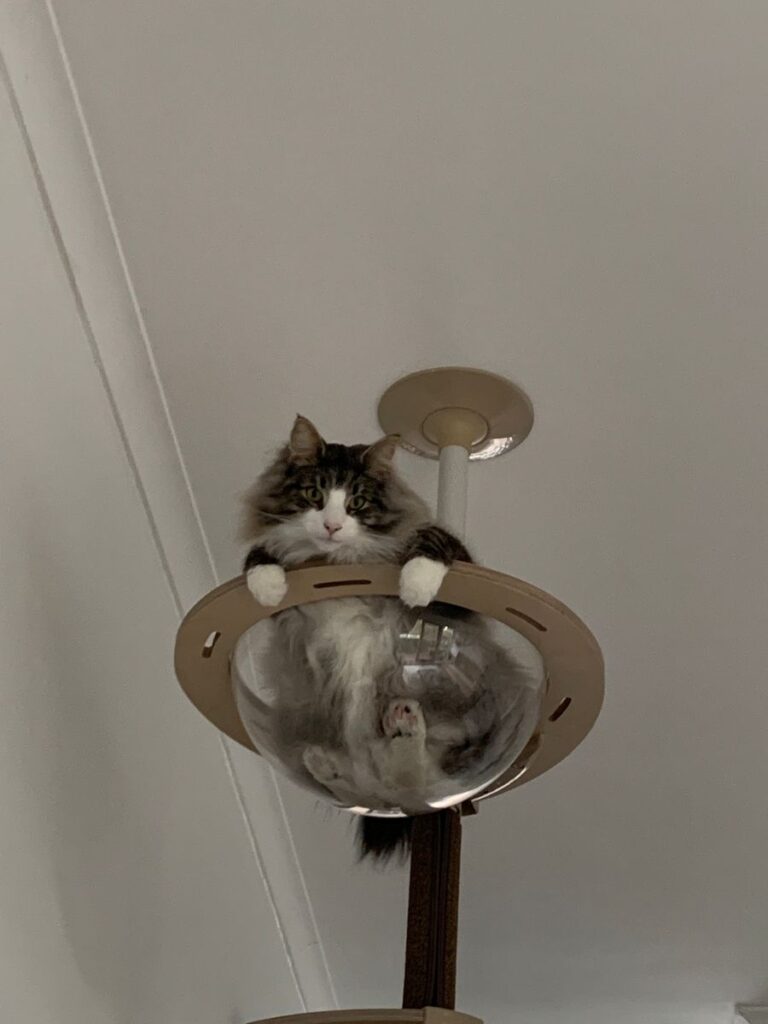 1
Stephanie M.
Verified owner
Our fur baby loves his tree (and so do we!) It is of beautiful quality and works so well with our decor.
4 months ago
Anonymous
Verified owner
Our two 6kg kittens absolutely adore their cat tree and are racing up and down it every day. It's just great quality (particularly compared to the majority of cat furniture on the market). We're in a small apartment, and the small footprint but great height is perfect.
4 months ago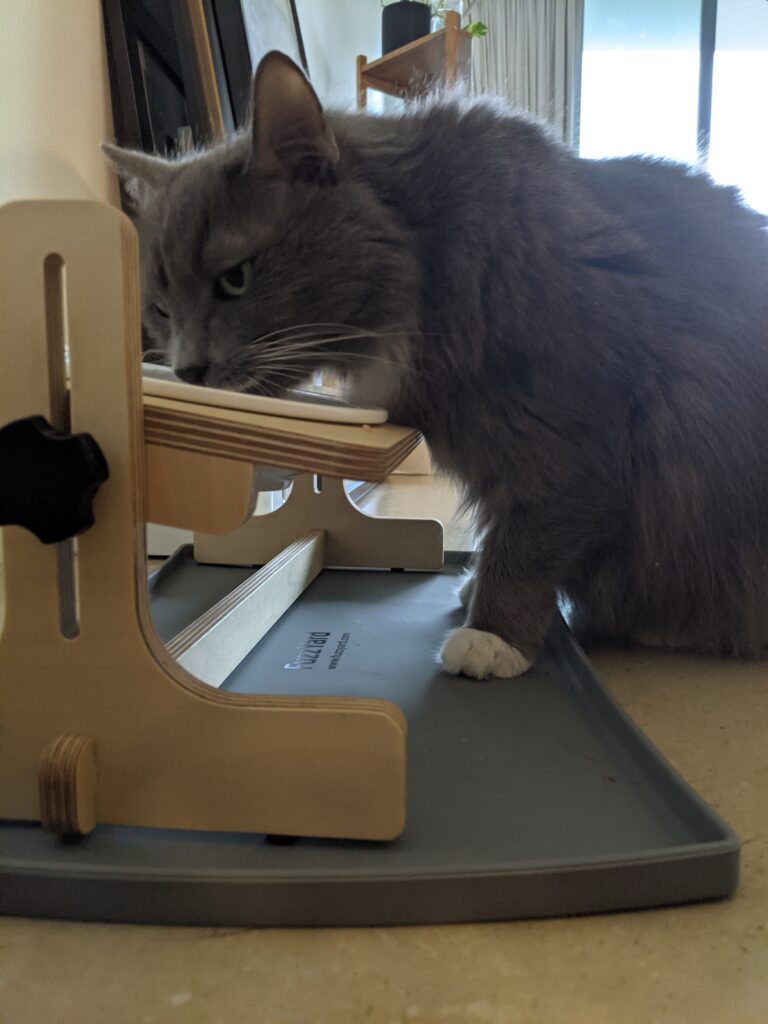 1
Love how the height AND angle is totally adjustable to your liking. The quality of the bowl and stand is excellent.
4 months ago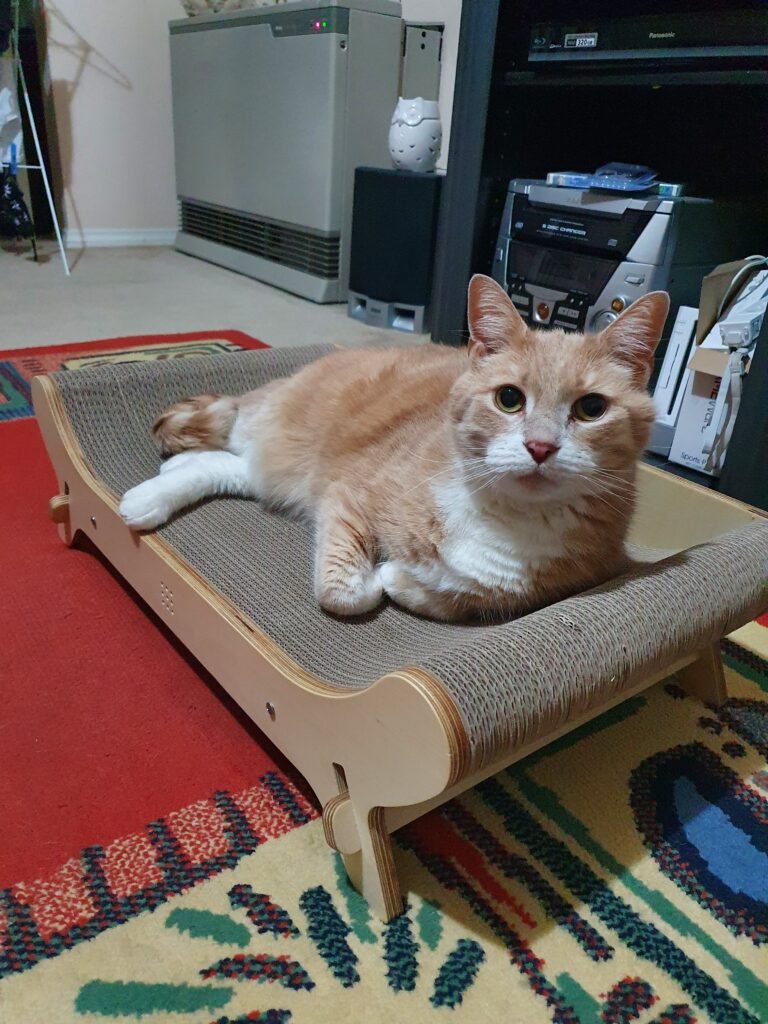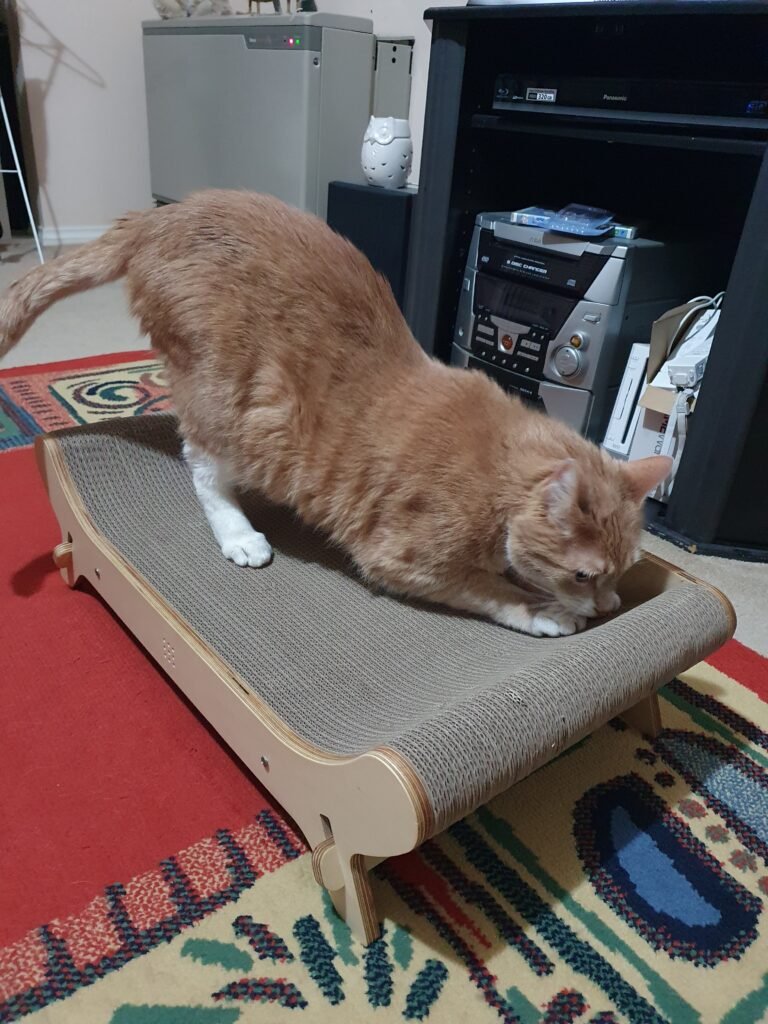 2
Absolutely love woods for cats products. This is my second purchase as I bought Napoleon's bowls from here as well. It's made so sturdy and strong and I love the fact you can just replace the cardboard insert. Napoleon loves using it as both a scratcher and a bed. It's a nice big size so it gives him plenty of space to stretch out
4 months ago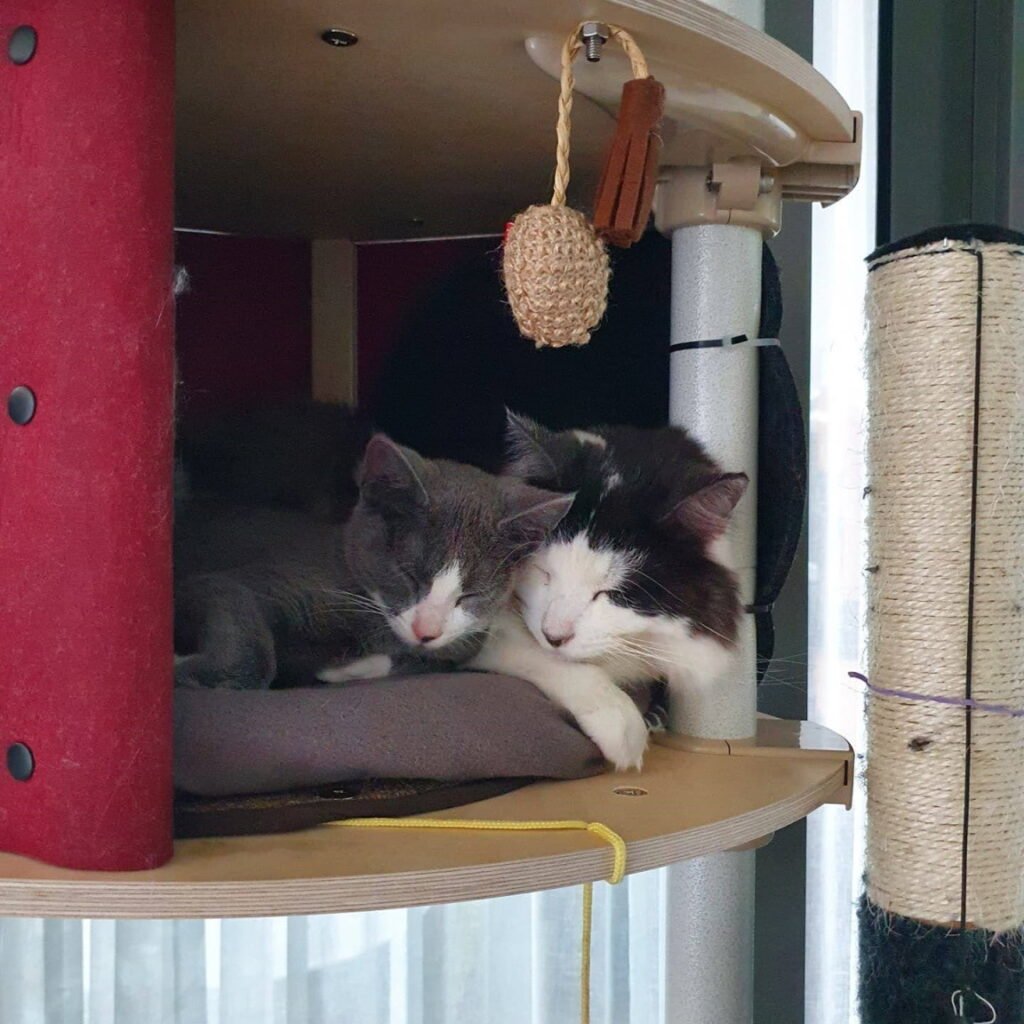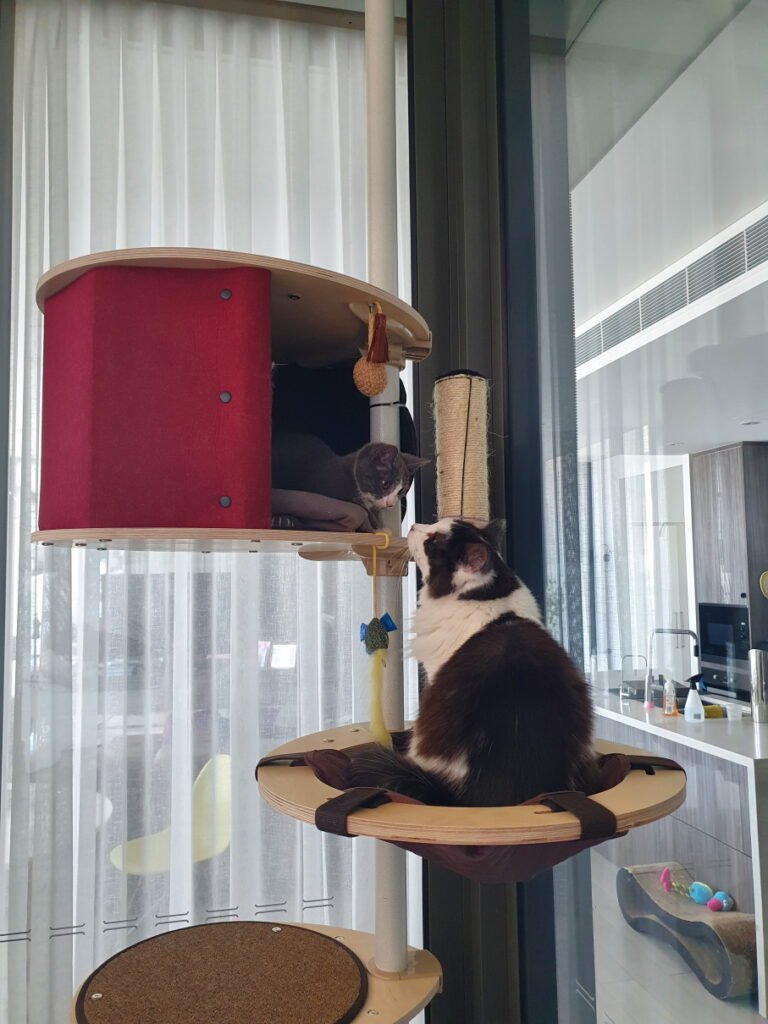 3
jenandlen
Verified owner
I had barely got our Tok Tok tree assembled before my two monsters were investigating their new tower.
I have it in a sheltered alcove on the balcony where the humans in the family spend a lot of time. The ceiling there is over 3m high but the extension pole made that a non-issue.
Our two cats, Audrey (2) and Holly (3 months) absolutely love it. They take turns sleeping in the house and hammock and often curl up together in the house.
Quality is excellent, it's super sturdy and really does look contemporary and stylish with a small footprint. The instructions were pretty good, operator error and a few wines may have contributed to it taking a little longer than suggested, but it was a fun experience.
It sits on my granite tiles which were slightly uneven, but a $7 IKEA Oddbjorg felt chair pad underneath the base fixed that easily and you can't even see it.
Once I worked out that it takes approximately 21cm of rope per cm of the pole that you're winding it around, it made it a lot easier to do that part as I could cut each piece to size rather than trying to manage a giant ball of rope.
Customer service from Livia may well be the best I have ever experienced from an online business. She is super quick to respond to any query and has some great ideas to go with the Tok Tok.
Absolutely worth the higher cost, considering anything which comes close to looking as good costs even more, and getting it shipped to Australia is impossible.
(Pics show a bit of McGyvering with blocking the back gap of the house and the added scratch pole. This is just a temporary measure as Holly is still so tiny I was scared she would catapult herself out the back of the house and she needed help to climb on top of the house without just clawing her way up the outside like a lunatic. Once the new full coverage house fabric is available that will solve that.)
4 months ago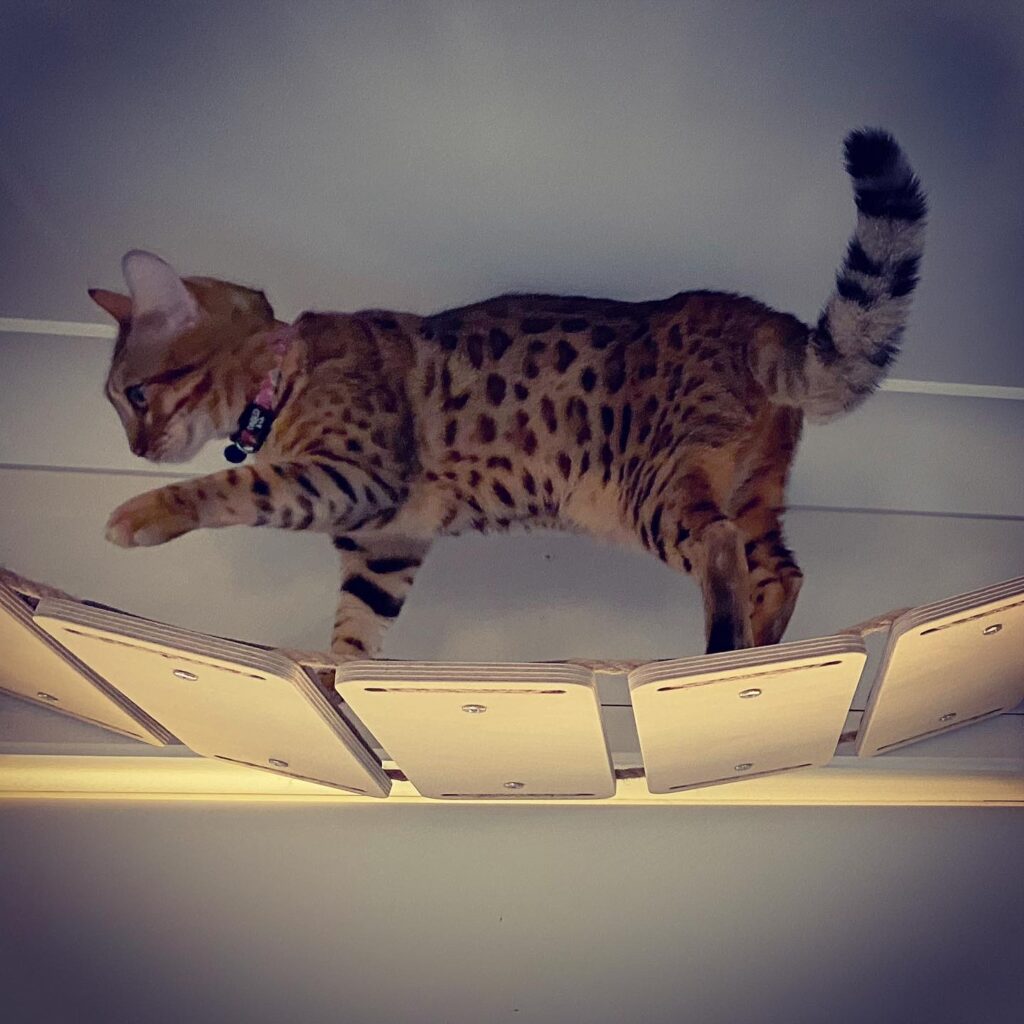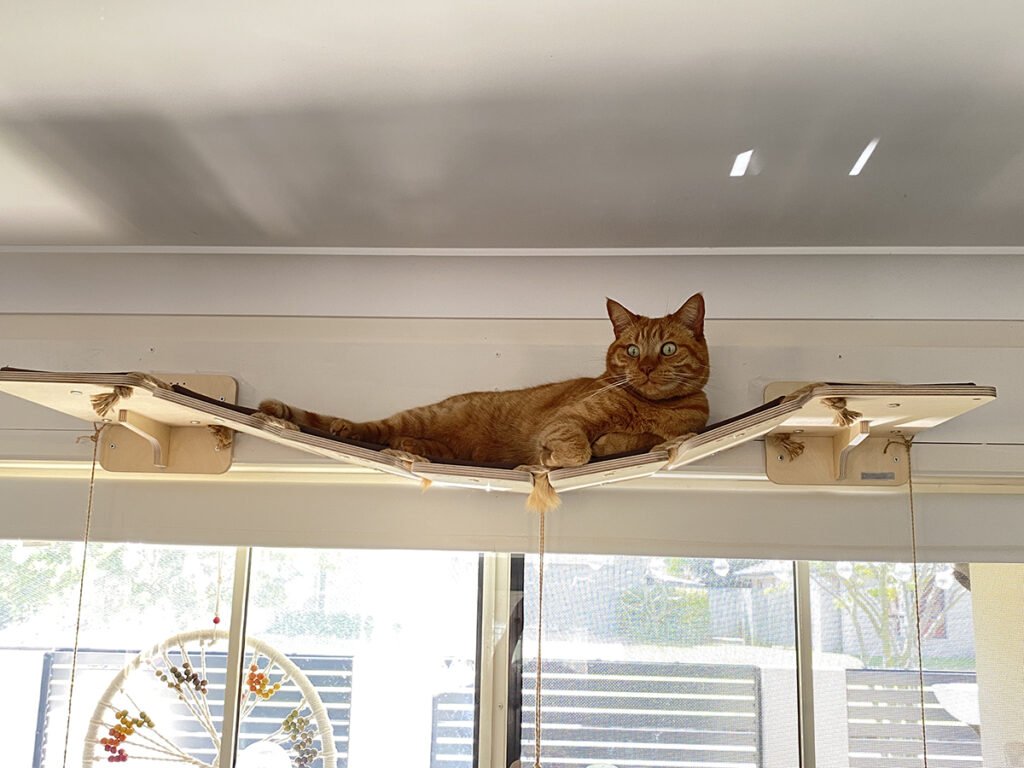 3
Our cats love the bridge!! It's their fun place to run across or to laze. It's quite heavy, however extremely well made and another lovely piece of furniture to compliment our other Woods For Cats platforms.
4 months ago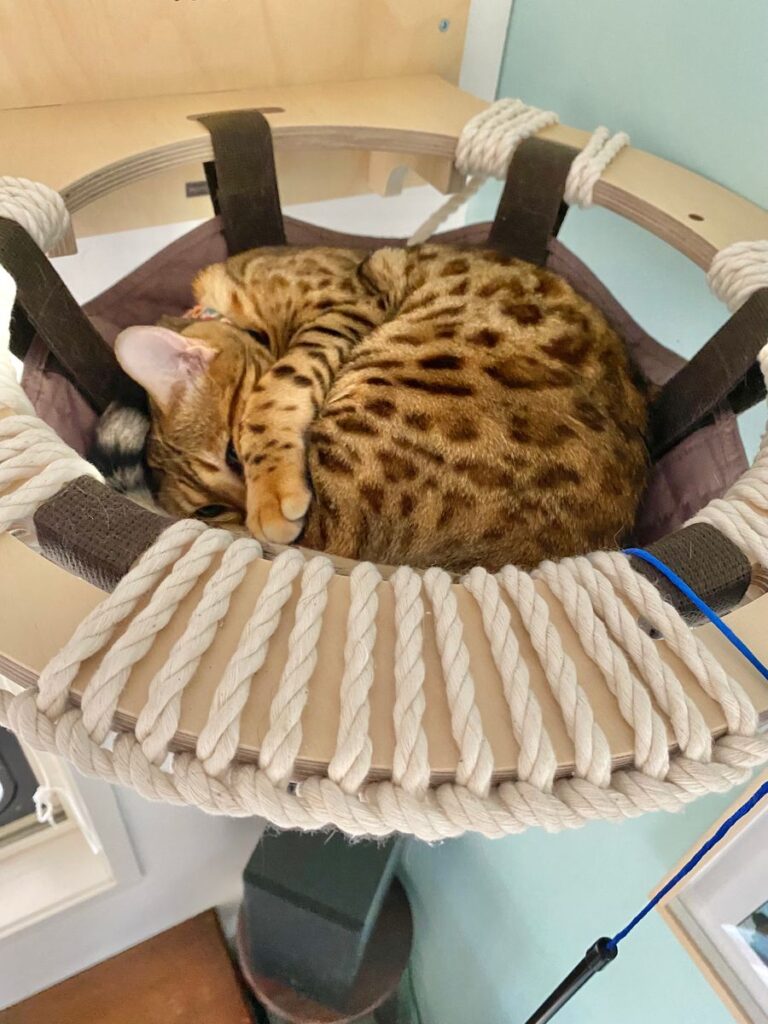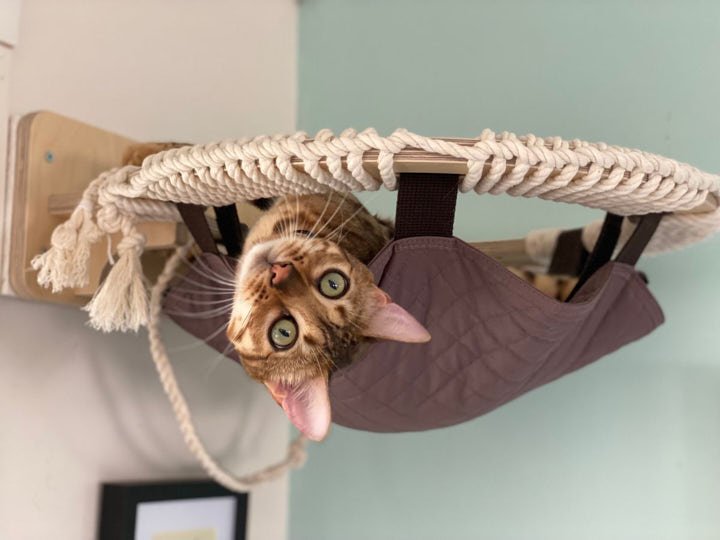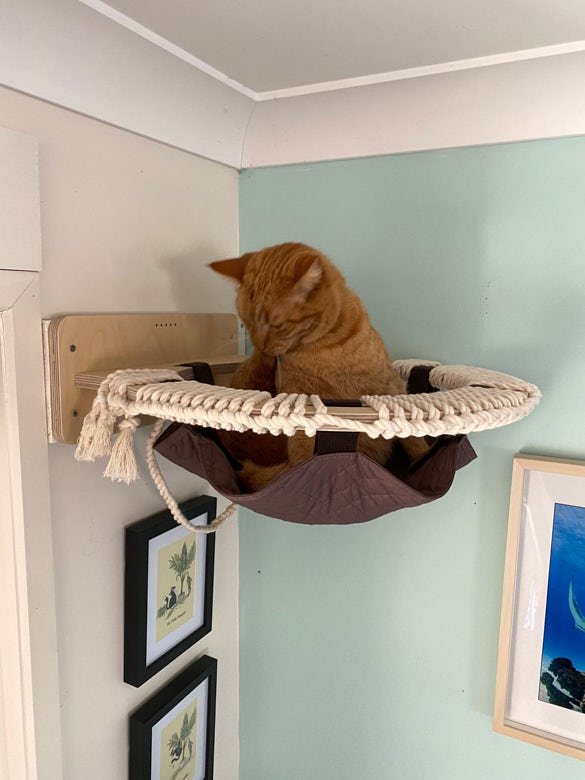 3
It's a fight as to whom is going to sleep in it!!! Our cats love the hammock. It's so well made and a lovely piece of furniture to add to the other pieces that we have from Woods For Cats. Just to make it a bit different I did a series of half hitches around the edge with rope. 😁
4 months ago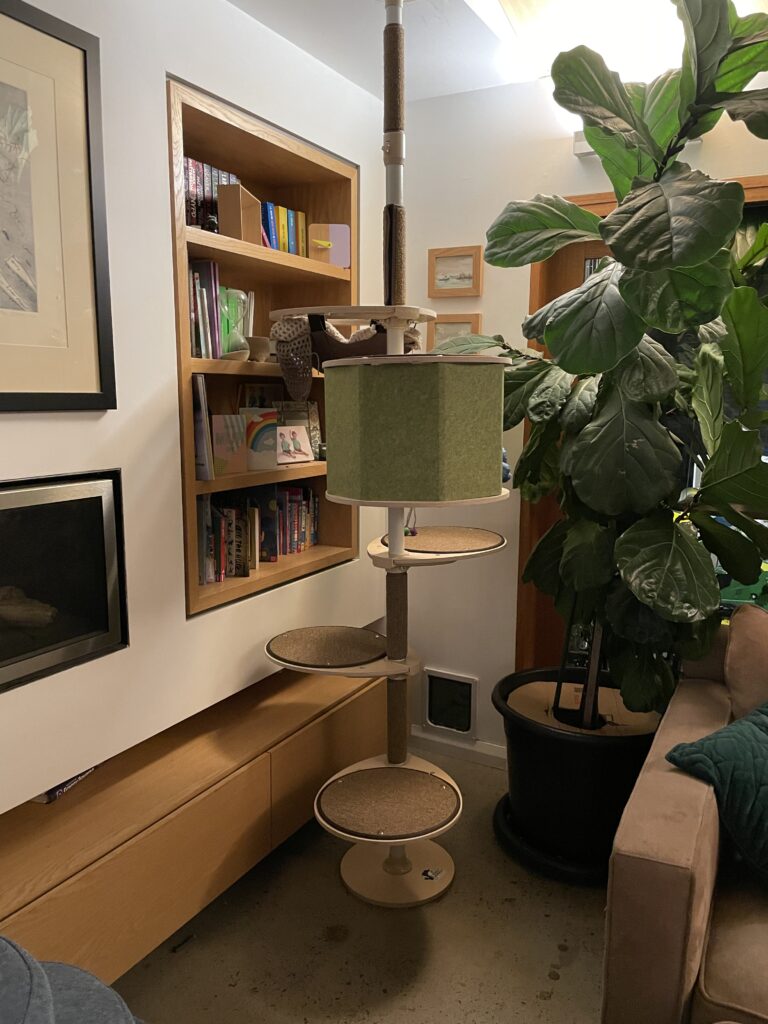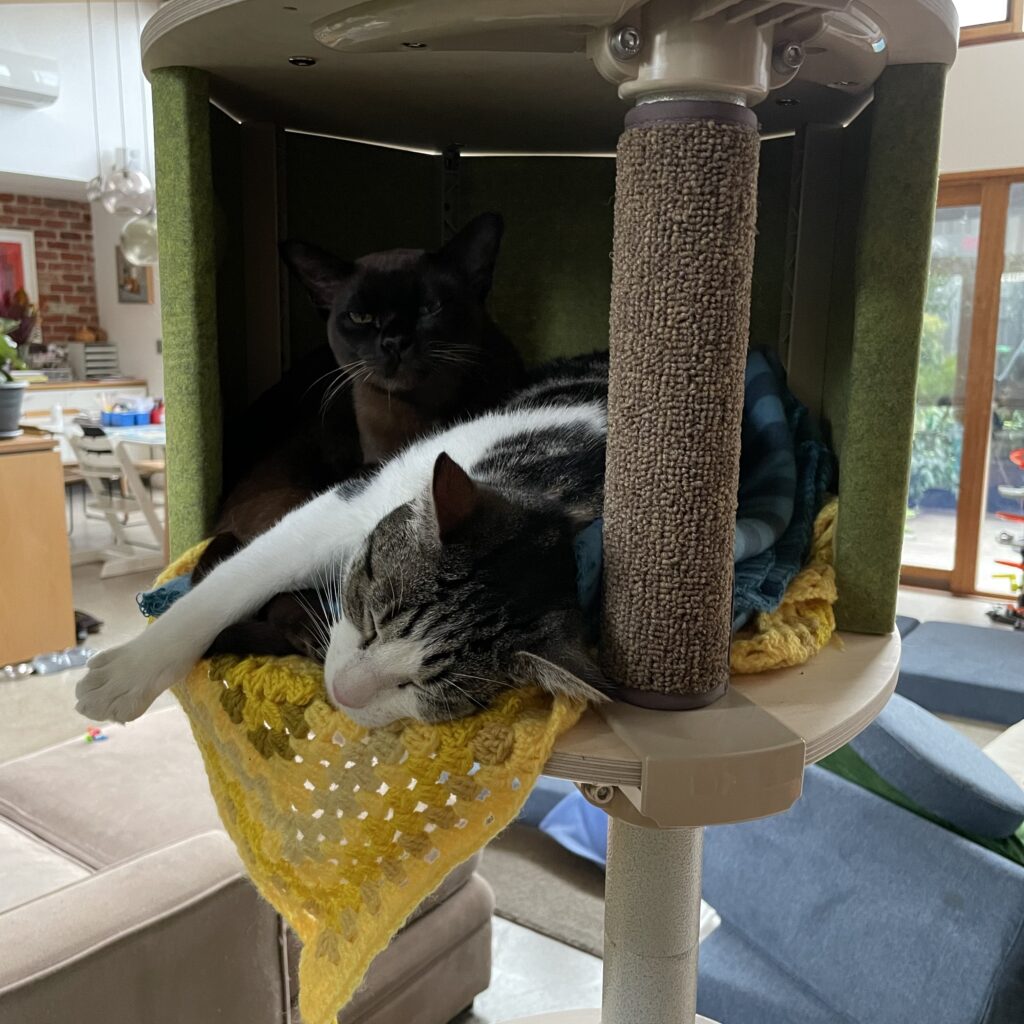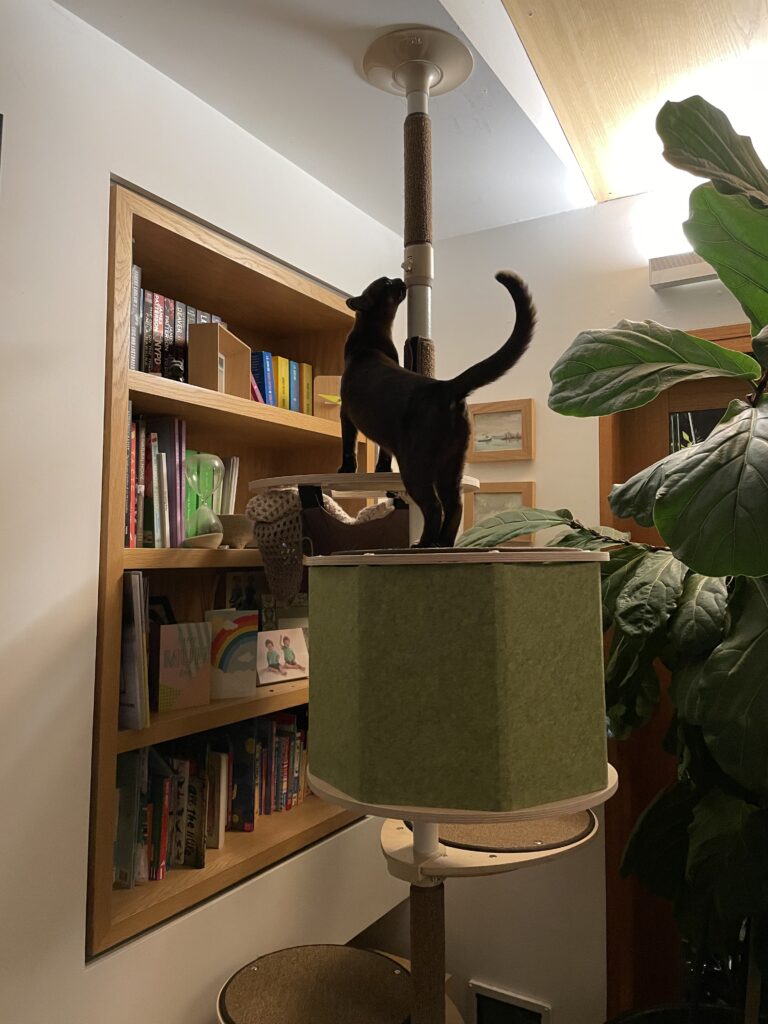 3
Our fur family members Ruben & Lexi Lou love their tik tok tree and so do the rest of the family. It is a fantastic product and looks fabulous. Love how you can customise and move it around. The instructions are easy to assemble and the quality/ joinery is beautiful. It matches our home styling perfectly.
Importantly….our cats love it, so much they both share the 'house' section. Heirs to their throne!
5 months ago
Easy to put together and my cat loves to scratch on these.
6 months ago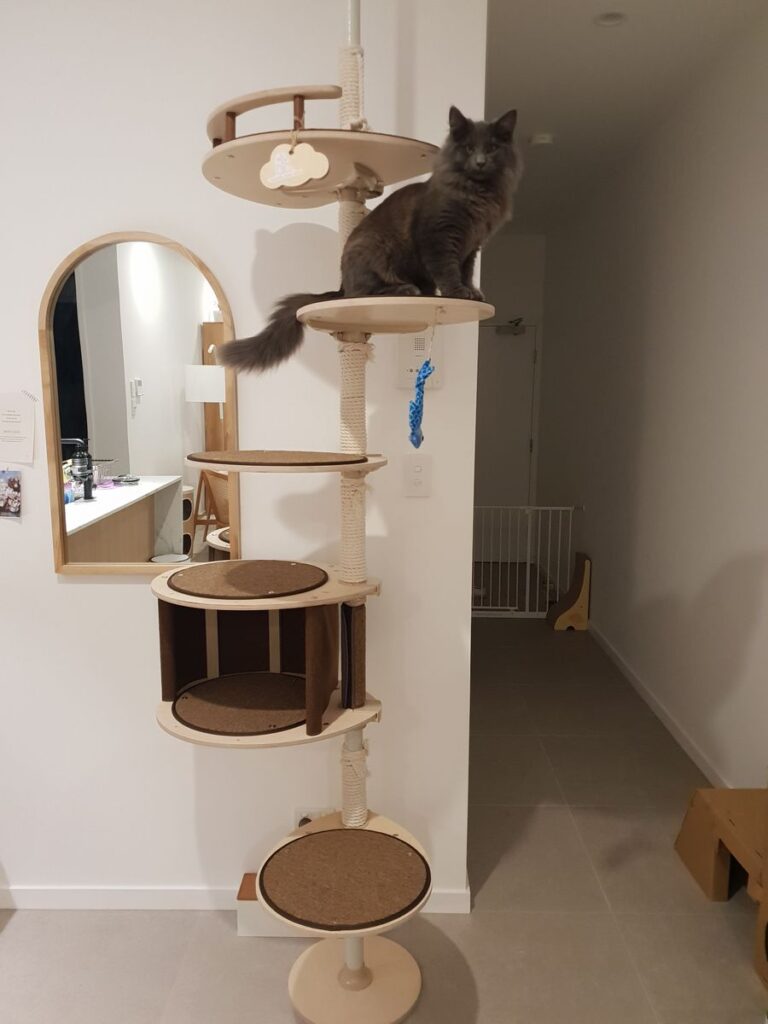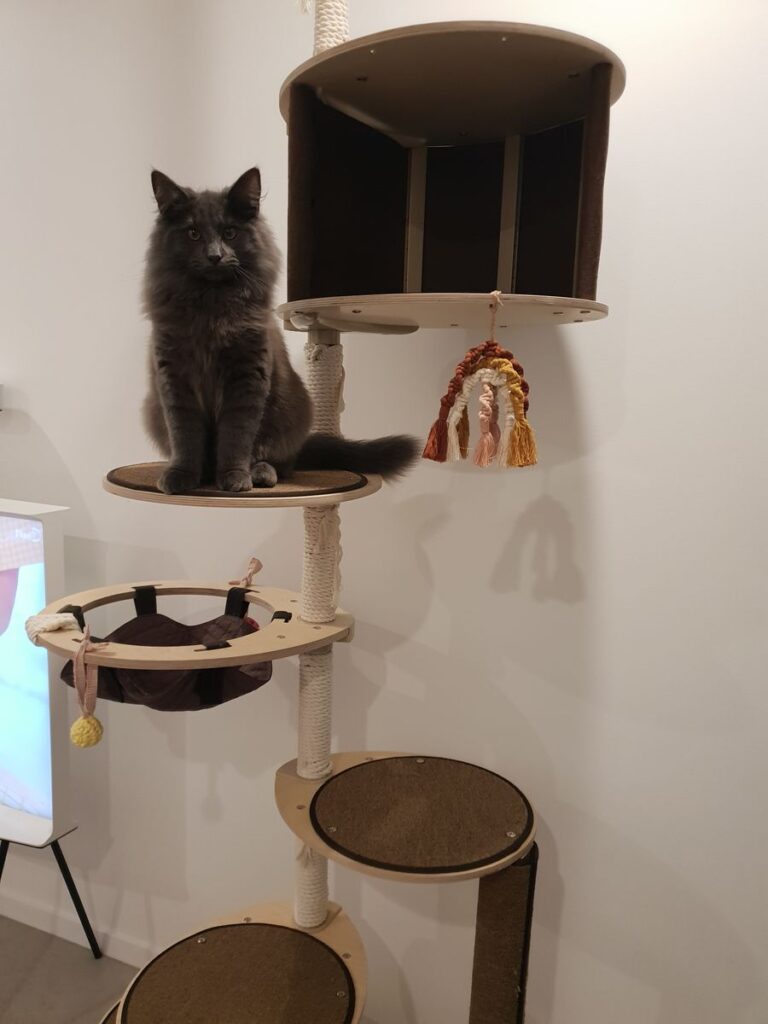 2
My Cosmos has 2 toktok and obviously loves to be at the top level looking down at his human. The instructions are easy to follow and the steps are sturdy for a 6kg Norwegian kitten. I love the design which is very elegant and blends very well in the space.
6 months ago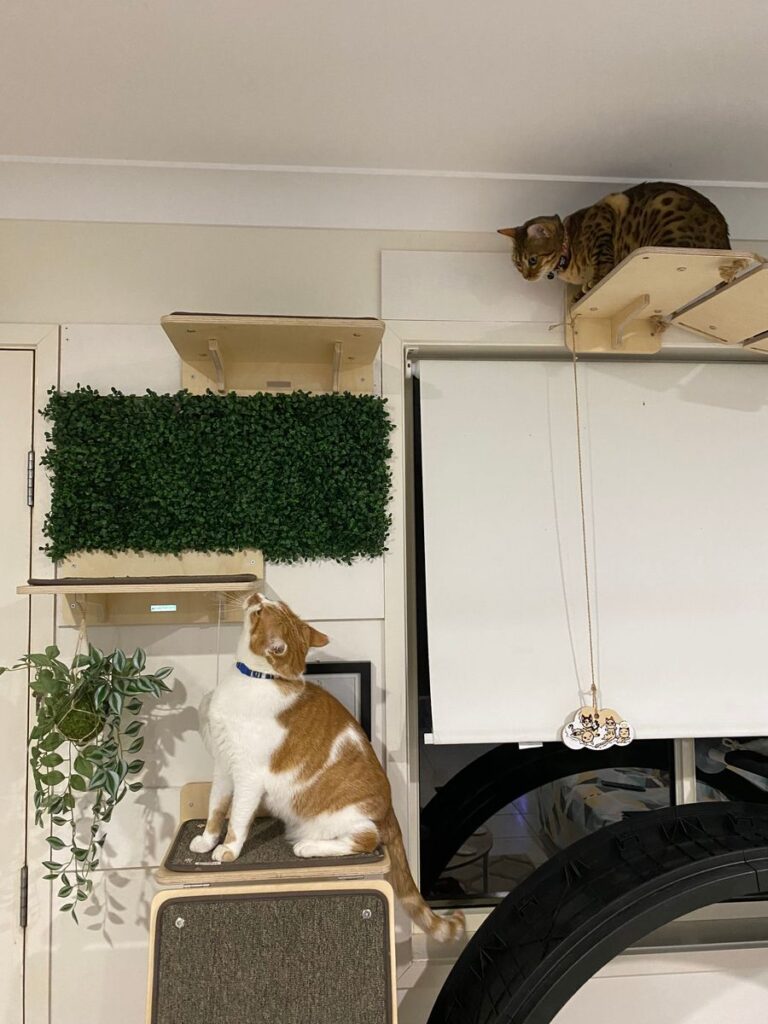 1
I cannot express my delight in the beautiful quality of the Wall-mounted Cat shelf. It truly is furniture and one I'm happy to have in my lounge for everyone to see.
Our cats love the ability to get up a little higher and survey their domain. I have purchased other products from Woods For Cats and everything is perfect.
6 months ago
Absolutely love the Double Food Table. It is very functional and perfect for my boy as well as very chic! It looks great in our home and is very well made. Delivery was super fast and Livia is wonderful to deal with. We are very happy. ? Thank you.
6 months ago
Michiko the cat LOVES the cone scratcher! Climbing, playing, sitting on top. Humans love that the carpet and couches are saved, and it was so easy to put together with amazing service from Woods For Cats.
6 months ago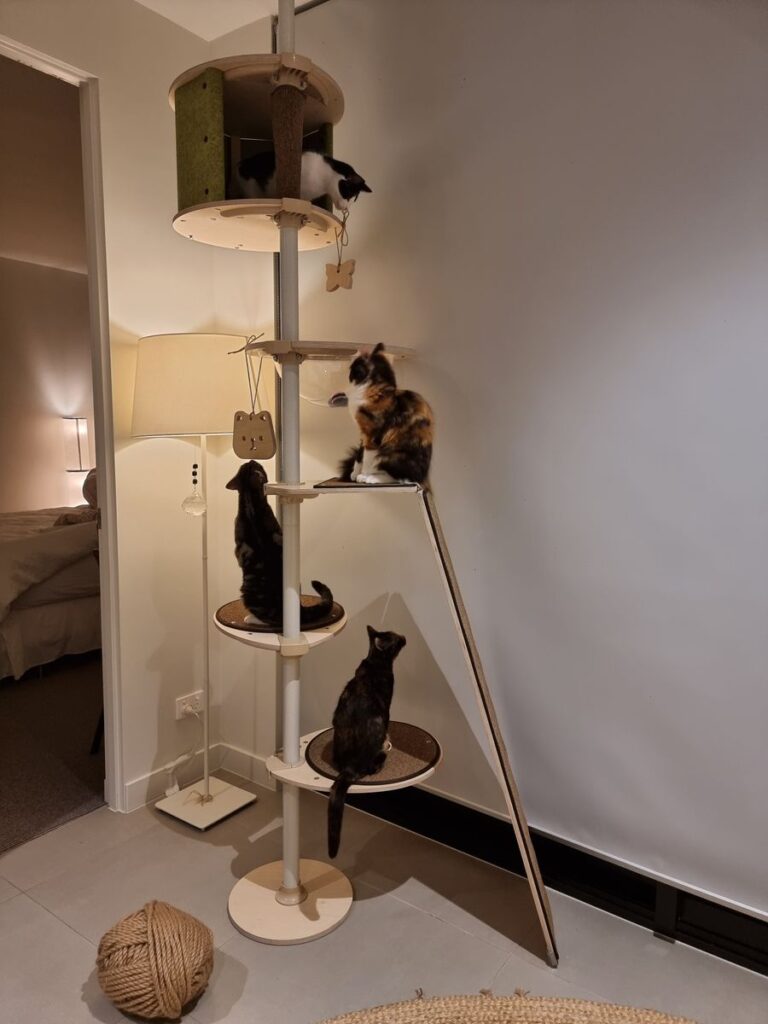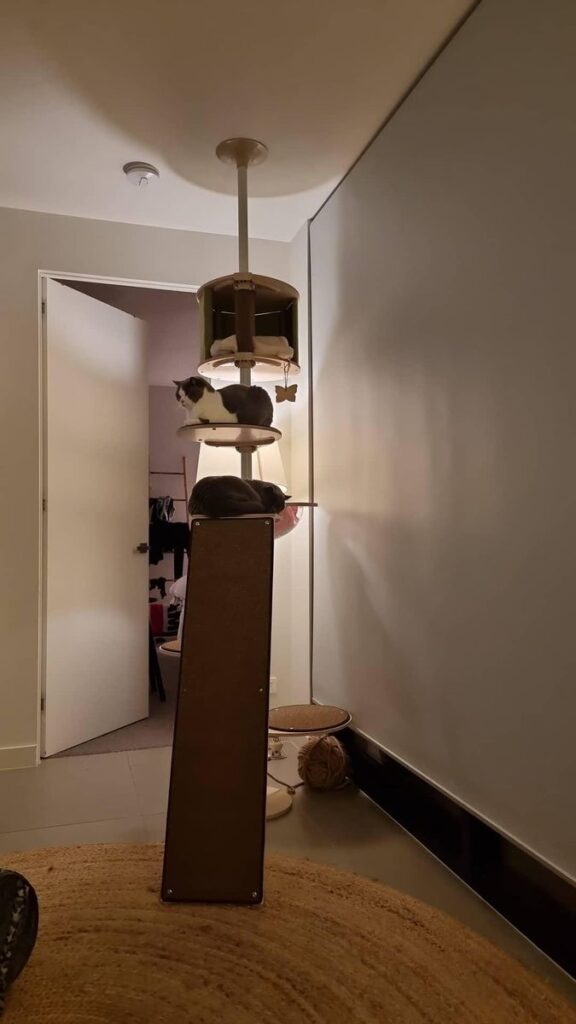 2
The resident cats and the foster cats and kittens all absolutely love the Tok Tok.
It was so easy to put together and the versatility is even better than expected. It is great to be able to easily adjust the set up and the positioning of the platforms, the bowl, the house and the climbing board to suit the needs of all ages and fitness levels.
A tip for anyone considering Tok Tok: adding the climbing board is highly recommended, all cats and kittens seems to enjoy a full body stretch against it.
Thank you Livia and the team! ❤
6 months ago
Our cats love the cone and the service was great as always!
6 months ago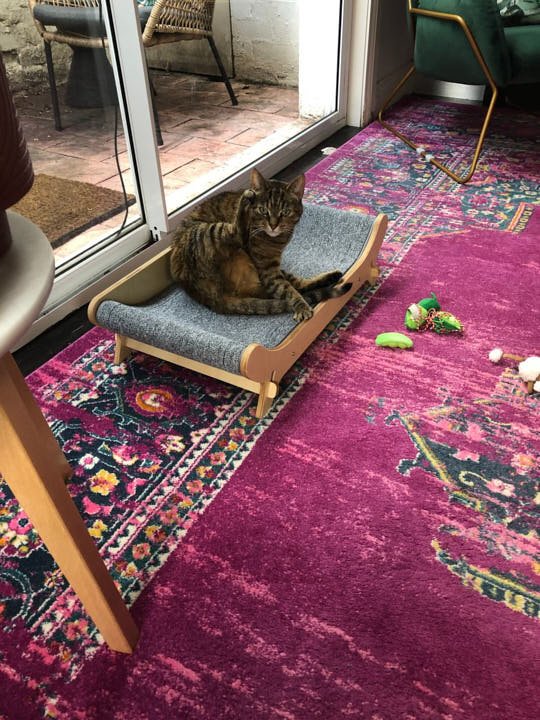 1
My cat loves her new scratcher/couch, everything is so well made and beautiful. Highly recommend for all fur babies.
6 months ago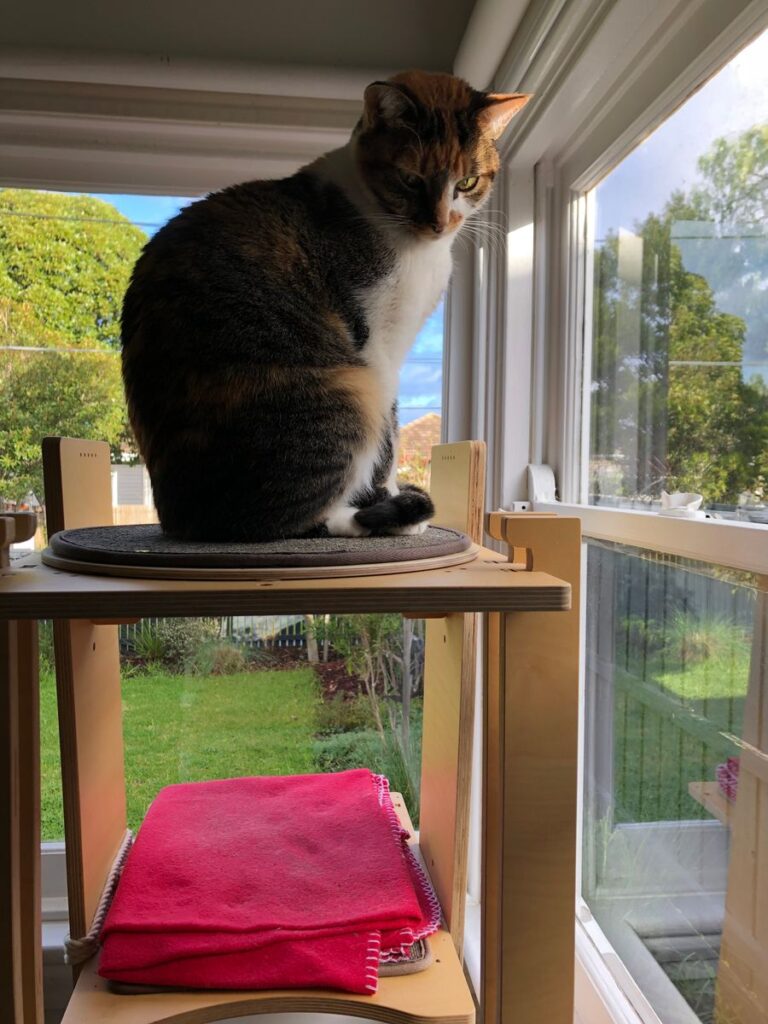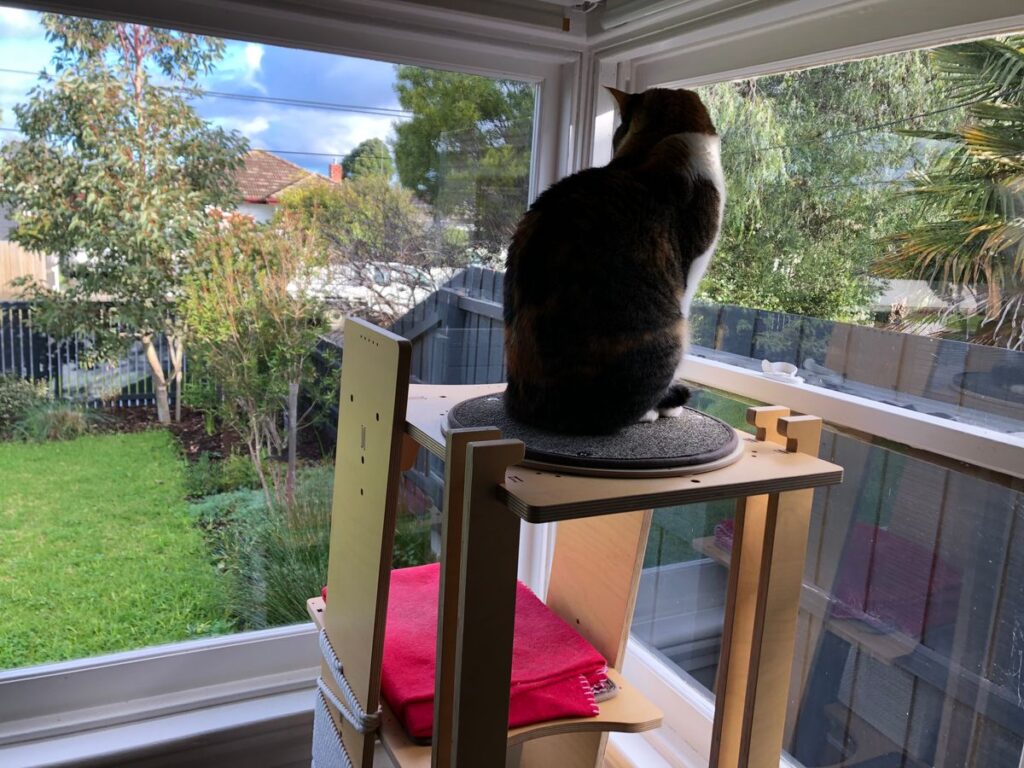 2
My cat *loves* her grand piano but never used the hammock part regardless of how comfortable or bare I made it. Recently I spotted the new circle add on for the top and since getting this piece, she regularly heads up top to get an even further afar vista of her kingdom.
It was very easy to screw on and has carpet on it like the other levels so is anti-slip and comfortable. Stylish, sturdy and designed with feline interests at heart. So good!
6 months ago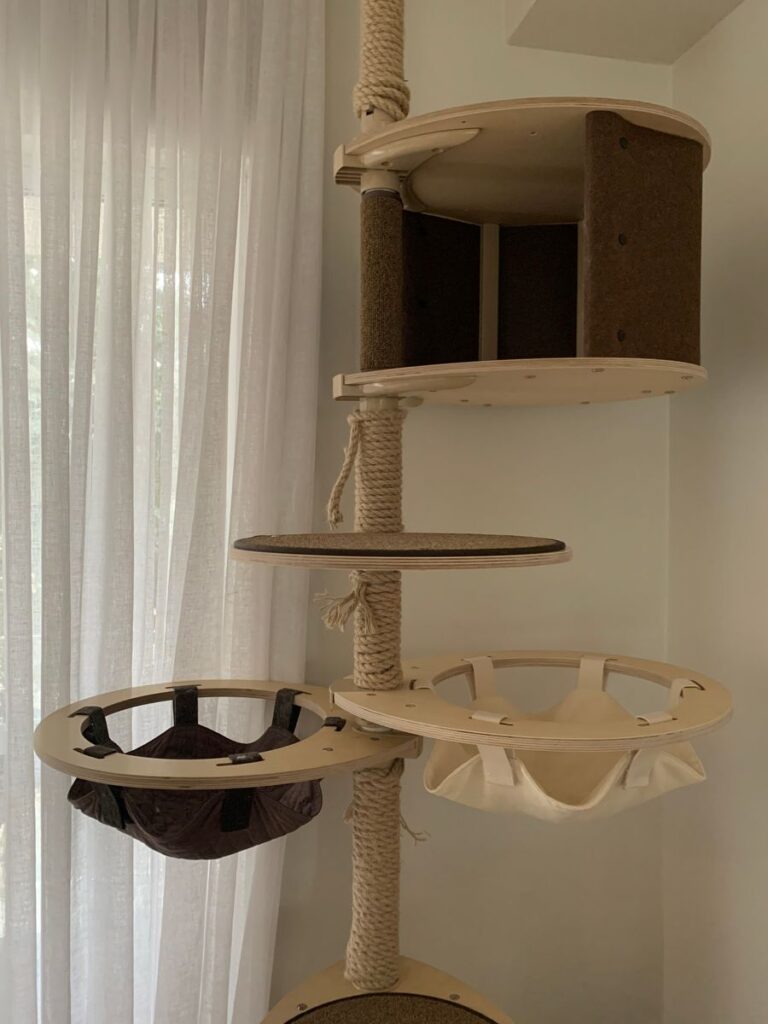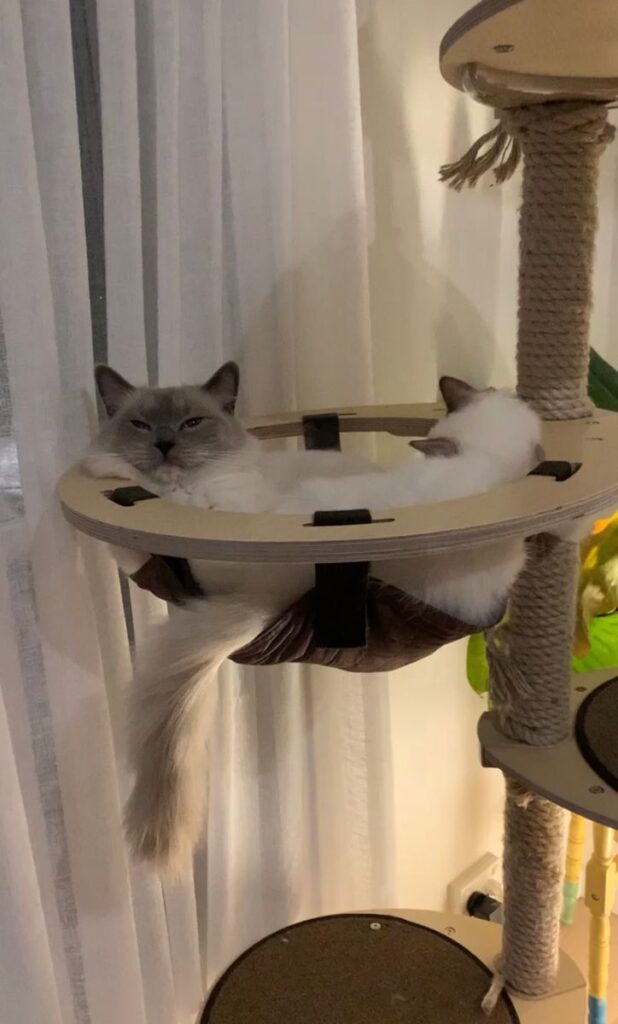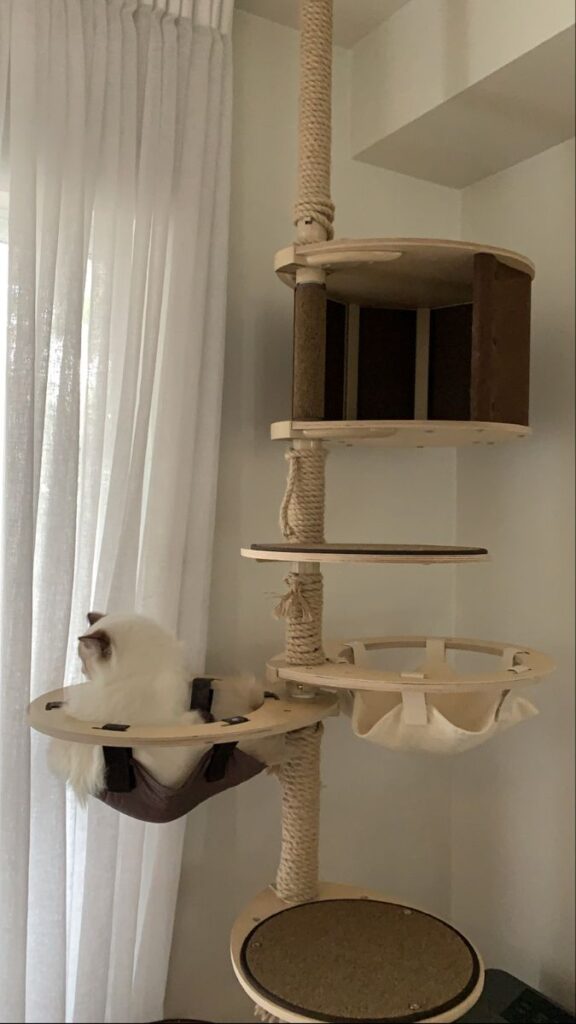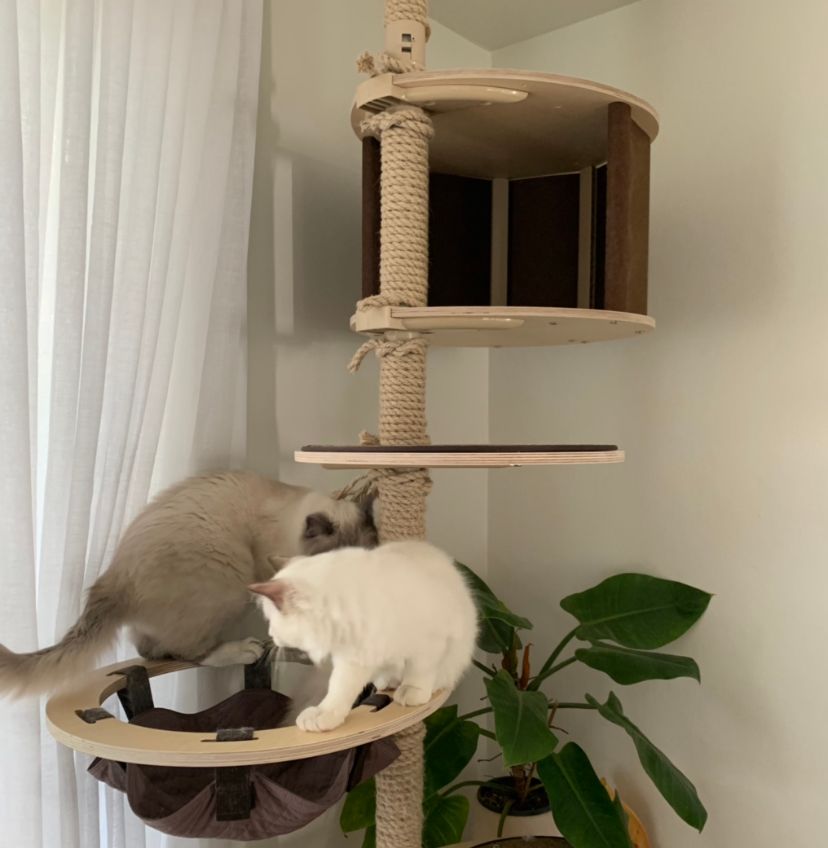 4
I purchased a second hammock as my two cats loved it soo much. They are ragdolls and also quite big cats, so it was getting a little tight. They love the material of both hammocks, the second one purchased being made of beautiful sustainable hemps fabric (the lighter one/beige). The frame of the second hammock is super easy to fixate, being a little bit like a clip on design - meaning I didn't have to take the tree apart! Took me literally 5 min to assemble. These hammocks are my cat's beds, they spend at least 7 hours in them. The frame is very strong and even when jumped on, or when both of them are on (total of at least 10 kg) it doesn't move and makes my cats feel very comfortable.
6 months ago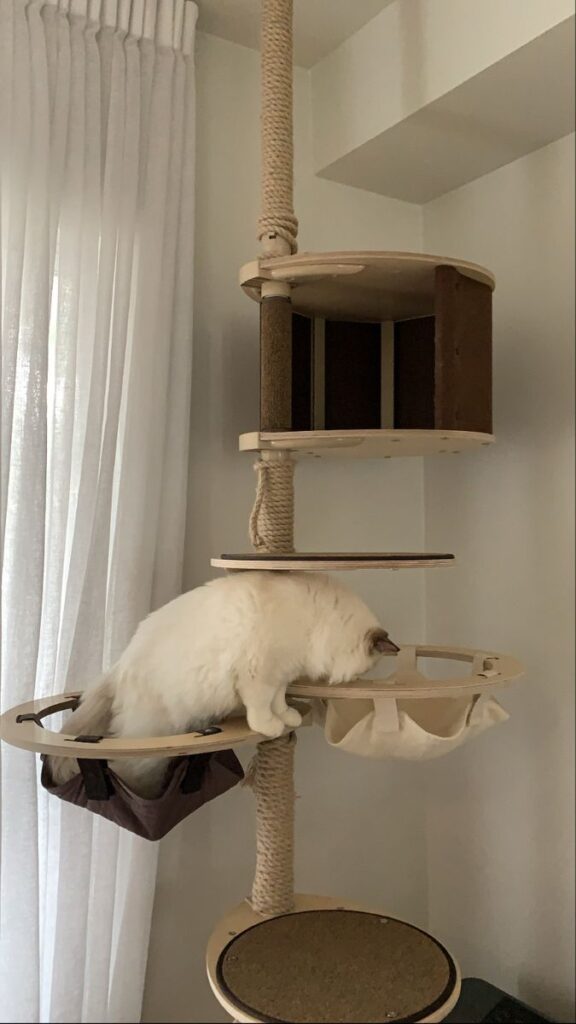 1
This is a life saver if you have carpet (like me) in your home. It has helped teach my cats to only do their nails on this tree instead of destroying the actual carpet. This product is also extremely durable, we had the equivalent mats since we bought this tree earlier this year, and they still look intact even thought both my cats have their daily routine with it!
6 months ago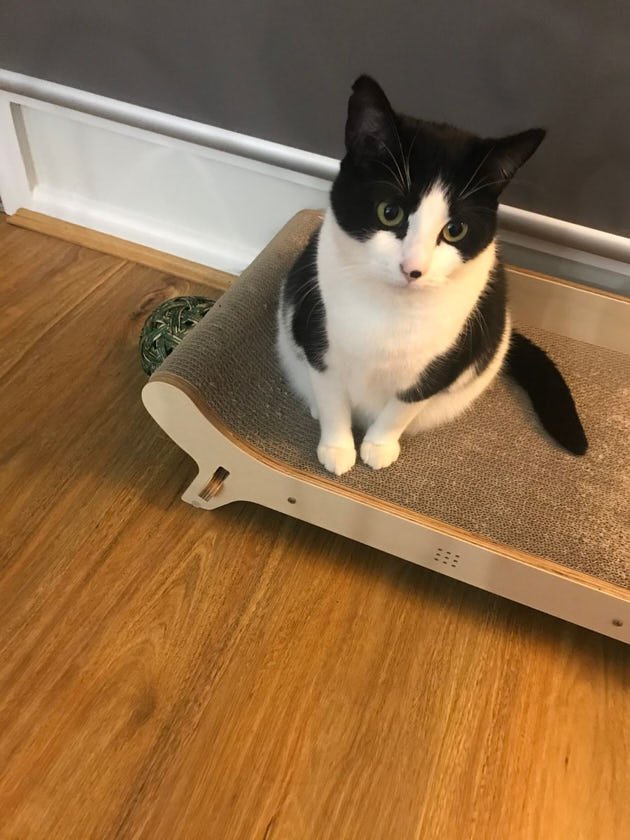 1
It's been slow for my animals to use it as it's a new experience but they continue to try. As I'm working from home I have the opportunity to encourage them and they aren't resisting it. They also use it to sit. I'm happy I've made the decision to buy the scratcher couch. Thank you for the materials you use. They are safe for my girls, Pipa and Daffodil. Ana
7 months ago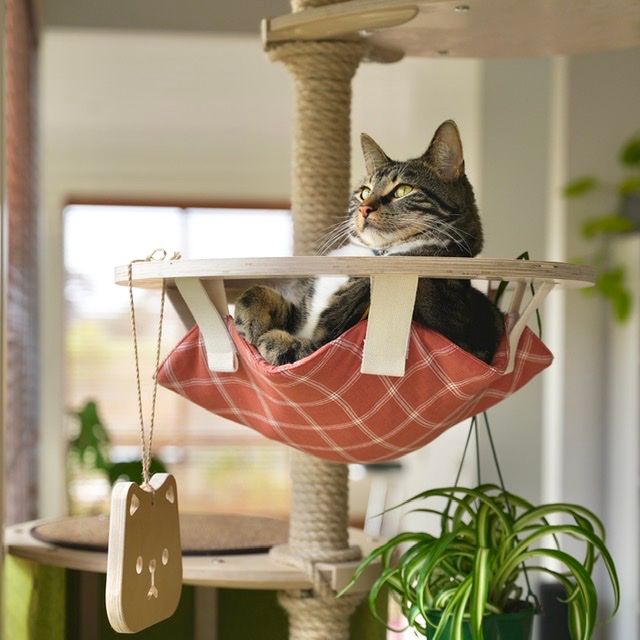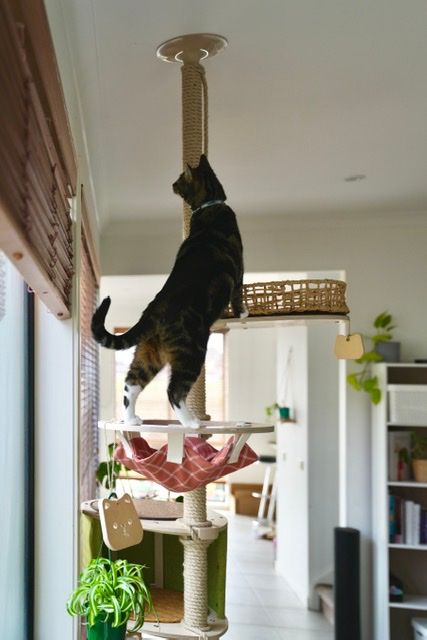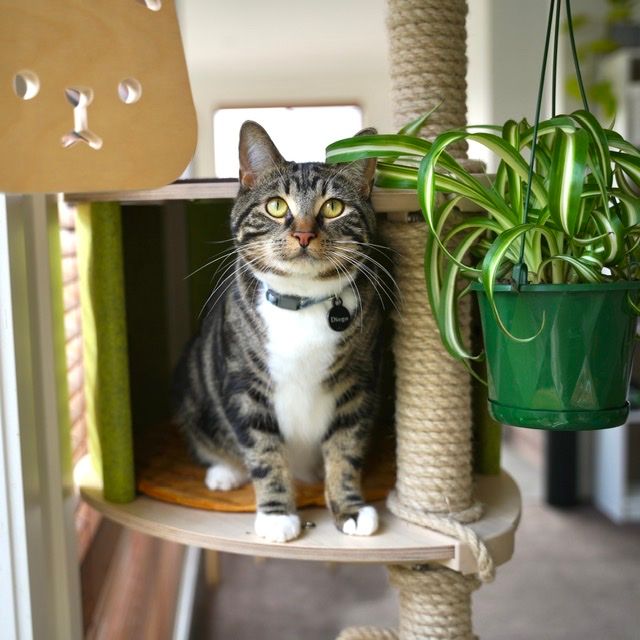 3
Diego absolutely loves the tree! It was easy to assemble and we love moving the platforms from time to time. Our living definitely looks cozier with the tree. Highly recommend to any family with cats. ?
7 months ago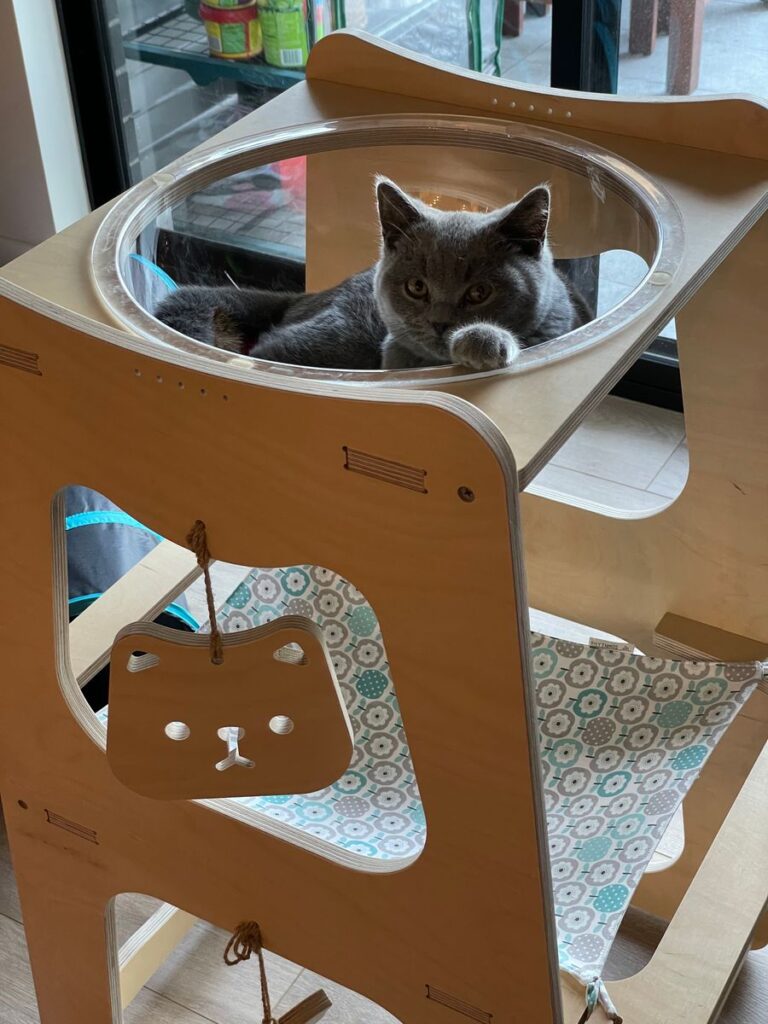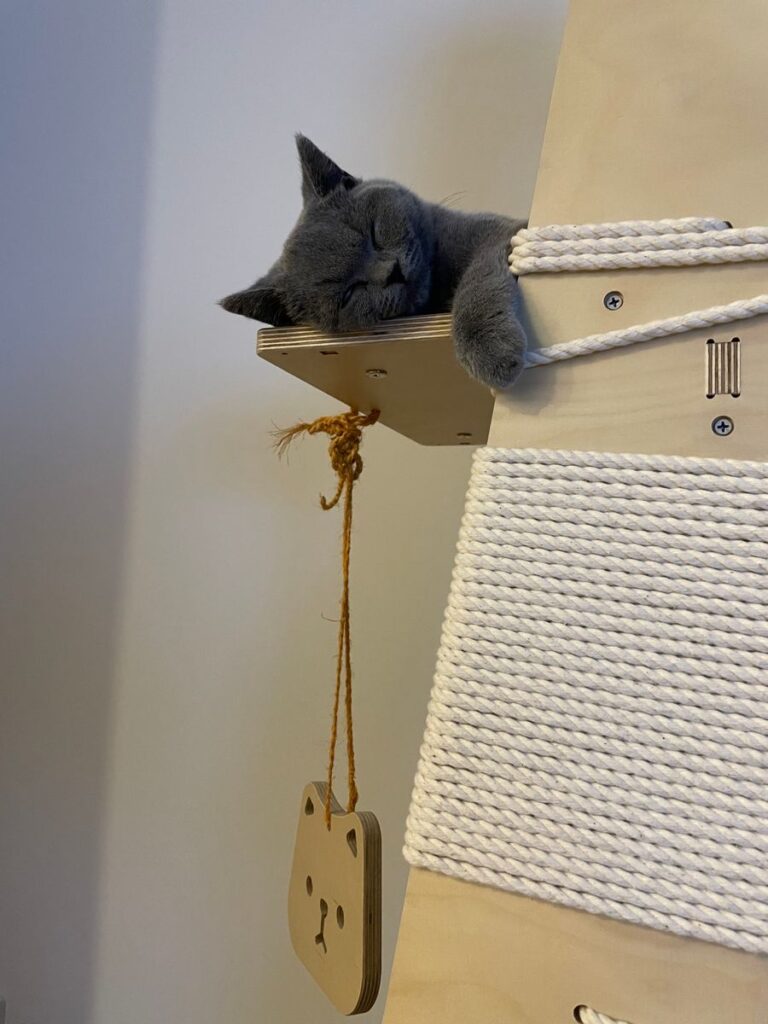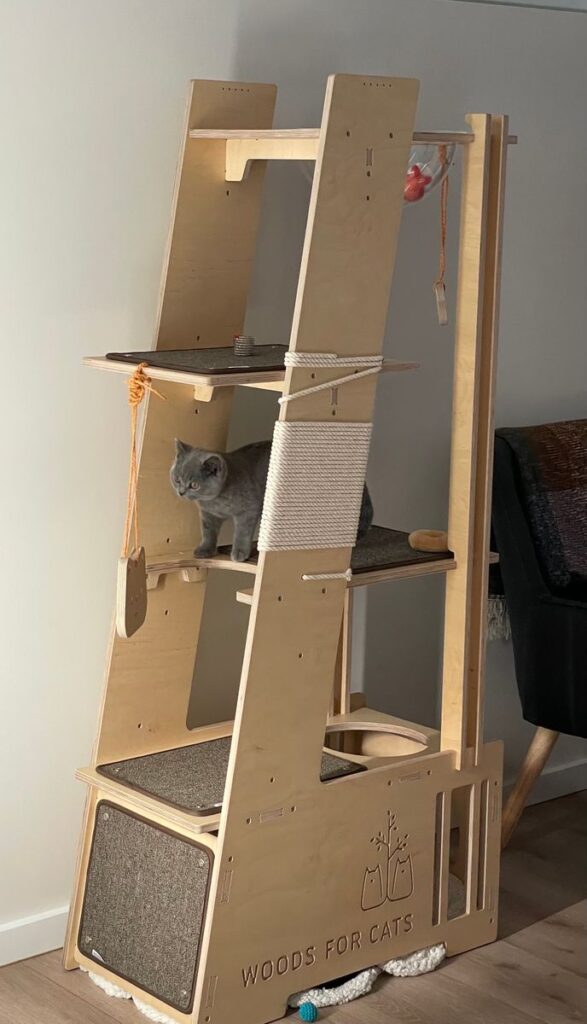 3
Thanks, Woods for Cats! Maui absolutely adores his Grand Piano and King Doong Doong.
Quick delivery, smart packaging, easy to assemble and most importantly, excellent quality.
Loved the extra surprises, will definitely be back!
7 months ago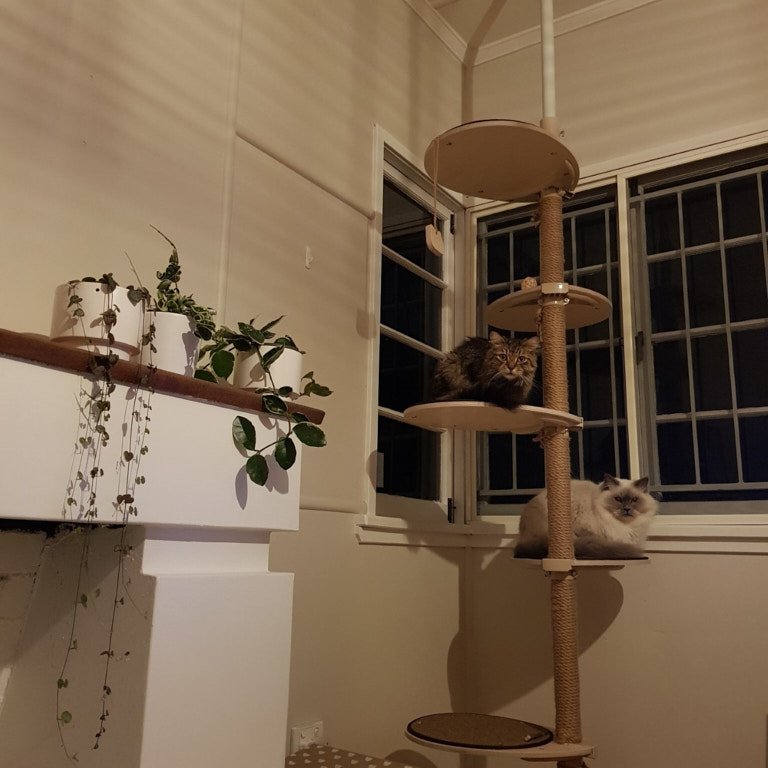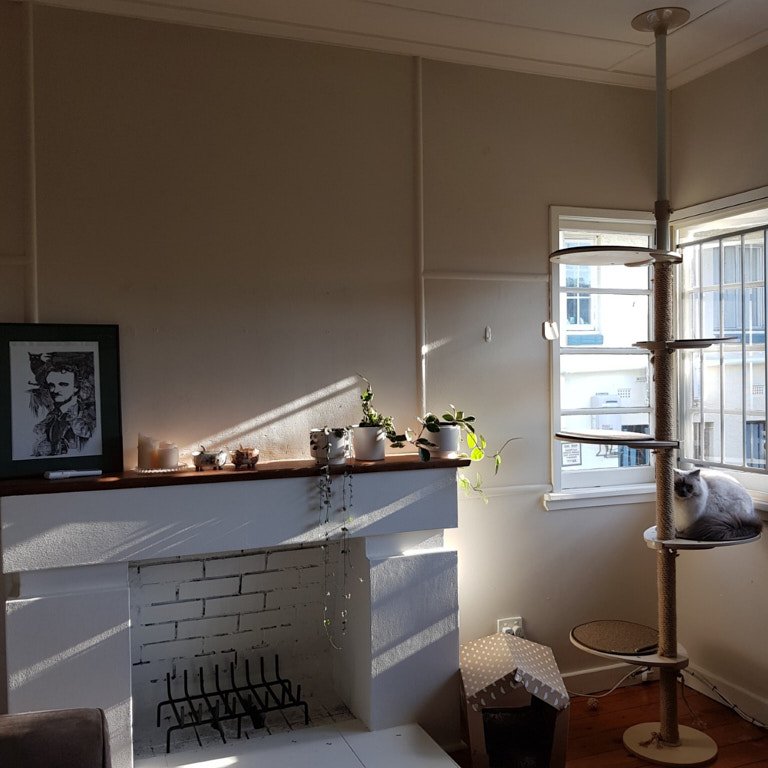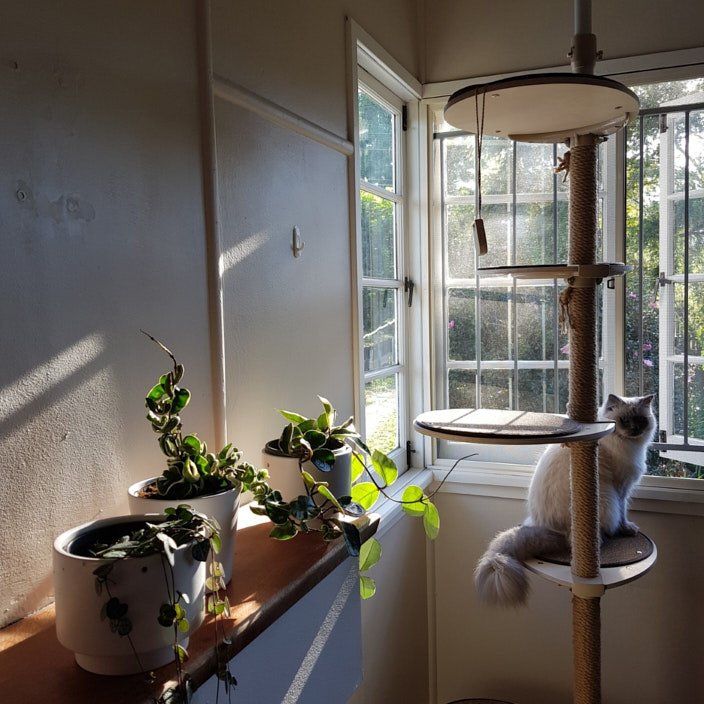 3
My fur babies & I absolutely adore not just the Tok Tok cat tree, but the awesome & lovely team at Woods for cats. Livia replied to my queries almost instantly and was so accommodating regarding my request to customise the tree (I wanted just the flat platforms, no house or hammock). The tree was delivered within the same week! It came carefully packaged and the team even included yummy treats, toys and cards, what a lovely surprise! Post-sale follow up was also great, Livia took the time to send me video with instructions on how to wrap the jute rope. Just all round a wonderful experience!
7 months ago
The quality of this product is exceptional. Love this Cat Tree and so does our boy Remy. We installed this one in the home. Its very sturdy and safe. Remy loves to take a run up and rush up to the top. We installed more half moon leaves as Remy is a large main coon and these have been really worthwhile. Our boy sleeps a lot on the top half moon shelf and in the little house. He loves this Cat Tree and he is on it every day. I could not be happier with this product and the service we received. I would thoroughly recommend this product. Easy to assemble as well.
7 months ago
The quality of this product is exceptional. Love this Cat Tree and so does our boy Remy (large main coon). We installed this one in the office and everyone who sees it is impressed. Its very sturdy and safe. Our boy sleeps a lot on the top half moon shelf and in the little house although he is getting a bit big for it. I could not be happier with this product and the service we received. I would thoroughly recommend this product. Easy to assemble as well.
7 months ago
Well made product. Our boy being maine coon is too big to sit in this so we use it to put his toys in and he loves fishing them out of it.
7 months ago
Our boy Remy loved attacking and biting these carpet inserts whilst at the same time holding the little hanging toy with his paw. Easy to put on and looks like it will withstand the punishment our boy will dish out. Looks good too.
7 months ago
Brilliant, in every way. The boys love the vertical space, both for sleeping, scratching, stretching grooming and for zooming. Extremely well made and, if you follow the instructions, straightforward to install. My boys are almost 8kg each and there have been no issues, even when both are racing up and down at once (note we have the hammock, NOT the plastic bowl). Well worth the investment ?
7 months ago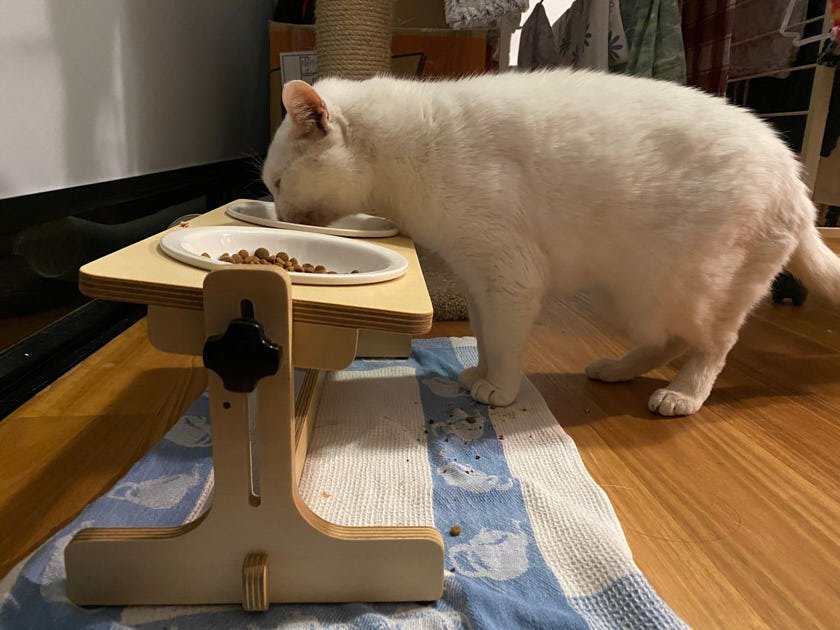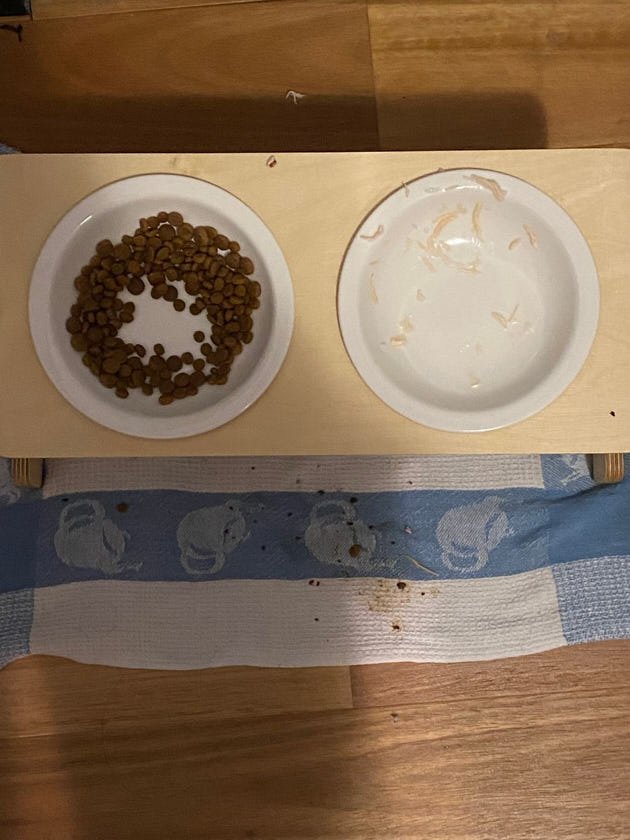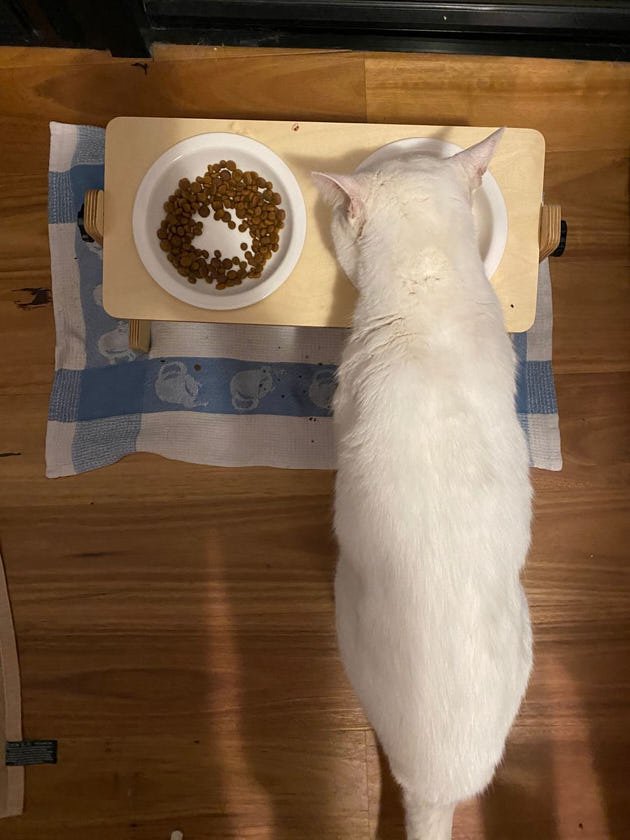 3
This has been a fantastic product for my senior cat who has IBD. Since he's started using the food stand for his meals, his burping has significantly reduced and he doesn't seem to be as nauseous. Having two bowls, side by side, allows me to also give him one choice in what he eats… kind of like a buffet for kitty… or even extra food if I think I'll be late for meals.
7 months ago
Our two cats love their tree and so do we. It's really modern looking and would work with any interior. Love that you can customise the set up to suit your (cats) needs. We went with the hammock and our cats loved it so much we had to buy a second. It's just the best feeling seeing our little kitties so happy and loving life. Definitely worth it, couldn't recommend more. I don't believe there is a better tree than this.
8 months ago
Just what we needed to stop our doggy from scoffing all the kitty biscuits/disturbing when they're eating. Also great with a pot of cat grass.
8 months ago
Great addition to the Tok Tok Cat post
8 months ago
The cat tree is a beautiful addition to our living space, and the new kittens have taken to it like ducks to water! We spent many hours looking at cat posts online and nothing was a stylish as the Tok Tok cat tree. The product was easy to install and looks exactly like it does on the website - and best of all, the cats love it!
8 months ago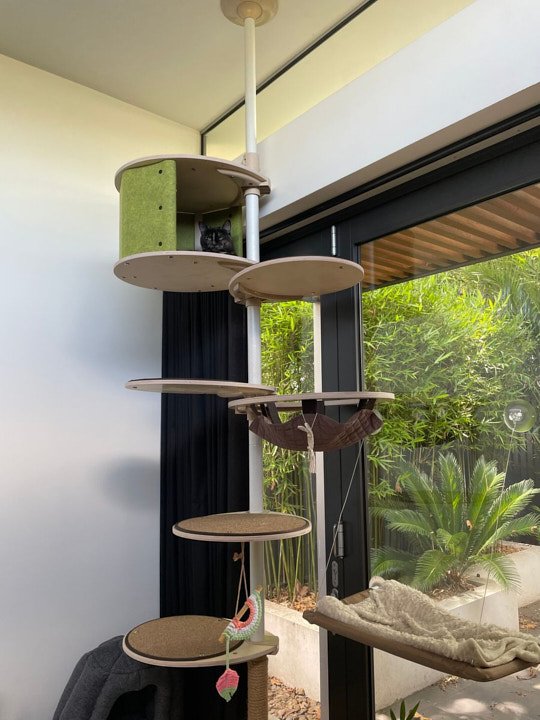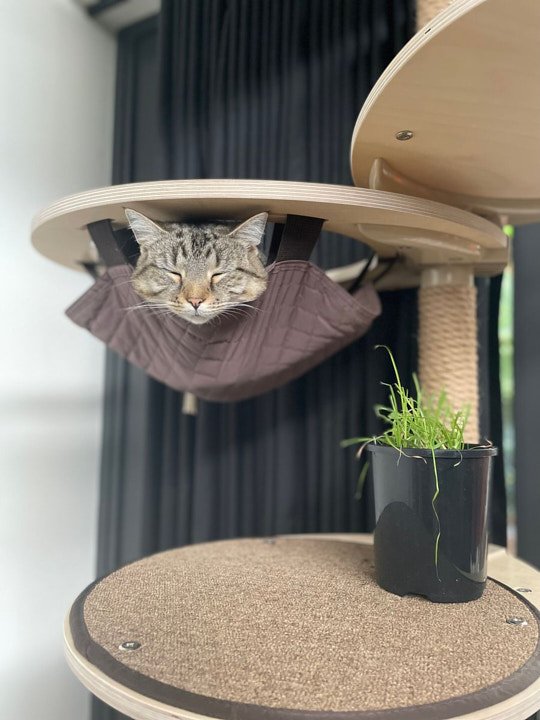 2
Our cats love the Tok Tok cat tree! It is exactly what we were looking for as it requires no drilling but is still sturdy and high enough for our cats to be able to look out our top window. We couldn't be happier with it. 🙂
8 months ago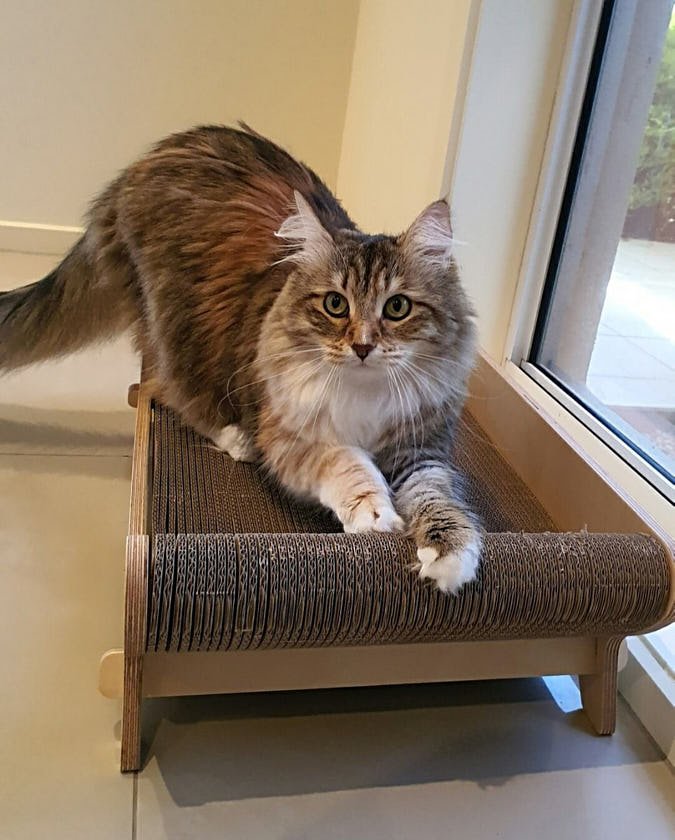 1
The Cat Couch Scratcher is the most loved item of furniture in our house. Bikkie claims it as hers but Lollie gets her turn too! Incredibly sturdy and is a great size which is purrfect for lounging! The refill cardboard scratchers are also very easy to install 🙂
8 months ago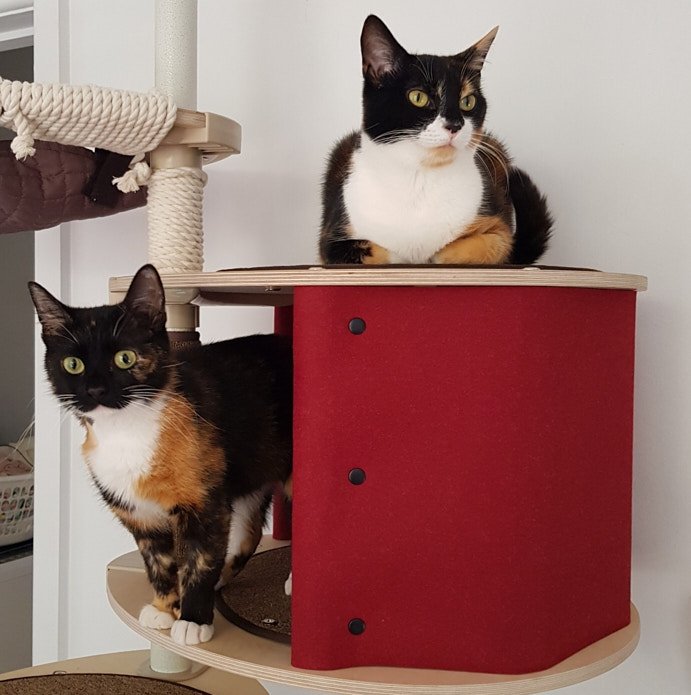 1
Cats, also a very happy owner of The Grand Piano. I'm in a unit without a backyard or outdoor space for my cats so it's very important to me to give them as much enrichment and vertical space inside as possible. They LOVE this tree. It's just beautiful and I could put it together by myself with just a screwdriver set in an afternoon?
8 months ago
Great quality stand and value for money. My cat is a large breed and has arthritis (he's 20 years young 🙂 so it's important to place his food at the right height and angle so he doesn't need to bend or crouch down. He loves this stand - it has helped restore his appetite and quality of life. Highly recommend.
9 months ago
Best product for a cat. Well made and beautiful feature for any room.
9 months ago