Meet: Smoky – Blue Russian mix and "the friendliest cat you'll ever meet".
"After only a few days of using the Woods for Cats raised food table, we could see the positive change in Smoky's eating habits. He no longer had bugs and dirt in his food, the bowls weren't getting knocked over, and he was more comfortable whilst eating. "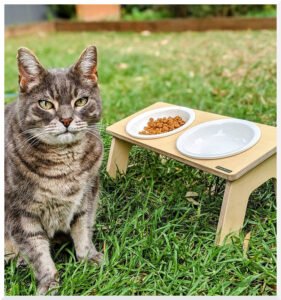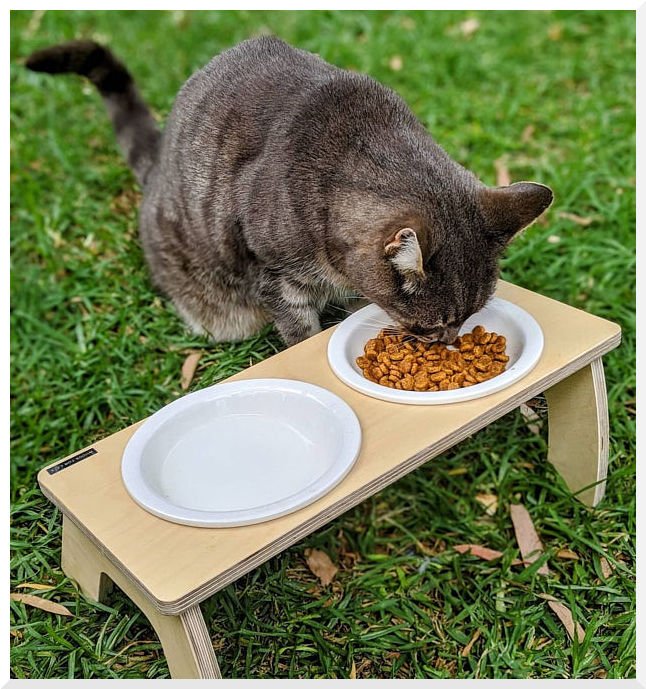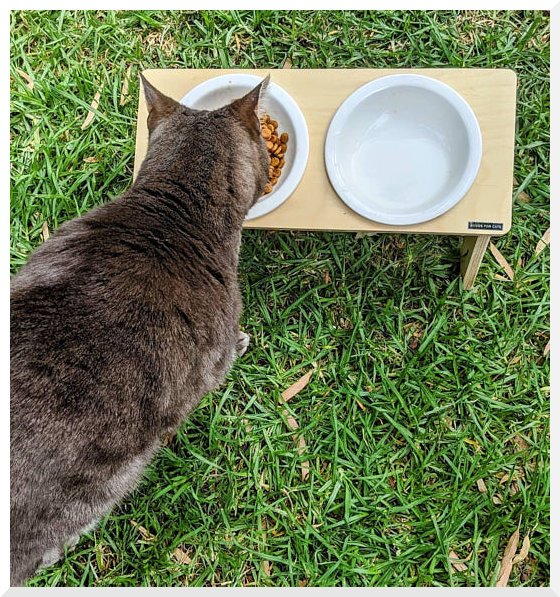 Smoky's food and water was catching dirt and bugs, and he was uncomfortable whilst eating.

Done with dirt and bugs in his food, Smoky and his people were on the search for a raised food table. They hoped for something cat-friendly, and sustainably made that would be easy to clean.
In their search, they came across Australian-owned and sustainable pet furniture business, Woods for Cats.
Impressed with Woods for Cats commitment to long-lasting and sustainable products, Smoky's family chose the Double Cat Food Table.
"Woods for Cats was our solution to improving Smoky's health, with their high-quality elevated food table, quick delivery and friendly service."
Impressed with the research-backed benefits of the Woods for Cats Double Cat Food Table, they made their purchase.
They liked that this product has been designed with cat's in mind.
Unlike other raised feeders on the market (which have often been designed for dogs), the Double Cat Food Table has been made specifically for cats.
Including:
Whisker-friendly depth (to avoid whisker strain), and deep enough to avoid food sliding out
Elevated position to support healthy digestion and avoid joint strain (especially important as your cat gets older). Elevation also prevents some cats from playing with their food / water.
Treated to be water-resistant and easy to clean (non-toxic)
Plastic-free – the base is made from plywood and the dish is ceramic.
"Ever since receiving the food table, Smoky has loved it and has been benefiting from it – it's great that he now has cleaner bowls, and his food stays fresh for longer. It has made us both very happy knowing this product is improving his health."
The food table has reduced the occasions of spilled food and water, and has been extremely easy to clean.
"As a company, Woods for Cats have been amazing – very friendly owner and amazing customer service. We love their products for their high-quality and ease of use.
"Woods for Cats Food Table has given great peace of mind knowing that Smoky feels more comfortable eating his food, his food is cleaner and healthier for him, and there's less mess to clean up."
"Day-to-day now Smoky feels more comfortable and will benefit from eating in an elevated position."
"I would strongly recommend the food table – it's totally worth it. Your cat will love it."
"We know that as Smoky gets older this raised food table will continue to meet his changing needs being gentle on his joints, whiskers and digestive system."